Posted on
Thu, Jul 7, 2011 : 1:26 p.m.
Mr. B stopping in town as he hauls his piano across Michigan by bike - again
By AnnArbor.com Staff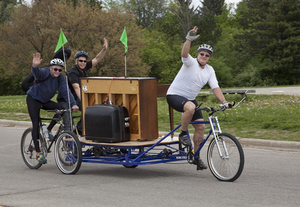 Doesn't it seem like dragging a piano across the state by bicycle one time would be enough?
And if it wasn't, doesn't it seem like twice would be?
Apparently not for Ann Arbor boogie pianist Mark "Mr. B" Braun, who is currently in the midst of his third "Joybox Express" tour doing exactly that.
Braun and some fellow musicians kicked off the tour this year in Holland on July 2 and plan to end in Detroit on July 15. They stop in Chelsea and Ann Arbor this Sunday, July 10.
The Joybox Express is a tricycle that is designed to hold Braun's 352-pound acoustic piano, which he is pulling across the state—more than 200 miles. Joybox is an early American term for the piano.
As the Joybox Express heads east across the state, Braun and his colleagues are holding concerts in various locations to support local charities. Donations are taken at the concerts.
Joining Braun on the third Joybox Express tour are Pete Siers, who will be playing a specially designed drum set using a suitcase as a bass drum; Brian Delaney, playing an electric, solar-powered guitar; and Carl Hildebrandt, pulling his string bass on a trailer behind his bike.
"We are looking forward to sharing the gift of music as we bicycle across the great State of Michigan for the third time," said Braun in a prepared statement. "Using the Joybox Express as a vehicle to deliver this music - with the help of three tremendously talented musicians - is an extremely challenging but satisfying experience. The fact that local nonprofits benefit from our concerts is an added incentive when I'm pulling the piano down the road!"
The remaining Joybox Express itinerary:
• July 7 6 p.m. East Lansing - Coral Gables restaurant
• July 8 noon Williamston - McCormick Park
• July 8 6 p.m. Howell - Cobb-Hall Insurance Courtyard
• July 9 noon Howell - Bader Acres
• July 10 1 p.m. Chelsea - Chelsea Library
• July 10 4:30 p.m. Ann Arbor - Wolverine State Brewing Company
• July 12 8 p.m. Livonia - Trinity House Theater
• July 13 7 p.m. Detroit - Cliff Bell's
• July 14 1 p.m. Detroit - The Scarab Club
• July 15 4:30 Detroit - Detroit Institute of Arts
Local residents are encouraged to attend the concerts and bicyclers are welcome to accompany the musicians in a group ride for a portion of the journey. The Joybox Express is designed so that two bicycles can attach to the vehicle, helping Braun move his piano.
Go to www.joyboxexpress.com for additional details on where you can attend a concert, ride along with the Joybox Express or how you can contribute to support the tour and the nonprofits it benefits.