Posted on
Sun, Oct 14, 2012 : 5:10 a.m.
Pianist Murray Perahia making long-awaited Hill Auditorium appearance
By Susan Isaacs Nisbett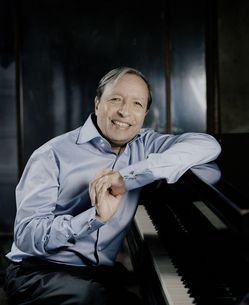 photo by Felix Broede
The bad news, in fall of 2010, was that pianist
Murray Perahia
, a beloved grand master of the instrument, would not make his scheduled University Musical Society date at Hill Auditorium. He was canceling his entire fall tour as he recovered from a hand injury.
The good news was in his recovery. And in the news, that pianist Murray Perahia would be returning returning to the Hill stage this fall for a UMS solo recital that includes some of the composers for whom he is most known—Beethoven, Chopin, Schubert and Schumann—plus others, like Haydn.
The program, set for Saturday evening, features the Haydn Sonata in D Major, Hob. XVI:24; Schubert's "Moments musicaux;" Beethoven's "Moonlight" Sonata; Schumann's "Carnival Scenes from Vienna;" and two Chopin works, the Impromptu No. 2 in F-sharp Major and the Chopin Scherzo No. 1 in b minor, Op. 20.
It's hard to pick a standout in this repertoire, so rich is it in treasures. It is easy, however, for Perahia to say what is new for him in this concert.
"I have to have challenges," Perahia said in a phone call last month from London, where he lives. "I can't play the same repertoire all the time."
For newness, the Haydn would be a natural (and correct) guess: Though Perahia has conducted Haydn in concert - conducting is another facet of his career—the composer barely figures in his recorded catalog of piano works, and then on a disc that includes Brahm's "Variations on a Theme by Haydn," for two pianos (with Georg Solti).
PREVIEW
Murray Perahia
Who: Beloved, acclaimed pianist.
What: Solo recital of works by Beethoven, Chopin, Haydn, Schubert and Schumann.
Where: Hill Auditorium, 825 N. University Ave.
When: Saturday, Oct. 20, 8 p.m.
How much: $10-$75. Tickets available from the UMS Michigan League Ticket Office, 734-764-2538, and online at ums.org.
But Perahia loves Haydn's wit, he said. And this sonata, he added, "is full of surprises."
"The music has a wonderful sense of humor. It's a delightful piece, sparkling, really. So I hope to start with that and set a nice mood."
But set aside the notion that this sonata is a way for the pianist to ease into the program. "It's difficult for the pianist," Perahia said of the piece.
"Everything has a little variation in it, every note is unexpected." Unexpected, too, is the other work on Perahia's bill that is new for him: Schubert's "Moments musicaux." The omission from Perahia's repertoire is unusual in two ways: The set, of six short pieces, is among the most popular and frequently played of Schubert's piano works, second only, perhaps, to the Impromptus; and Perahia has long been one of the most eloquent of Schubert's interpreters. Schubert's Impromptu in E-flat Major, Op. 90, is almost a signature Perahia encore piece.
"I don't really know why I've never played it before," he said of the 'Moments.' "There's no real reason. I was just working on it as we speak.
"I started working on it two months ago," he continued, "and it's seemed to go slowly. Things fluctuate: I think the first one should go fast, and now I think it should go slow. It's very difficult. It really is 'moments," and everything has to be packing in, in those moments. In three to four minutes, they tell a lot. Each note is pregnant with meaning."
If Schubert has been a Perahia preoccupation over the years, so, too, have Chopin, Schumann and Beethoven.
In fact, Perahia has been editing the Beethoven piano sonatas for G. Henle Verlag, the respected German music house. So far, about 10 of the 32 have appeared, including the "Waldstein."
"It's easier to edit it than to play it," Perahia quipped.
It's the "Moonlight," though, that's on the bill Saturday evening, a sonata that Perahia finds fascinating from both a musical and an academic standpoint. He has been intrigued, he said, by research discussing the meaning of moonlight for the Romantics. Sunlight may have been the shield of the Enlightenment, but the unfathomable nature of darkness was what sang to the Romantic generation.
And singing the song of that darkness, of "the moonlight-stricken ones," as Perahia put it, was perhaps the subject of the famous sonata (which Beethoven himself did not name, it should be said.)
"I think that was the inspiration for this strange piece," he said, not just the famous first movement, which may have also translated Beethoven's interest in the Aeolian harp, but for its "restless last movement and its inability to seek rest."
In a sense, Perahia's concert here, though including new works for him, is a mirror of the music to which he has devoted his long career. He is 65 now, and if you ask him if he has any desire to tackle much of the music written in the 20th century and beyond, music in which tonality plays a more attenuated role, the answer is a considered, and definitive, no.
"My work is really about tonality," he said. "I'm fascinated with how things move in tonal spaces. Bach's teaching is, in my mind, central."
It's the ordered succession of chords and harmonies, how they regroup and come back in patterns of musical tension and release, that draw him.
"The more I concentrate on that," he said, "the less I understand music that doesn't focus on those principles. So I'm not a specialist, but someone who concentrates on tonal music.
"I'm loath to criticize (non-tonal music). There is obviously something there, but it's not my field."
What is his field is "how deep the tonal laws are in Bach and Beethoven and Mozart, and how subtle they are. How they use these possibilities in the most adventurous ways. How they express emotional states that can only be expressed if there is some relation to the basic tonic."
The pull of that home key, the travel away from it and back, are central for him. It's the sensitivity and intelligence with which he manipulates these at the keyboard that have made him so beloved, and that make his return to play here such an event.