Posted on
Thu, Feb 28, 2013 : 9:45 a.m.
Music producer and Ann Arbor native Drew Money finds success making beats for hitmakers
By Roger LeLievre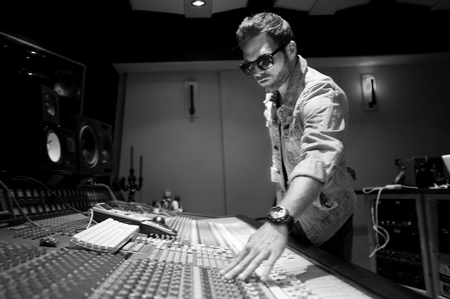 photo by Paisley Dee Photography
You might expect a hip-hop music producer with the moniker
Drew Money
to be at least a little on the flashy side. But the soft-spoken Ann Arbor native—who has written and produced for hitmakers Niki Minaj, Kanye West, Jay-Z and Lil Wayne, among others—comes across as just the opposite.
"I let the music speak for itself," he said. "Drew Money—that was something my old boss used to call me. I guess I was always bugging him for my paycheck."
The nickname stuck.
Money—given name Andrew Thielk—attended Tappan Intermediate School and Pioneer High, from which he graduated in 2001. Home from Miami to visit recently, he sat down with AnnArbor.com to talk about how he got from here to there.
"It is incredibly hard to break into (the business). I feel very blessed and lucky when I look back at all the good breaks and the bad breaks I've had. I guess it took me about 10 years to really get my first single and making enough money that I could live off the music."
Thielk, now 30, said he started playing guitar when he was 11. He was in a band with a friend just for fun and was also part of the Tappan jazz band. At Pioneer, he was more into the golf team (he admits it's his second passion) than playing music. After one year at Bowling Green State University, he came back to town and enrolled in Washtenaw Community College.
"Basically I signed up for all the music classes—computer music, music sequencing and programming—and I really enjoyed those," he recalled.
"I guess I have a pretty diverse background as far as music. I enjoy all types of music. My parents would play The Beatles and Paul Simon. My sister would play the Beastie Boys. My dad gave me my first rap tape, which was 'Rapper's Delight'—I just enjoy all types of music," Thielk observed.
In 2003, on the advice of a teacher, he moved to Florida to attend Full Sail Real World Education, a school in Orlando, where he earned an associate's degree in recording arts.
"That kind of appeased my parents and I got to do something I enjoyed," Thielk said, adding that he moved to musical hotbed Miami as soon as he graduated and began working in recording studios there.
"The whole time I had been making and selling beats (the non-lyrical musical accompaniment to rap/hip hop songs) on line, trying to get them to artists and get them placed on albums. I got my first production placed on an album when I was still at Full Sail … that really inspired me and showed me I could really do it. I just went on from there," he said.
His big break came when he wound up producing three songs ("Right Thru Me," "Blazin'" and "Last Chance") on Niki Minaj's first album, 2010's "Pink Money," that wound up selling millions worldwide.
"It started off with my manager sending beats that I had made to her manager, and then him saying (to her) 'These are great, you should write (lyrics) to these, record on them.' Then I flew to New York and I met her in the studio and we got to put the finishing touches on the tracks. It was a very fast process," Thielk recalled.
Not that it was an easy road to success. After learning the business by working for a producer in Miami for a few years after graduation, Thielk decided to strike out on his own.
"Everyone knows a starving artist story. That was pretty much me for a while," he admitted. "There was one point I almost gave up, I was so frustrated. I didn't make any music for about four months. Then my good friend Andrew told me I was too talented to quit. He started buying me studio time and equipment, and that was when I got my break."
His success with Minaj opened doors, Thielk said.
"Since then, I've gotten to work with some of the best songwriters and some great artists. I did a song on Lil Wayne's last album and that album was very successful. I did a song a year ago for Nelly called 'The Champ' that was used as the college bowl game theme song on ESPN.
"It's a song I started on my couch at home and I finished it with Nelly in the studio at the Hit Factory, one of the greatest studios in the world. And now, to be sitting on my couch and listening to it on ESPN is pretty cool - pretty sweet."
Thielk said he is content to just provide the music, and let others concentrate on the lyrics.
"I'm not the greatest lyric writer. Plus I'm working with some of the best songwriters. I kind of leave it up to them. I may throw in my two cents every once in a while. It's not something I typically do," he said.
Thielk has a busy year ahead, starting with a song that Lil Wayne recorded for his next album and also a song with Darren Criss from the TV show "Glee," as well as a song from P. Diddy artist Cassie and a few other artists that have been newly signed.
"I still have to promote myself and make phone calls, but the phone does ring a little more than it used to in 2009," Thielk said.