Calendar of events
Best Bets:

Awesome weekend alert! Rickie Lee Jones, Civil War Days and Grillin' for Food Gatherers on tap

Posted on Thu, Jun 7, 2012 : 3:10 p.m.
MUSIC
The AnnArbor.com Summer Concert Series kicks off on Friday with the The Paul Keller Quartet. Noon-1 p.m. Bring your lunch and enjoy the sounds of summer. The PK4 is dedicated to entertaining and delighting audiences of all ages with its personalized brand of high-energy, top-shelf jazz and swing. Free. On the patio on the corner of South Fifth Avenue and East Liberty Street in downtown Ann Arbor.
HISTORY
"Civil War Days" return to Gordon Hall in Dexter this weekend. Friday, 7-10 p.m.; Saturday, 9 a.m.-5 p.m.; Sunday, 9 a.m.-4 p.m. Friday kicks off the event with a "Period Concert" with The Towne Band and the St. Patrick's Boychoir. Saturday and Sunday the military and civilian encampments will be open for visits. President and Mrs. Lincoln will arrive on Saturday. A complete schedule can be found at http://www.dextermuseum.org/cwd_2012/schedule.htm. A $10 donation is suggested. Gordon Hall is at 8341 Island Lake Road, Dexter.
FESTIVAL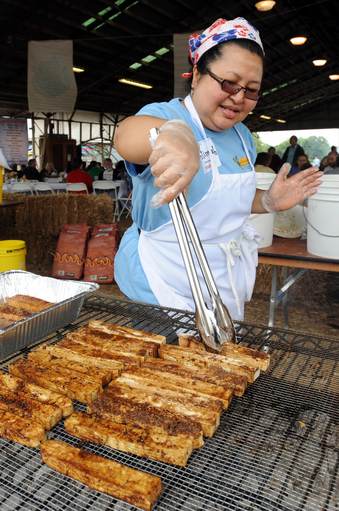 File photo | AnnArbor.com
Head to the "Mission Zero Fest" to hear great music and to celebrate sustainability in all its forms this weekend. Saturday, 10 a.m.-6 p.m. Sunday, 11 a.m.-4 p.m. Mixing music and sustainability, this festival will be both entertaining and enlightening. Find complete information and a schedule at
http://www.missionzerofest.org/
. On the 700 block of Fountain St., Ann Arbor.
GARDENS
Saturday is the "Annual Ann Arbor Garden Walk." 10 a.m.-4 p.m. Take a walk through six of Ann Arbor's lushest gardens. There will be an art and garden-related merchandise for sale. Proceeds benefit Growing Hope. $15. Tickets can be purchased online and at the following locations: Artistica Gallery, Dixboro General Store, Downtown Home & Garden, Matthaei Botanical Gardens, and Nicola's Books. Find the map at: www.annarborfarmandgarden.org.
MUSIC
Singer Rickie Lee Jones will be at the Ark on Saturday. 8 p.m. Jones has been hard to classify ever since she came on the scene with the instant classic "Chuck E.'s in Love" in 1979. She's performed straight jazz, blues, synth pop, new wave rock, pop covers, trip-hop, gospel, ambitious singer-songwriter music, and more. $47. The Ark is at 316 S. Main St. Ann Arbor. 734-761-1800. Read a preview article here: http://www.annarbor.com/entertainment/rickie-lee-jones/
FOOD
Get your tickets for Sunday's "Grillin' for Food Gatherers" at the Washtenaw Farm Council Grounds. 3-8 p.m. Guests can fill their plates with food provided by local restaurants like Zingerman's, Grange Bar and Grill and more. $50 in advance for adults ($60 at the gate), $10 for kids ages 3-13. Kids under three get in free. Buy advance tickets online at www.foodgatherers.org or call 734-761-2796. The WFCG is at 5055 Ann Arbor-Saline Road, Ann Arbor. 734-429-3145.