Posted on
Sun, Mar 28, 2010 : 5:39 a.m.
Friday's musical 'Triathlon' the next step for local band My Dear Disco
By Roger LeLievre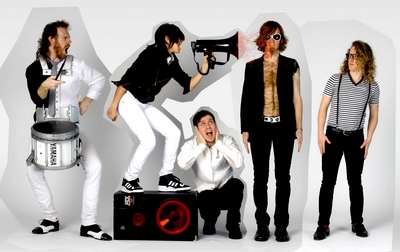 When it came time to plan its next Ann Arbor show, local band My Dear Disco decided to think big. So mark your calendars for the Dancethink Triathlon April 2, a music extravaganza at 3 different locations.
A performance at the 2009 Ann Arbor Summer Festival's Top of the Park, which drew the biggest crowd of any of TOP's outdoor events and was the last time MDD played a hometown show, convinced band members they needed to do something extra-special. The group has grown a bit too large for the Blind Pig and isn't quite large enough for the Michigan Theater. Plus, said My Dear Disco guitarist Robert Lester, "We needed a place where fans could dance."
The Dancethink Triathlon will kick off from 5-8 p.m. Friday with a pre-party at BTB Cantina, followed by an 8 p.m.-midnight main event / My Dear Disco performance at the Michigan League Ballroom, and an after-party at Circus, running until 2 a.m.
---
PREVIEW

The Dancethink Triathlon

Who: Popular local band My Dear Disco. Members: multi-instrumentalist Tyler Duncan, guitarist Robert Lester, vocalist Michelle Chamuel, drummer Mike Shea and bassist Christian Carpenter.

What: Three-part event, in trio of locations, has as its centerpiece a concert by My Dear Disco performing its 1st local show in nearly a year, featuring new songs and a slimmed-down, 5-piece lineup.

When and where: Friday, April 2. First event: Pre-party at BTB Cantina (1140 South University Avenue) from 5-8 p.m. with DJs Seek Selekta, DJ Malvin, and Draconum.
The Main Event: My Dear Disco live at the Michigan League Ballroom (911 North University Avenue), doors at 8 p.m., show from 9-midnight, with Shoeless Revolution opening.
The Final Event: after-party at Circus (210 S. First St.) from midnight-2 a.m. with music from Ann Arbor's funk powerhouse Jamie Register and the Glendales plus DJ Bodyrock.

How much: First Event: $2, The Main Event: $15, The Final Event: $5.

Info: My Dear Disco web site
---
The Triathlon, Lester and Duncan agreed, could lay the groundwork for an annual music festival in Ann Arbor. "It's the first installment," Duncan speculated.
It will be the perfect opportunity for fans to check out My Dear Disco's tighter lineup and also hear some of the new tunes members have been working on.
"The overall idea is that it's a night of music and dancing and fun curated by us," Lester explained. "We've personally selected and contacted every musician that will be performing or contributing their talents to the night. Each of the things that are happening functions as an extension of the interests and aesthetic of My Dear Disco in some way.
"One of the philosophies behind every Ann Arbor show we have ever played since the beginning was the desire to always outdo ourselves in Ann Arbor," added Lester, who said group members spent the last 6 months looking at warehouses, outdoor festival permits and parking lots trying to decide where to stage their next concert.
An important part of the production is the chance to create musical partnerships in the community, so each part of the Triathlon has its own associated organization. The pre-party is sponsored by MyBandstock.com, and the main event is sponsored and presented by the University of Michigan student group LMA. Other sponsors are Modati Clothing (limited edition Dancethink Triathlon shirts will be available at the Triathlon, or bring something for Modati to screen print), Sam's Clothing, Necto and The Neutral Zone teen center.
Besides Lester, My Dear Disco consists of multi-instrumentalist Tyler Duncan, vocalist Michelle Chamuel, drummer Mike Shea and bassist Christian Carpenter.
Fans who might be used to seeing a 7-member group need to know that My Dear Disco recently trimmed down to a 5-piece with the amicable departure of keyboardist Joey Dosikand and guitarist Theo Katzman, who have moved on to other projects.
"We took the opportunity to reinvent the band, give it a fresh start," said Duncan, adding that the band is focusing anew on its electronic roots.
"It's given us an opportunity to reevaluate some of the arrangements that we're doing," he said. "Now we have years of touring and all this experience under our belt (we thought) let's manifest this knowledge into the next re-creation of the band. We've taken it as an opportunity to make those changes happen, write new music and reinvent ourselves."
My Dear Disco plays self-described "dance-think" music — tunes that sound just as good on the dance floor as they do through headphones. The group formed in 2007 out of the roots of another local band, Toolbox; its members graduated from the U-M School of Music, Theatre and Dance in April 2008 and released their debut CD in October 2008.
Since that Top of the Park show last summer, the band has completed a 10-day tour of Alaska, had a track featured on the TV show "Melrose Place," completed a remix commissioned by Scion (yes, the car company) of a track by well-known electronic composer/producer Todd Edwards (Daft Punk, Björk), have been confirmed to open for Boys Like Girls in Denver, and have upcoming tours all over the country, with stops at several major music festivals.
Edwards is about to finish a remix of MDD's early, dance-floor friendly single "White Lies." Listen to My Dear Disco "White Lies." (MP3).
Working with the likes of Edwards is a real step forward for the band, said Duncan. "Producers we've been admiring from afar, now we're actually working with them," he said.
Lester said that even though My Dear Disco is becoming more focused on electronic music, its members haven't lost sight of the importance of putting on a great live show.
My Dear Disco performing live in Chicago last fall:
"I think the show is still built around a live band performing," he explained. "The concert experience is not like what you'd expect when you go see a DJ. The experience is still around human beings who are putting out the energy of a performance in a pretty dynamic way."
"We still have to manipulate our instruments live, no matter what it is," observed vocalist Chamuel, who will be introducing fans to the harmonizer, which makes it sound like 3 versions of herself singing harmony, at the Triathlon.
"I sing, but at the same time I am attached to this device … I can sing a note and I can also play the harmonies. Or I can play notes that sample my voice and play it — a weird completely morphed version of my voice but it still has that nugget… you can tell who's singing," she said.
For the Michigan League Ballroom show, Duncan said to expect "new songs, secret covers, and the visual appearance of the show will be a benchmark for how we'll present ourselves in the future.
"There are so many things about this show we're amped about, it's hard not to be overwhelmed," he added.

Roger LeLievre is a freelance writer who covers music for AnnArbor.com.