Posted on
Tue, Mar 30, 2010 : 9:45 p.m.
My New Paesano
By Sarah Mintz
What better way to celebrate the change of seasons than with dinner at Paesano Restaurant & Wine Bar in Ann Arbor. Paesano has been family-owned since 1984 and features a rotating seasonal menu of Italian dishes, weekly specials and also consistent items served year-round. In addition, Paesano offers a reputable Italian wine list that won Wine Spectator's Award of Excellence in both 2008 and 2009 and The Wine Enthusiast's Award of Distinction.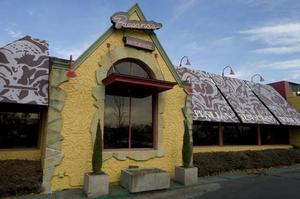 Photo by AnnArbor.com
On an early Sunday evening, I arrived at Paesano and was immediately enamored by the hospitable, yet rustic décor. When I told the bubbly and genial hostess that I had never dined at Paesano before, she looked at me with regrettable dismay and graciously took my dining companion and me on a tour of the large, 160-person dining room. Excited to have us as first-timers, the hostess allowed us to sit anywhere. It was still early, so the options were endless; nonetheless, I was innately drawn towards the quaint banquet room in the back. Although this room, adjacent to the main dining room, holds an additional 65 guests, it was empty. That was until I sat down at one of the tables overlooking the Italian-inspired outdoor patio.
The entire waitstaff, composed mostly of young men and women, was friendly, knowledgeable, and efficient. Our water glasses were always full, and, even though we sat in a separate room from all other diners, our dining experience was never overlooked.
The menu at Paesano is great. When I first arrived, I expected a typical Italian menu of penne, fettuccini and linguini dishes topped with tomato or pesto sauce and cheese. Wrong! Not only is the menu at Paesano composed of experimental and inventive dishes, but the text describing each dish adds a level of personality and flair which makes the entire menu fun to navigate.
Chef Isabella, the mastermind behind the menu, bases many of her unusual creations on the seasonal foods from the Veneto region of Italy, where she grew up. The menu ranges from a few common Italian dishes like Fettuccine alla Bolognese to many exotic dishes with flavor combinations you've never experienced like Lamb Ravioli tossed in a mint sauce with pecorino Romano cheese or Chicken in Porchetta with chicken breasts rolled and stuffed with asparagus then wrapped with a thin shaving of lard and sautéed in a sauce of prosciutto ham, chicken livers, fresh rosemary and fennel pollen. Regardless of what you choose, the housemade pastas, fresh salads, seasonal specialties, or even something from the entirely separate gluten-free menu, diners at all adventure levels are sure to find something to suit their taste buds.

Natasha, our waitress this evening, guided us through the new seasonal spring menu that had just been introduced last week. She pointed to the popular staple items, but really steered us towards the newly introduced dishes that have received the most buzz in the kitchen. Natasha also knew plenty about the wine list albeit complete with user-friendly, slightly humorous tasting descriptions. The short explanations under each wine offered were extremely helpful in picking one out, especially as diners often tend to be intimidated by the words "Wine Bar" when attached to a restaurant name.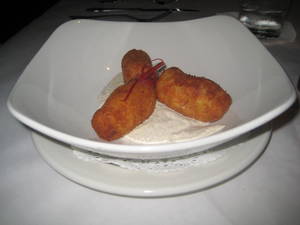 Sarah Mintz | Contributor
Our appetizer, sweetbread croquettes, was served with a black pepper and lemon dipping sauce. The flavor inside reminded me of a velvety and savory cake batter with a unique texture from the chopped veal, sort of similar to liver. Each bite just fell apart on my tongue. The smooth interior was complemented by the warm crunch of the fried and crispy outside shell. To top if off was the sauce, and although it tasted more like a mayonnaise-filled ranch, it still gave the croquettes a nice flavor, with sweet lemon essence and a peppery kick. The croquettes were extremely rich, creamy and delicious, but if texture is a problem I unfortunately must recommend that you stay away.
I was slightly disappointed that I had no bread to dip in the extra black pepper and lemon dipping sauce. Okay, okay, I was really disappointed. I love dipping! But why was there no bread? This was the first Italian restaurant I had ever been to where bread was not served, let alone sitting at the table awaiting my arrival. Anyways, just as I was going to ask Natasha why Paesano does not serve bread, our bread basket arrived. The warm loaves of Italian bread came brushed in olive oil, dusted in herbs and enclosed in a white cloth napkin to keep them warm. The accompanying herb compound butter was definitely an added bonus. If only the bread had arrived before the appetizer.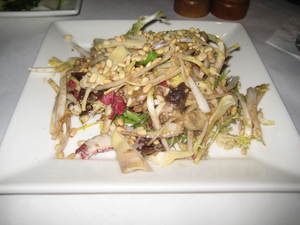 Sarah Mintz | Contributor
All entrees at Paesano come with a house salad or soup; however, Natasha informed us of the option to upgrade to any other salad on the menu for an additional $3.95. Obvious choice. I enjoyed my Chicory Salad with shallot agrodolce, marinated artichoke hearts, toasted pine nuts and lemon artichoke pesto vinaigrette. Agrodolce, a traditional sweet and sour sauce in Italian cuisine, made the shallots the highlight of my salad. However, I was disgusted by the taste of chicory. Usually used as a substitute for coffee, the chicory added such an unpleasantly crunchy and bitter taste to my salad, that I moved all of it to the side of my plate to be able to continue eating.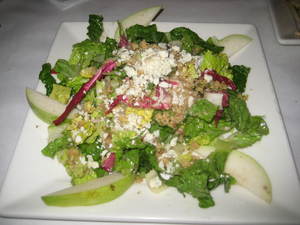 Sarah Mintz | Contributor
The Gorgonzola, Pear and Toasted Walnut Salad was a fresh seasonal mixture of romaine and radicchio lettuce served with a walnut vinaigrette. Although the walnuts were chopped way too small and ended up falling underneath the abundance of lettuce on top, the combination of creamy cheese, slightly sweet pear and crunchy walnuts was pleasant. Unfortunately, I have had this exact salad so many times before that I was quite underwhelmed by the execution of this dish.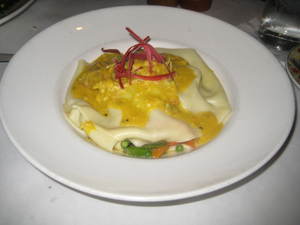 Sarah Mintz | Contributor
The first seasonal entrée, Open Raviolo Bazzofina, was a delectable but almost unexplainable dish. Two thin pasta sheets were stacked to create an open-ended large ravioli and then filled with a famous Roman spring vegetable "ragu" in Italy known as Bazzofina. Bazzofina includes honey roast carrots, fava beans, peas, artichoke hearts and asparagus all mixed together somehow to form a creamy, soupy consistency. The entire "ravioli" was then topped with garlic scapes, Romano cheese and a lightly scrambled egg mixture similar to an Italian Carbonara. As I said, it was unlike anything I had ever seen or tasted before, but as the menu says "...you'll be back for it all spring."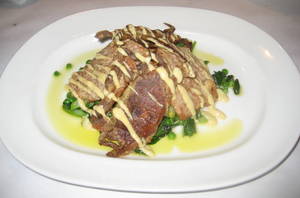 Sarah Mintz | Contributor
Our second seasonal entrée, Veal Medallions with Soft Shell Crabs, came complete with two thin slices of veal and two soft shell crabs, all leaning against a potato-rapini flan and on top of a mixture of asparagus, peas, and spinach. The dish was finished with a sweeping drizzle of zesty dijonaise. The fresh soft shell crabs, crunchy outside and juicy inside, were some of the best I've ever had. Unfortunately, I did not feel the same way about the veal, which was slightly overcooked and tough. Also, the potato-rapini flan, shaped like a typical flan but made with potato and broccoli rabe, and topped with a layer of lightly golden brown, melted cheese was a hearty, scrumptious concoction. However, while many components of the dish were good, I had trouble making a complete bite and seeing how it all worked together. To me, it was more of a mishmash of dissimilar creations put together on one plate, rather than a complete dish like the Open Raviolo Bazzofina.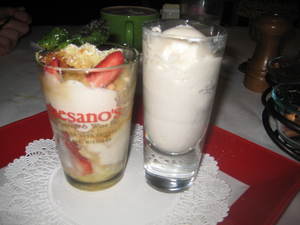 Sarah Mintz | Contributor
Stuffed full to the brim with veal sweetbreads, salad, Raviolo Bazzofina, veal medallions and soft shell crab...not to mention the baguette of warm Italian bread, I obviously opted in for dessert. After all, no meal is complete without dessert (in my book anyway!). We decided to share the seasonal dessert, a trifle made with three cakes: caramel cake, pound cake, and melted strawberry cheesecake. I am so glad I ordered dessert; it was outstanding. The pound cake soaked up the caramel flavor, giving it an almost spongy texture, while the strawberry cheesecake added a sweet creaminess to it all. With a side of silky vanilla bean gelato, this dessert was a homerun. After finishing my house Cappuccino with ground chocolate (which I put on top of my gelato of course), cinnamon, and hint of nutmeg, I went into a food coma. A good one. A great one, actually.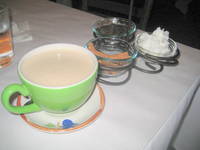 Sarah Mintz | Contributor
Chef Isabella and the owner truly care about the success of Paesano and it shows. With fresh ingredients, nicely prepared and presented plates, and fantastic service, Paesano deserves all of the recognition it has received. I look forward to my next visit.

Paesano
Address: 3411 Washtenaw Ave., Ann Arbor (next to Arborland Mall)
Phone: 734-971-0484.
Hours: Monday -Thursday 11 a.m.-10 p.m.; Friday 11 a.m.-midnight; Saturday noon-midnight; Sunday noon-10 p.m.
Web site: www.paesanosannarbor.com
Cuisine: Italian
Alcohol: Full Bar; Italian wine list
Price: Appetizers $7-$15; Entrees $11-35
Reservations: Not required
Outdoor seating: Patio
Dress: Casual
Special Events: Wine tastings are held every Wednesday from 6-7 p.m. by guest wine representatives. These events include five Italian wines and a selection of appetizers in an informative, informal setting. Cost is $25. Call for reservations.
Other Events: Paesano has technical component tastings, wine education classes, winemaker dinners, private chef dinners, a wine shopping catalog, Italian cooking classes, three levels of Italian language classes, annual trips to Italy and other special promotions. I recommend signing up on the e-mail list to stay informed with everything going on.

Sarah Mintz is a contributor to AnnArbor.com's Food and Drink section. She is a senior at the University of Michigan's Ross School of Business. You can follow Sarah's other dining blog and contact Sarah at smintz@umich.edu.