Posted on
Fri, Feb 4, 2011 : 11:55 p.m.
Nadja Salerno Sonnenberg, New Century Chamber Orchestra dazzle in concert at Rackham Auditorium
By Susan Isaacs Nisbett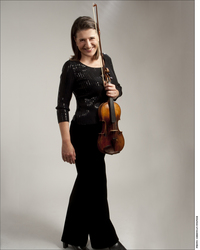 photo by Christian Steiner
Nadja Salerno-Sonnenberg, intense and passionate violin soloist, has been on our radar screens for some time. Last night at Rackham Auditorium we met another Nadja Salerno-Sonnenberg: inspiring leader; intense and passionate concertmaster; lover of a good joke and a good time; and music director of the most exciting chamber orchestra you may have never heard, the Bay Area-based New Century Chamber Orchestra.
Check off all those Salerno-Sonnenberg qualities for the NCCO, now on its first — and sure not to be its last — U.S. tour, with Salerno-Sonnenberg in the director's chair (and as soloist). Add in a few more: bravura technique, fearlessness, aural imagination. It added up, Friday evening, to a performance that crackled with electricity from start to finish. I'm already waiting for the University Musical Society to issue the next invitation.
It was an evening in which dance rhythms held the floor, from Wolf through Bartok and Piazzolla to Tchaikovsky. And how alive and vital those rhythms were.
How crisp and yet flexible, too: In the opening Wolf "Italian Serenade," the extraordinary cellist Susan Babini had one of those wonderful solos out of time; Salerno-Sonnenberg's violin responded; and then, neatly, as if time had never stopped, the pulse resumed. Everyone smiled, on stage and in the hall. The players constantly seem to be in on the best secrets, and their complicity is contagious, not just because of their sly glances and smiles, but because the music translates their intent.
There were wonderful colors to enjoy in the Wolf, ghostly choruses, sardonic refrains. But for color, and for instruments that were in the players' heads and not their hands, it was the Bartok "Romanian Folk Dances" and the Piazzolla "Four Seasons of Buenos Aires" that were the stars.
In the Bartok, you could hear a clarinet in Babini's cello playing in "Pe Loc," weeping in Salerno-Sonnenberg's violin. Violist Cassandra Lynne Richberg wove a haunting and languorous spell in "Buciumeana," and the orchestra charged thrillingly to the finish in the two fast and faster final dances.
For the Piazzolla "Four Seasons of Buenos Aires," Salerno-Sonnenberg left the concertmaster's chair in the more-than-capable hands of the dynamic Dawn Harms, and rose to take the soloist's spot. Vivaldi and Piazzolla meet in this orchestration by Leonid Destyatnikov, and it's a tango tour de force — fiery, soulful, charming — for both orchestra and soloist.
It's possible to perform this piece well and merely skate on the surface. But Salerno-Sonnenberg and the NCCO dug down deep. They made of it something that was at times fierce and desperate, gritty, really, and at other times tender and full of pathos. It is emotionally labile music; Salerno-Sonnenberg played it from inside out, every phrase a sentence uttered from the gut. The orchestra did the same, and what could merely be a showpiece became incredibly moving.
No tangos for Tchaikovsky, but if you thought you had his beloved "Serenade for Strings" down cold, Salerno-Sonnenberg and the NCCO had some news for you. The tempos were quick, the pauses long, and maybe, I'd argue, too studiedly so. But the dancing was light-footed, the clarity sublime, and the "Elegie" segued with a whisper and ineffable grace into a finale as buoyant and self-propelled as it was noble.
The audience rose to its feet to applaud, though dancing would have been as appropriate. Salerno-Sonnenberg and the orchestra obliged with a bit more of the latter, a wry Russian polka by Schnittke. Song had the final say, though, with the NCCO accompanying Salerno-Sonnenberg's very vocal "Bess, You Is My Woman Now," from Gershwin's "Porgy and Bess." Susan Isaacs Nisbett is a free-lance writer who covers classical music and dance for AnnArbor.com.