Posted on
Wed, Nov 2, 2011 : 8:18 a.m.
National Novel Writing Month kicks off around Ann Arbor
By Ryan Levin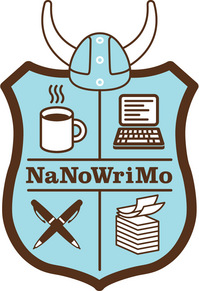 There are a thousand reasons not to sit down to write the first words of your long-dreamed-of novel. To be fair, it is kind of late. "The Walking Dead" is going to be on soon and, hey, you've been working all day already. Tomorrow you'll get to it. You don't quite have the right words yet anyway.
Of course, there is one really good reason this month to sit down, throw excuses to the wind and just write. It's National Novel Writing Month — or if you're short of breath (or in the know), NaNoWriMo — and it's happening all around Washtenaw County.
National Novel Writing Month is a competition against yourself to write a novel in one month. The goal is to reach 50,000 words, which might seem light for a novel but is a mark substantially higher than the point distinguishing a novel from a novella (that's 40,000 words). It's right on par with some of English literatures' most beloved books (think 'The Great Gatsby' and 'The Hitchhiker's Guide to the Galaxy').
Learn more about the rules and the philosophy of NaNoWriMo after the jump.
NaNoWriMo promotes quantity over quality. The idea is that (with writers especially) if you sit around waiting for lighting-bolt moments of quality, you'll never get any amount of writing done. Participants work against a deadline to write an average of 1,667 words per day. The prize for winning is pride, accomplishment, a printed certificate if you submit your work to the website for word count verification and, of course, a novel with your name on it.
The goal of NaNoWriMo is just to get participants to sit down and write, write, write. Doubt and timidity are the worst enemies of creativity during National Novel Writing Month.
Official rules for the annual contest can be found here but you're essentially a winner for even trying. Testimonials on the website and from returning participants talk about the value of forcing yourself to write for a goal. You'll never know what things you'll learn about yourself and how your brain works until you try.
According to the events calendar on the regional Ann Arbor NaNoWriMo page, you can meet up for a write-in with other NaNoWriMo participants every Sunday at the AADL Pittsfield branch, Mondays at Zingerman's Deli, Monday through Wednesday at Cafe Ambrosia, five times Wednesdays at WCC and weekly on Fridays at EMU.
Drop a comment here on AnnArbor.com if you're participating this year in National Novel Writing Month and check back at the end of the month to let us know if you made it.
Ryan Levin is a University of Michigan Screen Arts and Cultures graduate and a film and comedy blogger.