Neehee's offers uniquely wonderful bites of Indian street food
Posted on Thu, Jun 17, 2010 : 5:47 a.m.
Lon Horwedel | AnnArbor.com
If the phrase "Indian vegetarian street food" sounds like a mouthful, it is — a delicious one if the dining destination is Neehee's, a roadside shrine to the genre on Ford Road in Canton.
Next to an Indian grocery and a few doors down from the popular Thai Bistro in a little row of shops at the corner of Canton Center Road, Neehee's isn't much to look at. Colorful posters on the bright yellow walls — I'd love to call it saffron yellow, but in truth it's more Subway yellow — picture and describe the savory treats that are Neehee's specialties. But aside from these, the décor of the tiny space, more storefront than restaurant, is drab. You order at the counter, get a number and repair to the plainest of Formica tables — enough for perhaps 16 people — set on a tile floor, awaiting your food. Nearby there's a table with plastic utensils, paper plates, napkins (take lots) and a water dispenser and cups — you will want something to quell the spicy fire, for sure. That's it.
So don't go expecting, say, a gussied-up Indian street food experience, in the manner of the erstwhile Bread Bar at Tabla in New York City. But go, for sure, if you love the wonders Indian cuisine works to turn the simplest of vegetables into phenomenal snacks. If you like potato chips, you'll marvel at what Neehee's can do with a spud. Or with lentils, rice, flour or chickpeas, for that matter.
RESTAURANT REVIEW
Neehee's Indian Vegetarian Street Food
45490 Ford Road, Canton
734-737-9777
NOTE: There is also a Neehee's in Farmington, at 35203 Grand River, 248-471-0604, with the same hours as the Canton location.
Neehee's Indian Vegetarian Street Food in AnnArbor.com restaurant guide
Hours: 11 a.m.-9 p.m., Wednesday-Monday. Closed Tuesday.
Liquor: No.
Plastic: Yes.
Prices: Low. The most expensive item on the menu is $10.99, and most dishes are in the $4-7 range.
Value: Superb.
Noise level: Quiet.
Wheelchair access: Yes.
The Bottom Line: Delicious, inexpensive, spicy and unusual. Worth the pilgrimage for the food, though not the atmosphere.
If, like the space itself, Neehee's culinary purview is narrow, the menu is huge and wide-ranging, an all-India journey rich with regional specialties and a good selection of popular Indo-Chinese snacks. Among the latter, gobi 65 (No. 41) — cauliflower red with chili sauce, spices, ginger and garlic — was so good, a friend and I gobbled it like popcorn at a recent lunch. That was both good and bad. All the dishes are copious, be warned, and $7 worth of cauliflower was a lot; as I felt my stomach filling, I could just imagine how little room was left for all the rest of the dishes we had ordered.
Still, we couldn't resist the golden cylinder of masala dosa (No. 78) — a griddled lentil and rice crepe, stuffed with potatoes — that arrived overhanging its paper plate by about 3 inches on either side. It was delectable, as was the sambar, a spicy vegetable-lentil soup that was its sidekick. On another visit, our dosa, this time a Mysore version (No. 79), was folded into a crisp triangle, like a giant starched linen napkin. Outstanding.
I use these two as examples — the dosa category alone has about 25 variations. Even Beethoven could only do 33 variations, so there's a real maestro in the kitchen here.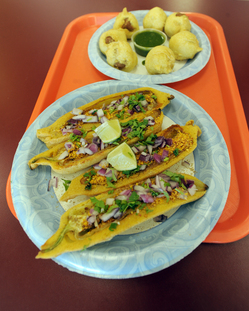 Lon Horwedel | AnnArbor.com
Another 25-item category is chatpati chaat, dashingly spiced little dishes, from puffed rice to potatoes and Indian breads and savory pastries, festooned with yogurt sauce, chutney and crispy filaments of fried dough. As a samosa lover, I found something on the list I liked even more than a "plain" samosa: samosa ragda (No. 9), a smashed samosa topped with all of the above adornments plus onions. I also love pani puri, the fragile little hollow dough shells filled with potatoes and served with tamarind-water, and Neehee's version (No. 6) did not disappoint.
An order of chole bhature (No. 55) — a rich, long-cooked Dehli-style chickpea curry served with diced red onion and two puffy poori-like bhature — was pure spicy bliss. I also loved pav Bhaji (No. 56), a vegetable medley heavy on cloves in the spice mixture, that was served with grilled buns; and onion-chili uttapam (No. 69), a rice pancake studded with jalapenos and diced onion. All the chutneys that I've tried have been fresh and well-flavored. I think it's hard to go wrong at Neehee's, and with 96 menu items, it's also hard to be bored.
If water's not your cooler of choice, consider sugar cane juice, a Neehee's specialty, or lassi, a yogurt drink most Americans know in fruit incarnations, but that is also delicious in its "salty" version, with cumin and other mild spices. And the ice-cream selection at Neehee's — from pistachio-saffron to mango and cardamom and other exotic flavors — is not to be overlooked.
Neither is the picnic table close to the road outside of the restaurant. Those inside tables get awfully full around meal times, and with the weather being warm now, an Indian picnic could be just the thing.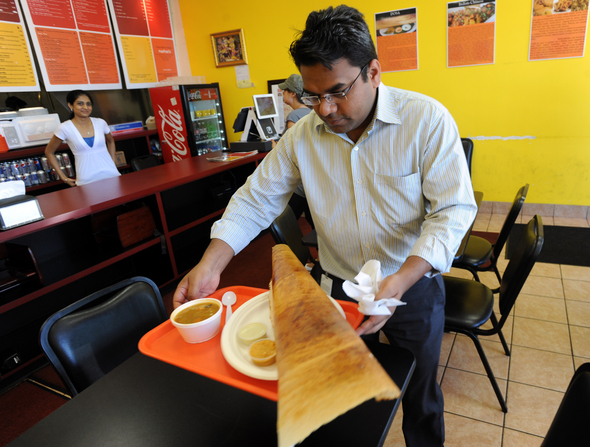 Lon Horwedel | AnnArbor.com
Getting to Neehee's:
View Larger Map