Posted on
Thu, Jul 4, 2013 : 10:22 a.m.
Neil Gaiman to stop at the Michigan Theater and answer fans' questions on his last book signing tour
By Jenn McKee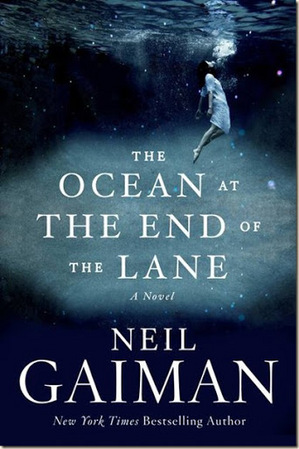 Author
Neil Gaiman
is an expert in creating, and building, a sense of anticipatory dread in his varied, fantastical works—whether it be the child-friendly pleasures of "Coraline" or the Newbery Award-winning "The Graveyard Book,"; the landmark "Sandman" comic book series; or adult fare like "American Gods" or his newest novel, "The Ocean at the End of the Lane."
But Gaiman's legion of fans - 1.8 million of whom hang upon his every Tweet - now have more reason to feel wary: Gaiman—who is scheduled to read from "Ocean," answer audience questions, and sign books at the Michigan Theater on Sunday, July 7—claims that his current book-signing tour will be his last.
"They're exhausting, on a level that's hard to believe," Gaiman wrote on his website's blog in December 2012. "I love meeting people, but the sixth hour of signing, for people who have been standing in a line for seven hours, is no fun for anybody. … So I'm going to try and make this tour the glorious last U.S. book signing tour, and then stop doing book signing tours for good."
Gaiman, who's of Eastern European Jewish descent, was born and grew up in England. As a child, Gaiman was a voracious reader, reading and re-reading the works of J.R.R. Tolkien, C.S. Lewis, Edgar Allen Poe, Lewis Carroll, and Ursula K. LeGuin, among others.
PREVIEW
Neil Gaiman
What: Versatile, prolific, popular author Gaiman ("Coraline," "The Graveyard Book," "American Gods," "The Sandman," etc.) will read from his new novel, "The Ocean at the End of the Lane," answer questions from the audience, and sign books, as he stops in Ann Arbor for what is reportedly his last book-signing tour.
Where: Michigan Theater, 603 E. Liberty St. in Ann Arbor.
When: Sunday, July 7 at 6 p.m.
How much: $30 for balcony, or $45 for main floor ($60 for limited gold circle seating and "front of the line" book-signing access), and all prices include a copy of Gaiman's new novel. For tickets, visit www.ticketmaster.com. For more information, visit www.michtheater.org or www.nicolasbooks.com or www.neilgaiman.com.
"I wouldn't be who I am without libraries," Gaiman said in
his website's biography section
. "I was the sort of kid who devoured books, and my happiest times as a boy were when I persuaded my parents to drop me off in the local library on their way to work, and I spent the day there. I discovered that librarians actually want to help you: they taught me about interlibrary loans."
About 20 years ago, Gaiman moved to America with his former wife, Mary McGrath, with whom he had 3 children. They lived in the Minneapolis area.
Now, however, Gaiman lives in Cambridge, Mass., with his wife of 2 years, musician Amanda Palmer.
"When I was 31 or 32 and had just moved to America and things were just starting off for me, I met Stephen King and he said, 'You've got to enjoy this,'" Gaiman told The Independent during a recent interview. "But I didn't enjoy it. There's a word or emotion that's somewhere between worried and harassed and anxious and that was me. It wasn't until I met Amanda that I felt that yes, I was able to enjoy it all."
Gaiman began his professional writing life as a journalist, and his first published books were a Duran Duran biography and a Douglas Adams biography.
But he has since enjoyed great critical and popular success for his works of fiction, writing for different media (television, film, etc.) as well as different ages (from picture books to adult novels).
Gaiman has repeatedly declared that his newest novel, "The Ocean at the End of the Lane"—though it focuses on the spooky experiences of a 7-year-old boy—is his first adult-aimed novel in 8 years.
"Really, I kept a sort of open mind until I got to the very end, and then looked at what I'd done," Gaiman recently told NPR. " ... It was meant to be just about looking out at the world through the kind of eyes that I had when I was 7, from the kind of landscape that I lived in when I was 7. And then it just didn't quite stop. I kept writing it, and it wasn't until I got to the end that I realized I'd actually written a novel. ... I thought - it's really not a kids' story -Â and one of the biggest reasons it's not a kids' story is, I feel that good kids' stories are all about hope. In the case of 'Ocean at the End of the Lane,' it's a book about helplessness. It's a book about family, it's a book about being 7 in a world of people who are bigger than you, and more dangerous, and stepping into territory that you don't entirely understand."
In the novel, a South African boarder in the boy's house turns up dead in the family's car, leading the boy to get involved with the seemingly ancient, ageless Hempstock women - 11 year old Lettie, her mother, and her grandmother - who live on the farm at the end of the lane. The South African's death somehow kicks off a spooky, supernatural struggle between the Hempstocks and some darkly magical forces, which the 7 year old - now a man in mourning - re-lives by visiting the place where he grew up.
"I started writing ['The Ocean'] for Amanda because I missed her, but then it kept growing," Gaiman said during a recent on-stage interview, as reported on by the Tor.com blog. "I told my publishers there was a novella on the way, but then I did a word count at the end, and realized I just wrote a novel by accident! ... It wasn't plotted. Things kept taking me by surprise. It's not making things up, it's getting into what did actually happen."
Here's Gaiman's 2012 commencement address at an arts college in Philadelphia -Â a speech that's now available in a book titled, "Make Good Art."
Jenn McKee is an entertainment reporter for AnnArbor.com. Reach her at jennmckee@annarbor.com or 734-623-2546, and follow her on Twitter @jennmckee.