Posted on
Tue, Jun 25, 2013 : 5:45 a.m.
Summer Festival presenting 'live action graphic novel' 'Intergalactic Nemesis'
By Kevin Ransom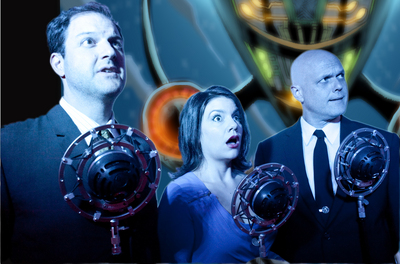 "The Intergalactic Nemesis" is definitely not your average theatrical production. In fact, it's quite unlike almost anything else you're likely to see on a theater stage.
The show, which is billed as a "live action graphic novel," is a pulpy 1930s sci-fi tale that actually began as a radio drama. Then, it was re-conceived as both a comic book and a "live-action" comic book. So, what you see on stage are large, projected reproductions of the comic-book artwork—more than 1,200 high-resolution images in all.
But, instead of illustrated word balloons, there are live actors on stage delivering the dialogue. And there are only three actors who provide the voices for five or six different characters each. And just one keyboard player - using a grand piano, organ and sampler - creates all of the music. Finally, one sound person produces all of the many, many sound effects. And those folks are all visible to the audience.
Needless to say, the production—which comes to the Power Center on Sunday as part of the Ann Arbor Summer Festival—makes for a fast-paced romp that borders on sensory overload.
"Yes, with all of that going on, it does take an audience a few minutes to pick a focal point," says Jason Neulander, the production's writer, director and producer. "But then, they don't really have to pick just one if they choose not to—it's fun to let your gaze wander from the artwork, to the actors, to the keyboard player, to the sound person, and just lose yourself in the total experience.
"I think this production pushes every button for the audience," says Neulander. "It puts me in the mindset of my own inner 12-year-old. It's all set up in a way that encourages the audience to react—to laugh, or clap, or even cheer."
Neulander likens that aspect to the piece's main inspirations—the "Star Wars" and "Raiders of the Lost Ark" movies. "Like, in 'Star Wars,' the first time we saw the death star blowing up, people in the theater were cheering," recalls Neulander.
PREVIEW
The Intergalactic Nemesis: 'Book One: Target Earth'
Who: Presented by the Ann Arbor Summer Festival.
What: A "live action graphic novel" that's an homage to the pulpy sci-fi movies of the 1930s. It uses projected images of comic-book panels, live actors delivering the dialogue, a keyboard player and one sound person to tell the tale of a reporter and her sidekicks who face off against space-invading aliens.
Where: Power Center 121 Fletcher St.
When: Sunday, June 30, 5 p.m.
How much: $10-$35. Tickets available at the ticket office by calling (734) 764-2538 or toll-free in Michigan at (800) 221-1229, or online.
Special related event: In-store appearance by the cast, Sunday, June 30 (day of show), 11:30 a.m. at Vault of Midnight, 219 S. Main St.
Neulander is a self-confessed sci-fi freak who is especially drawn to the vintage sci-fi serials of the 1930s, and specifically the "Flash Gordon" episodes. "I know those were cheesy and awful, but I remember watching them on TV on Saturday mornings when I was a kid, and loving them," says Neulander. "But I also love Ray Bradbury, and Isaac Asimov, and 'Star Trek,'" he effuses.
And of course, those vintage sci-fi / swashbuckling serials were a big inspiration for "Star Wars" and "Raiders," which simultaneously paid homage to, and parodied, those genres.
"Yeah, that's part of what we're doing here, too," says Neulander by phone from Austin, where he lives and where the "Nemesis" production was initially conceived. It actually started out in 1996 as a radio drama, which was then revised in 2007.
Neulander had been producing plays for the Salvage Vanguard Theater in Austin since the early 1990s, and in 2009, he was invited by The Long Center for the Performing Arts, also in Austin, to do a stage production of "Nemesis."
"But it was a 2,400-seat theater, and I thought that was too big of a room for it to be just a staged version of the radio drama, and that's when I got the idea to project the comic-book artwork as the backdrop. And part of that was because the theater had recently purchased this sophisticated, fancy cinematic projection system."
Another inspiration for the morphing of "Nemesis" into its current form occurred when Neulander went to see a presentation of the original "Dracula" movie, "in 1999 or 2000." At the time, Phillip Glass had composed a score for the movie, and then he, along with the Kronos Quartet, performed the score during screenings of the film in various U.S. cities during those two years.
"You could see them, through the screen, performing," remembers Neulander. "Their bodies were dwarfed by the size of the screen, but it was striking, and it was a totally cool production. So, that image came back into my head as I was thinking about how to re-stage this."
About the story: "Nemesis" is the tale of a fictitious Pulitzer-winning reporter named Molly Sloan, her assistant Timmy Mendez, and a mysterious librarian named Ben Wilcott, who face off against an impending invasion of sludge monsters from the planet Zygon. But much of the action and dialogue is comical, almost tongue-in-cheek.
"I fell in love with the main characters, Molly and Timmy, and the more I've lived, the more I've been able to identify with the core conundrum they represent - having to achieve these impossible goals without any real training. Ben is a librarian -- he's a hapless hero, a hero by circumstance."
The actors are Danu Uribe, Chris Gibson, David Higgins. The keyboard player is Kenny Redding Jr. - the grandnephew of Otis Redding. Providing all of the sound effects is Cami Alys.
Generally, a theater director doesn't travel with a touring production, so Neulander won't be in town for the Ann Arbor show, "but we have an amazing company manager, Jessie Douglas," who will be on hand to ramrod the production.
"Nemesis" first launched as a touring production in 2010, and has been so successful that it was featured on National Public Radio and on "Conan." "The NPR segment was an extended, 10-minute long cultural piece, and when we did 'Conan,' he interviewed me, and then he and (sidekick) Andy (Richter ) participated in a scene."
It also produced a sequel. Sunday's Ann Arbor show is Book One, and the sequel, Book Two, premiered a year ago and also went on tour.
Neulander stresses that "Nemesis" is "an all-ages show—it really is for the kid in everybody. You don't have to be a comic book fan to get into the story telling, but it probably helps if you're a sci-fan, or if you grew up on 'Star Wars' and 'Raiders.'"
Kevin Ransom is a free-lance writer who covers arts and entertainment for AnnArbor.com. He can be reached at KevinRansom10@aol.com.