Posted on
Tue, Nov 15, 2011 : 8:51 a.m.
Movies or magazine? Neutral Zone and Michigan Theater hosting Found vs. FOUND face-off
By Jenn McKee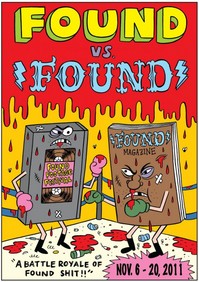 Found Footage Festival co-founder Nick Prueher recently received a large Pampers box full of "special interest" VHS tapes from a fan. And while most of us would consider this a package of useless, annoying clutter, Prueher said, "It's like Christmas morning for us."
That's because Prueher (who's previously worked for David Letterman and Stephen Colbert) and Joe Pickett (The Onion) have been combing through old, low-budget VHS tapes for years in order to present the most comical, cheesy, best/worst clips they can find during their FFF tours.
And if you think this sounds similar to the content found in Ann Arbor natives Davy and Peter Rothbart's FOUND magazine (which also offers tour events often and collects personal notes), you're not the only one. Late last year, someone in Madison, Wisconsin booked both FFF and FOUND magazine events at the same venue, and this caused the parties to finally meet in person and hatch the idea for a "Found vs. FOUND" event—wherein the two formats will duke it out for supremacy—coming to the Neutral Zone and the Michigan Theater Nov. 18.
How will the winner be determined?
PREVIEW
Found vs. FOUND
What: The Found Footage Festival of movie clips will go toe-to-toe with FOUND magazine, launched by Ann Arbor's Davy Rothbart, to determine whether found videos or found notes will reign supreme. The Neutral Zone event will benefit that organization, and $1 from each ticket sold for the Michigan Theater program will benefit 826 Michigan.
Where: The first show will be at the Neutral Zone, 310 E. Washington St., while the second show will be at the Michigan Theater, 603 E. Liberty St.
When: Friday: 7 p.m. at the Neutral Zone, 9:30 p.m. at the Michigan Theater.
How much: $15 ($10 for students). Tickets available at the door or at www.foundfootagefest.com.
"That's a good question," said Prueher. "I don't know exactly how a winner will be determined. We may just have audience members arm wrestle for it. … But in Ann Arbor, FOUND will definitely have the home field advantage."
FOUND has age on its side, too, predating FFF by a couple of years. For although Prueher and Pickett began collecting video tapes in the mid-90s, they didn't start presenting the material to the public until 2004.
"We hadn't heard (of FOUND magazine) until, when we were touring, people said, 'Hey, we love your magazine,'" said Prueher. "We looked into it and … we got in touch with them very early on. They gave us videos, and we gave them notes we'd collected."
And when they finally met in person earlier this year, "We all got along really well," said Prueher. "It felt like meeting long lost brothers. And the natural instinct for brothers, I guess, is to fight it out."
FFF was initially inspired by a McDonald's employee training video that Prueher, as a teenager, found while employed by the chain in Wisconsin. He shared it with friends, and this led to him scouring thrift stores, garage sales, and more for inadvertently hilarious tapes.
"One thing we never include are movies meant to be seen in public," said Prueher. "They just don't have the same charm or appeal as training videos, home movies, and exercise tapes."
You might assume that the hair and clothes of the VHS era was a primary draw, but for Prueher, "it's more that video in the home was a new technology at the time, and it was exciting for people. It became this very democratic thing. It wasn't that expensive to get a camcorder, so anyone could make their own video pretty cheaply."
And they did—from a 60-minute tape about how to identify machine-made marbles to "Rent a Friend," in which a man seated in an armchair would ask your name, pause for a moment, then continue to carry on a one-sided conversation with the viewer.
But as VHS players and tapes have disappeared from the cultural landscape—many thrift stores have stopped accepting them, much to Prueher's chagrin—you wonder about the future viability of FFF.
"We find new stuff every day," said Prueher. "We haven't reached the bottom of the barrel yet."
Plus, digital recorders and computer programs have made the process of making a film even easier. "That's comforting, particularly for us," said Prueher. "Even if technology is always changing, people will always have bad ideas. As long as they're willing to commit them to media, we'll have material."
Here's a trailer for Found vs. FOUND:
Jenn McKee is the entertainment digital journalist for AnnArbor.com. Reach her at jennmckee@annarbor.com or 734-623-2546, and follow her on Twitter @jennmckee.