Posted on
Mon, Jan 14, 2013 : 9:06 a.m.
Costume dance party Revel, at the Blind Pig, aims to spice up nightlife for area's gay community
By Roger LeLievre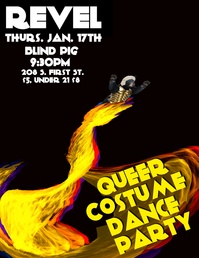 Beyond his diploma, there's one other thing
Ryan Burdick
, a soon-to-graduate University of Michigan student, wants to achieve before he moves on. He wants to bring some variety to the nightlife for the area's gay and associated communities.
To that end, Burdick, 21, who grew up in Ypsilanti, will present "Revel, A Queer Costume Dance Party," Thursday night at the Blind Pig. If it's successful, he hopes to make it at least a monthly event.
Burdick said he got the idea while he was interning at the Discovery Channel in Washington D.C., and was able to experience some of the city's nightlife, an element of which was an occasional costumed theme party where it was typical to expect the unexpected.
"I came back and thought, "why do we only have one club, Necto, that has only one gay night, instead of there being a variety? We need more variety in Ann Arbor, I know people want more variety, so let's try it and see what happens. … There's a lot of people who wonder why there's not more of a gay scene here."
He said the Blind Pig was receptive to the idea, as was the Cavern Club, which may be the location of the next event, in March, provided the first one is a success.
Burdick said his goal is not to take away from what Necto offers with its Friday gay night, but to expand the options available for the lesbian, gay, bisexual, transgender and queer community.
"We're just trying to add to what's already here."
PREVIEW
Revel, A Queer Costume Dance Party
Who: Themed toward the lesbian, gay, and associated communities, but open to all.
What: First of a planned monthly dance party t. With DJ Dahryl Dante and DJ Sudz.
Where: Blind Pig, 208 S. First St.
When: 9:30 p.m. (doors), Thursday, Jan. 17.
How much: $5-$8 ($2 off cover in full costume). Info: www.revelannarbor.wordpress.com or www.blindpigmusic.com
Burdick said anything goes when it comes to a costume for the night. "I'm trying to capture the sporadic and erratic nature of everything," he said, likening it in a way to the long-running The Bang! themed parties, also at the Pig.
"Erratic entertainment, decked-out dancers, and a fluctuation of dance-your-ass-off favorites both old and new," he offered.
DJ Dahryl Dante, who has been helping Burdick put Revel together, will spin the tunes. At 10:30 p.m., the dancing will pause for a short cabaret show. "Were going to have three performers perform (the club hit) 'Lets Have a Kiki' by the Scissor Sisters—they will be wearing masks and dancing all around," Burdick said.
Songs for the night can be requested in advance at www.djdanterocksme.com/request.html.
"I really try to engage the audience and will pick song selections based upon audience response to previously played songs, so what will be played really depends on the people," said Jason Kehrl (aka DJ Dahryl Dante).
"I try to provide a unique experience where people in attendance will discover their new favorite song that isn't anywhere to be found on the Top 40 radio playlist. … Having said this, given the target demographic, not playing some Lady Gaga and Madonna would likely be heresy," he added.
Although Burdick will be leaving town in May, he's hoping Revel will have garnered enough interest to continue. "If I can get two down and people can understand what it's about, then hopefully someone else can step up and help," he said.