Posted on
Tue, Jan 29, 2013 : 7:21 a.m.
New 'Creative Social Club' combines art, socializing for a laid-back Friday night
By Jennifer Eberbach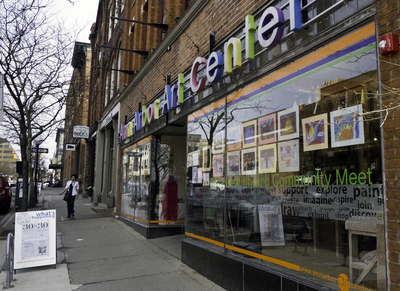 Steve Pepple | AnnArbor.com
Ann Arbor Art Center
Special Events Director
Kate Jones
thinks there are a lot of people out there looking for "something else" to do on a Friday night that breaks up their usual routine. Instead of sitting with friends at the same old bar, for example, "they might be looking for something that they'll get more out of when they're done," Jones says.
Enter the new "Creative Social Club," which mixes art instruction with Friday night fun. Instructors and staff from the Ann Arbor Art Center will hold a series of 2-hour art projects, including painting, monotype prints and calligraphy, among others. Add adult beverages and a social atmosphere and you have an alternative to the bar or the same old place.
The social clubs will be held the first Friday of each month, from 7 to 9 p.m., beginning Feb. 1 and running through August (with the exception of May). Pre-registration is highly encouraged so that they can get enough materials ready, and space is limited.
Like popular local gathering spots, the gatherings "will be social, and people can still have a couple glasses of wine or other refreshments. But they get to do more than sit at a bar, and they get to leave with a piece of their own artwork," Jones says. She agrees that the social clubs seem like something you could easily fit into the rest of a Friday night out on the town.
PREVIEW
Creative Social Club
Who: Everyone welcome.
What: Art class, refreshments, and socializing in a laid-back atmosphere.
Where: Ann Arbor Art Center, 117 W. Liberty St.
When: The first Friday of each month, starting Feb. 1, 7-9 p.m.
How much: $35, including materials, instruction and two beverages. Register online at annarborartcenter.org/reg/tickets.php or call 734-994-8004 ext. 111.
The first gathering, on Feb. 1 from 7-9 p.m., will be a
"Group Painting Project"
led by artist and instructor Sarah Clark Davis. The event description reads, "Each person will paint a canvas to represent a part of a large picture. The individual canvases will be assembled together at the end of the evening to reveal the larger group image." Jones reports that Clark Davis will not reveal the entire picture until the very end, when all of the individual canvases are put together—a fun surprise. And then participants can take their own piece of it home.
Other "Creative Social Clubs" on the schedule include three art projects with artist and gallery assistant Nathan Rice; "Monotype Prints" on March 1, "Jackson Pollack Painting" on April 5, and "Japanese Calligraphy" on June 7.
Refer to the Creative Social Club event webpage as more social clubs and instructors are announced.
"It is important for people to know that you don't have to be an art expert. I hope we will reach a new audience, people who don't necessarily consider themselves to be art people," she says. She hopes it will be "pressure-free" for people who do not often make art but are curious. She agrees that your art does not have to be good. It sounds like your only job would be to have fun doing it.
It is new, so the Ann Arbor Art Center will be seeing how it goes. Jones hopes it will attract a good mix of people - "a group of friends, a couple on a date, individuals on their own who like meeting new people," she says.