Bond, James Bond
column:

New James Bond exhibit originated in Washtenaw County, Michigan

Posted on Wed, Jun 1, 2011 : 1:30 p.m.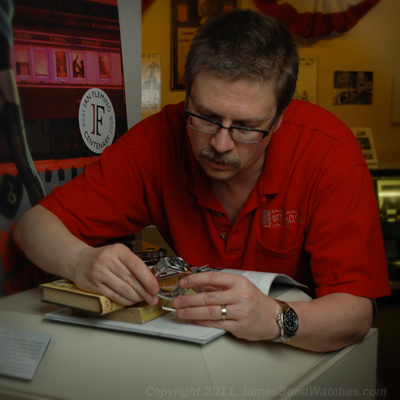 Dell Deaton | Contributor
James Bond returned to London last Thursday, through release of the latest 007 novel Carte Blanche, by author Jeffery Deaver. Fans in the United States will have to wait until June 14 before that book is available to the general public here.
However— the actual wristwatch worn by Bond-creator Ian Fleming is on special display at a museum in Pennsylvania that houses the largest horological collection in the Western Hemisphere. It's the exact real-world piece upon which Fleming based the timekeepers for his literary alter-ego in the early 1960s.
And it was transported there from among family holdings in England, by way of Detroit, then Washtenaw County, through my service as its personal courier (the writer's stepdaughter is a personal friend), ultimately delivering it safely for show at the National Watch & Clock Museum, located 20 miles south of Hershey.
"Ian Fleming's Own James Bond Watch" opened at the museum on May 4, 2011.
It's the second Fleming/Bond-related exhibit I've curated there. The first, "Bond Watches, James Bond Watches," was a history-making presentation of all known brands associated with the world's most famous fictional spy, from 1950s to present.
Our overarching goal has consistently been to capture broader public interest in evolving technologies, varied consumer interests, and highly competitive marketing approaches that underpin the history of watchmaking. As a thematic continuity thread, "James Bond" was our hook for a story intended to educate and more enthusiastically connect even casual wearers with the precision marvels ubiquitously strapped to so many of their wrists.
The 007 author's personal Rolex Explorer from 1960 was the only pedigreed piece in "Bond Watches" and retains that unique claim in "Fleming's Own." All brands, though identical to those worn in selected books and movies, came from retail sources. Again: Supporting the message of wristwatch enjoyment through models just like those worn by the fictional James Bond character; watches are fascinating things, worth a closer look.
Dell Deaton | Contributor
In fact, residents from in and around Washtenaw County may well have tried on one or more of the watches displayed at the National Watch & Clock Museum. Each of the four Omega wristwatches shown were exclusively sourced from Lewis Jewelers in Ann Arbor. The most popular of those, a limited edition "Casino Royale" model, remains as part of the newly-opened display, next to the Fleming watch. Back by popular demand.
Ann Arbor watch collectors had the opportunity to see this watch in November of 2006, as one of the first available through any dealer in the world — before the movie with which it was associated had made its U.S. premier — thanks to Lucinda Unger of Lewis.
The University of Michigan also served an important research function with regard to understanding the implications of radiation exposure via watch dials.
Pieces produced even into the early 1960s sometimes had Radium 226 as a component of their luminescent paint; Google "Radium Girls" for an eyeful on the various controversies that ensued from all that. As for my work, readers of the early books will remember descriptions of Bond's fantastic watch glow in total darkness. The Rolex Submariner worn by Sean Connery in Dr. No contained Radium.
Professor Henry Griffen (retired) from U of M put all that in context for me over the course of numerous, patient e-mails and a very enjoyable meeting at his home — putting a Geiger Counter to one of the Bond watches committed for display. He meticulously detailed the approximately 9 steps through which Radium 226 decays to lead, over the course of a half-life spanning some 1600.
Based on this, I presented this information as a proud University of Michigan alumnus myself, as part of a broader public preview of our upcoming "Bond Watches" exhibit. That talk was given at the 64th NAWCC National Convention in Grand Rapids, Michigan, June of 2009.
"Bond Watches, James Bond Watches" went on to become one of the most successful attractions that the National Watch & Clock Museum has held to date. Area TV covered its standing-room-only pre-opening on June 17, 2010, and visitor traffic remained strong through closing day this past April 30 (yes, indeed I was wearing a "Saline Hornets" shirt for the key on-camera interview).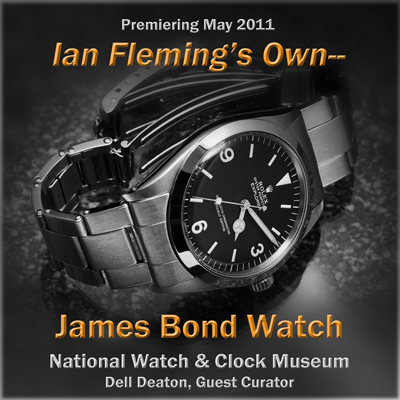 Dell Deaton | Contributor
More important than having met and exceeded our original educational and visitor attendance goals, I've been truly blessed to grow in my personal friendship over the years with Fionn Morgan, Ian Fleming's stepdaughter. That relationship is why her stepfather's watch is here on loan for Americans to enjoy today, on the verge of a new book release this month and a 007 motion picture in pre-production for release in November of 2012.
Last Saturday would have been Fleming's one-hundred-third birthday.
I'll touch base again with the readers of AnnArbor.com closer to Carte Blanche release later this month. As I've written elsewhere, Jeffery Deaver has named at least two watches by brand for Bond's wrist in that novel. Now that is news.
Meantime, if you get a chance to visit "Ian Fleming's Own James Bond Watch" at some point down the line, I hope you'll take a little added pleasure in knowing how many connections it has to our own wonderful community here in Washtenaw County.
WatchTime magazine; "Secret History: The Seiko Watches of 007," Revolution magazine; "How I Found the Original James Bond Watch," Journal of the National Association of Watch & Clock Collectors ; and the James Bond Watches Price Guide.