Posted on
Wed, Jul 10, 2013 : 8:28 a.m.
New Orleans' Luke Winslow-King, next up at Sonic Lunch, helps keep delta blues flame burning
By Roger LeLievre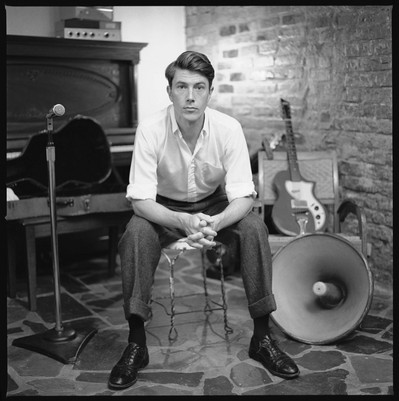 As it turns out,
Luke Winslow-King
and another member of his New Orleans-flavored swing band, Esther Rose, have a sweet spot in their hearts for Ann Arbor. The two musicians met and fell in love here about three years ago, and it is where they will return to perform Thursday in the latest installment of the weekly
Sonic Lunch
series. (Winslow-King will also play the
Acoustic Routes concert series
in Saline on Aug. 3.)
"I've been hanging out there since I was in high school and Esther, who is featured on our album and sings and plays washboard, lived in Ann Arbor for a few years," explained Winslow-King, a Cadillac native. "That's actually where we met and fell in love, so that's a special place for us."
Winslow-King and the band play danceable, New Orleans-flavored swing. They've opened for alt-rocker Jack White, opened at The Ark for Taj Mahal (and played there on their own several times), have been regulars at The Circus and were last in town to play at the Blind Pig's most recent Hash Bash weekend show in April.
The group's sound is an eclectic mix, taking in delta-folk, classical music, ragtime, and rock, juxtaposing their original songs with those from a bygone era.
Besides Winslow-King and Rose, the group includes Cassidy Holden (bass) and University of Michigan School of Music alum Ben Polcer (trumpet). All will be present for the Sonic Lunch show, playing songs from their well-received third album "The Coming Tide," as well as some new tunes from a soon-to-be-released follow-up disc.
PREVIEW
Luke Winslow-King
Who: Bank of Ann Arbor's Sonic Lunch outdoor concert series.
What: Danceable, New Orleans-flavored swing from this one-time Michigan musician and his band.
Where: Liberty Plaza, corner of S. Division and E. Liberty streets.
When: Noon Thursday, July 11.
How much: Free.
Also: Winslow-King plays the Acoustic Routes series at Mangiamo Italian Grill in Saline on Aug. 3. Details on the Acoustic Routes Facebook page.
So how did a Michigan guy with an interest in the music of Woody Guthrie and Miles Davis wind up in the Crescent City? The band was on the road and their car and instruments were all stolen there. While that might tend to sour most people on a city, it was just the opposite for Winslow-King.
"I stuck around enough to fall in love with the place," he said. "I was there for a couple of weeks and I saw the great music community they have there and how alive the music was in the air. I decided to audition for the University of New Orleans music composition program and I was accepted so I moved down the next fall."
Winslow-King said he's always been into blues and jazz, and his relocation to New Orleans meant he was in a good position to further his musical education.
"I was into Muddy Waters, Howlin' Wolf and Chicago blues, and I was into Miles Davis and more modern New York jazz and more contemporary forms of blues and jazz. Then I moved to New Orleans and found the root of that music," he said.
"It really appealed to me because its improvisational just like Miles Davis but it has elements of people's music like Woody Guthrie, and those are the things I was really into when I was 18-19. I came to New Orleans and discovered Louis Armstrong and Jelly Roll Morton and a lot of the great performers there from around the turn of the century. … It was the combination improvised music with great lyrics and melodies you could remember and that you could dance to."
He sees himself and his bandmates as keepers of a flame.
"We're really careful not to be rehashing old standards. If we do play an old tune we try and learn it, internalize it and make it our own so that we can offer something new," he said. "But we also feel a responsibility to keep the old ways kind of preserved with authenticity. … (We are) also keeping these old genres alive by writing new material. The delta blues remains a living form as long as people are writing new delta blues songs. …. The original torch is still lit, although it has been passed down.
"We're not the only ones doing it, and we don't claim to be an authority, but we do our best to do our part," he added.