Posted on
Thu, Feb 23, 2012 : 11:40 a.m.
New pop-up art gallery taking advantage of vacant downtown space
By Bob Needham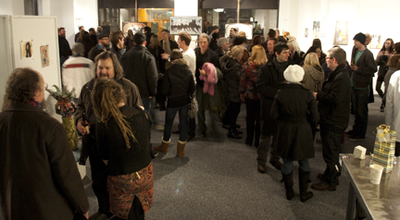 courtesy of Charlie LaCroix Art Brokerage
A temporary art gallery is offering an outlet for young artists to show their works while taking advantage of otherwise unused commercial space on a prime corner in downtown Ann Arbor.
LePop Gallery, at 101 N. Main St., began last month as an outgrowth of the Charlie LaCroix Art Brokerage, founded last year by Ypsilanti residents Chaely Chartier and Alan Bogl. Both had experience producing art fairs, music events and the like, and they saw a need for younger artists to help get their work seen, Chartier said in an email.
"They could produce such amazing work and then it just collected dust because they had no idea what to do with it or how to sell it to people outside of their circle of friends. It's a travesty, but they don't teach anything about sales and marketing in art school. Galleries are hard for new artists to break into, and their commission structure can be cost-prohibitive for an unknown artist," she explained.
They sponsored an initial art showcase in a location where they had to be in and out in two days, Chartier recalled: "We rented concert trussing to hang the artwork from and that's when we realized that if we could set up/tear down that quickly & didn't necessarily need white walls to display our art we could realistically create a gallery anywhere. That's when the wheels started turning!"
With the help of commercial real estate agent Neal Warling of Jones Lang & LaSalle, they found the long-vacant 101 N. Main space, which is owned by a Birmingham management company. It's in the building known as One North Main, though the LePop space fronts on the Huron Street side of the buidling. The "pop-up" gallery operators paid a security deposit and offered to pay for utilities in addition to a "very low" rent while they're in the space, which is currently planned to be through April.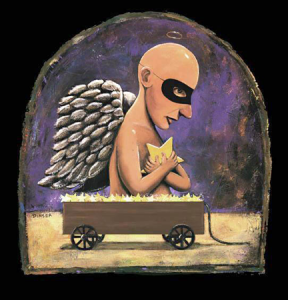 The current LePop exhibit, its second, is called "Post Cards from the Edge," featuring the works of
John Dinser, Matt Nisbett
and
Jacob Warren
. All three live in the Ann Arbor / Ypsilanti area.
Operating with low costs, LePop charges a lower commission to the artists than many galleries.
"That gives us a chance to work with newer artists whose work isn't able to bring in big bucks while still making sure they net a fair price after we take our cut. That also allows us to sell original art at really affordable prices. We hope this will create art buyers out of people who love it but have been intimidated by prices of non-prints. We want everyone to be able to own a piece of art that is really unique and special to them," Charier wrote.
LePop has agreed to vacate its current space within 30 days of a full-time tenant signing for the space. Chartier said she and Bogl would like to shift LePop to a sort of commercial real-estate staging service, using the appeal of the art to draw in potential clients.
The two are planning art shows in conjunction with other events around the region, as well as doing more storefront pop-up appearances and possibly expanding out of state. "The whole thing is evolving before our eyes and we're just going where the road takes us," Chartier wrote.
Hours for LePop gallery are Monday-Wednesday 6-9 p.m. and Thursday-Saturday noon-9 p.m. through March 3. For more information on the gallery or the artists, see the Charlie LaCroix website.
Bob Needham is director of entertainment content for AnnArbor.com. Reach him at bobneedham@annarbor.com or 734-623-2541, and follow him on Twitter @bobneedham.