Posted on
Mon, Dec 24, 2012 : 9:34 a.m.
There's a party for just about everyone on New Year's Eve: Here are a few suggestions
By Roger LeLievre
My, what a year we've had! Loved it, or hated it, 2012 is about to bite the dust, but there's no harm— and maybe a certain amount of satisfaction—in sending it out with a bang, right?
Summarized below are as many local New Year's Eve happenings hereabouts as we could find that involve some kind of music or other form of live entertainment. There are even a few options for New Year's Day. Enjoy, and Happy New Year.
Ann Arbor Comedy Showcase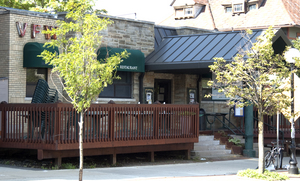 Laugh out the old / ring in the new with the clean observations of Rocky Laporte. Recipient of the Las Vegas Comedy Festival's "Best Male Club Comedian of the Year," Laporte has also traveled with Drew Carey to Iraq to entertain the troops. Shows are at 8 and 10:30 p.m. 314 E. Liberty St., Ann Arbor. Details:
www.aacomedy.com
or 734-996-9080.
Arbor Brewing Co.
Casual "Diamonds & Pearls Brew Year's Eve" will be marked by the release a different keg of small-batch celebratory beer every hour from 8:30 p.m.-11:30 p.m. DJ J. Clark will spin from 9 p.m.-2 a.m. No cover. 114 E. Washington St., Ann Arbor. Details: www.arborbrewing.com or 734-213-1393.
The Ark
Breaking with past tradition, this downtown acoustic music-and-more mainstay will stay dark this New Year's Eve, after presenting the Irish event Crossroads Ceili Dec. 28-29. www.theark.org
Blind Pig
Celebrate with the long-running dance party known as The Bang!, starting at 9:30 p.m. (18 and over). With guest DJs Charles Trees and DJ Pauze. 208 S. First St., Ann Arbor. Details: www.blindpigmusic.com or www.thebang.net.
Cavern Club / Millennium Club / Gotham City / Circus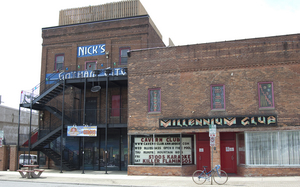 New Year's Eve Party featuring Dearborn rock band Killer Flamingos in the Cavern Club, live band Riot House in the Millennium , DJ Zein in Gotham City, and Stoo's Karaoke in Circus. There's also an all-night dinner and dessert buffet with champagne at midnight. 210 S. First St., Ann Arbor. Details:
www.cavernclubannarbor.com
or 734-913-8890.
Conor O'Neill's Traditional Irish Pub
Four-course meal with champagne toast at 7 p.m. for Irish New Year; a DJ spins dance music starting at 10 p.m. Champagne toast at midnight and a breakfast buffet at 1 a.m. 318 S. Main St., Ann Arbor. Details/reservations: www.conoroneills.com or 734-665-2968.
Corner Brewery
Beer Bash features the bluegrass-folk band Dragon Wagon and includes a series of special Rat Pad brews that will be tapped starting at 8:30 p.m. Festivities start at 8 p.m. and go until 2 a.m. No cover. 720 Norris St., Ypsilanti. Details: www.arborbrewing.com (click the Corner Brewery tab) or 734-480-2739.
Grotto Club
Ring in the new year at the "Puttin' on the Glitz" dance party hosted by the Ann Arbor chapter of Parents Without Partners. DJ, snacks and a cash bar. Continental breakfast after midnight. 9 p.m.-1:30 a.m. 2070 W Stadium Blvd. Details at www.aapwp.org or 734-994-0587.
Guy Hollerin's
Party Favors, balloon drop, champagne toast, light midnight hors d'oeuvre buffet and live entertainment with Chris Canas Blues Revolution opening at 8 p.m. and The Bluescasters taking the stage from 9:30 p.m.-1 a.m. Reservations at 734- 769-9800. 3600 Plymouth Road (in the Holiday Inn), Ann Arbor. Details: www.hiannarbor.com (click the Blues & Brews tab at left).
Habana Cellar Lounge
Latin-inspired venue located in the basement of Lena, 226 S. Main St., is planning a silver and gold theme, a champagne toast and music from DJ Zu. No cover; cafehabanas.com/ch/annarbor/remodel.html or734-994-2774.
Live
Renee Tellez | AnnArbor.com
If you think you can't make it to the midnight mark, the 3rd Annual Geezer New Years Party might be perfect. Free. Doors open at 6 p.m., and Drivin' Sideways will play from 6:30-9 p.m. After the geezers go home, a DJ will spin dance tunes until the wee hours. Corner of Huron and First streets. Details:
www.livea2.com
or 734-623-1443.
Mash
Special guest DJ tba. 211 E. Washington St. (in the basement of the Blue Tractor); www.mashbar.net or 734-332-6046.
Mercy's At The Bell Tower
Enjoy a five-course dinner for $75 along with keyboard and bass music by Lenny Swanson and Nathan Flanders. 300 S. Thayer. www.mercysrestaurant.com or 734-996-3729 for reservations.
Necto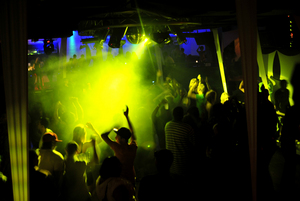 Melanie Maxwell I AnnArbor.com
Join DJ Hardy, Ayinde Audio & MC Yoda spinning Top 40 & House for NYE 2013 Winter Wonderland in the main room. Plastic Passion featuring DJ Josh, DJ Saint, Roy G Biv & Justin Carver of Something Cold playing a special edition of the '80s dance party in the Red Room. Doors open at 9 p.m. 516 E Liberty St., Ann Arbor.
www.thenecto.com
or 734-994-5436
Performance Network
Here's something a little bit different. The Network will offer a staged reading of the holiday musical "Striking 12." This unique hybrid of musical theater and live concert tells the story of a grumpy, overworked New Yorker whose resolve to spend New Year's Eve alone crumbles when an unexpected visitor brings some much-needed cheer. The evening begins with a 9 p.m. performance and ends with a champagne reception at midnight in the Network lobby. 120 E. Huron St. Details: www.performancenetwork.org or 734-663-0681.
Purple Rose Theatre
After cocktails from around the world (5 p.m.), dinner and a short sneak-preview performance of "The Meaning of Almost Everything," a new comedy by Jeff Daniels (Chelsea Village Conference Center), catch a special performance of "Jeff Daniels: Onstage & Unplugged" (Purple Rose Theatre) with special guests The Ben Daniels Band, Jed Fritzemeier, Brad Phillips and Luc "The Roadie" Daniels. 137 Park St., Chelsea. Reservations can be made at the box office, 734-433-7673. Details: www.purplerosetheatre.org
Study Hall Lounge
Appetizer buffet, champagne toast, balloon drop, prize giveaways and more. 9 p.m.-3 a.m., featuring Joddsy. Formal attire requested. 1220 S. University Suite 9; www.studyhalllounge.com or 734-929-2259 for reservations.
Habitat Lounge / Weber's Inn
Grand Rapids Top 40/pop band Brena will play from 9:30 p.m.-1 a.m. No cover. Various packages include meals and an overnight stay at Weber's. Details: www.webersinn.com or 734-665-3636
Woodruff's Bar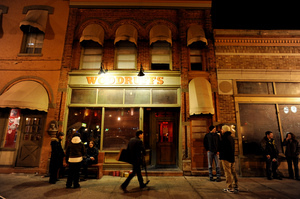 Melanie Maxwell | AnnArbor.com
Ypsilanti nightspot hosts the fourth day of the annual Mittenfest Michigan music showcase, with proceeds going to the literary organization 826michigan. Doors open at 4 p.m. (music at 4:30), with live bands scheduled the rest of the night. 36 E. Cross St., Ypsilanti. Details:
www.woodruffsbar.com
.
Zen Buddhist Temple
Everyone is welcome to join in this special service from 7-9 p.m., which offers an occasion to take stock of one's life and to say good-bye to the past year in contemplation and reflection. 1214 Packard St., Ann Arbor. Requested donation, $10. Details: www.zenbuddhisttemple.org/locations/annarbor/index.html or 734-761-6520.
NEW YEAR'S DAY
• Bike Ypsi will be sponsoring an approximately four-mile "First Ride in the First Hour of 2013," starting at 12:30 a.m. Tuesday from the Corner Brewery in Ypsilanti. A second ride will run from 1-2 p.m. leaving from Ypsilanti's Recreation Park (Oakwood and Congress streets). Details: www.bikeypsi.org.
• If you have any energy (and/or money) left, Mittenfest VII concludes at Woodruff's, with the music starting up at 4:30 p.m.
• Finally, singer-songwriter Chris Buhalis (with special guests Dave Keeney and Jason Dennie) will offer his 15th annual salute to the late country-folk singer-songwriters Townes Van Zandt and Hank Williams Sr.—both of whom died on New Year's Day—at Old Town Tavern, 6:00 p.m. (doors open at 5). No cover. 122 W. Liberty St. Details: www.oldtownaa.com or 734-662-9291.