Posted on
Mon, Dec 26, 2011 : 5:32 a.m.
Your guide to New Year's Eve merrymaking in Ann Arbor / Ypsilanti
By Roger LeLievre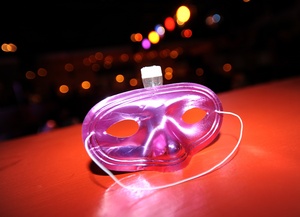 OK, it's time to close the books on yet another year.
There are probably as many ways to send 2011 packing as there are people on the planet, but if your idea of a New Year's Eve sendoff is a bit more exciting than, say, spending it watching the ball drop on Times Square with Anderson Cooper, then read on.
We know your time is valuable, so we've summarized as many local New Year's Eve happenings as we could find that involve some kind of music or other forms of merrymaking. (If you have an addition, email entertainment@annarbor.com) There are even a few options for New Year's Day. Enjoy, and (insert the sound of raucous noisemakers here) Happy New Year!
Ann Arbor Comedy Showcase
Laugh out the old / ring in the new with young comedian Jamie Lissow, who has been called "the best writer since Seinfeld" and "Adam Sandler without the guitar." Shows are at 8 and 10:30 p.m. 314 E. Liberty St., Ann Arbor. Details: www.aacomedy.com or 734-996-9080.
Ann Arbor Community for Traditional Music and Dance
Contra, English country and couple dancing, with live music by the Coffee Zombies. Appetizers and cocktails (BYOB) at 6:30 p.m., followed by dinner at 7 p.m., dancing at 8:30 p.m. and Champagne and dessert from 11:30p.m. - midnight). Dinner and dessert are potluck. Appetizers, Champagne and non-alcoholic beverages are provided. 4531 Concourse Drive. Details: www.aactmad.org or 734-260-9027.
Arbor Brewing Co.
Casual "Brew Year's Eve" will be marked by the release a different keg of small-batch celebratory beer every hour from 8:30 p.m.-11:30 p.m. A DJ starts spinning at 9 p.m. 114 E. Washington St., Ann Arbor. Details: www.arborbrewing.com or 734-213-1393.
The Ark
Spend New Year's Eve with Ontario-based roots-country band the Fred Eaglesmith Traveling Show. Music starts at 8 p.m. (doors at 7:30 p.m.). 316 S. Main St., Ann Arbor. Details: www.theark.org or 734-761-1451.
Blind Pig
Celebrate with the long-running dance party known as The Bang!, starting at 9:30 p.m. (18 and over). With guest DJs Mogi Grumbles and Charles Trees. The party also includes a pre-midnight pizza-eating competition. 208 S. First St., Ann Arbor. Details: www.blindpigmusic.com or www.thebang.net.
Cavern Club / Millennium Club / Gotham City / Circus
New Year's Eve Party featuring Dearborn rock band Killer Flamingos, Stoo's Karaoke, two DJs, all-night dinner and dessert buffet and champagne at midnight. 210 S. First St., Ann Arbor. Details: www.cavernclubannarbor.com or 734-913-8890.
Conor O'Neill's Irish Pub
Four-course meal with champagne toast at 7 p.m. for Irish New Year; a DJ spins dance music starting at 10 p.m. Champagne toast at midnight and a breakfast buffet at 1 a.m. 318 S. Main St., Ann Arbor. Details/reservations: www.conoroneills.com or 734-665-2968.
Corner Brewery
Beer Bash features funk/soul band Third Coast Kings and includes a series of special Rat Pad brews that will be tapped at 8:30, 9:30, 10:30 and 11:30 p.m. Festivities start at 8 p.m. and go until 1a.m. No cover. 720 Norris St., Ypsilanti. Details: www.arborbrewing.com/?site=cornerbrewery or 734-480-2739.
Grotto Club
Single parents and other singles are invited to ring in the new year at a "Midnight Elegance New Year's Eve Dance Party" hosted by the Ann Arbor Chapter of Parents Without Partners. DJ and a cash bar. Continental breakfast after midnight. 8:30 p.m.-1:30 a.m. 2070 W Stadium Blvd. Details at www.aapwp.org or 734-578-3664.
Guy Hollerin's
Guitar ace George Bedard will host tonight's NY Eve "Blues Bash" with the music of the Kingpins, Steve Nardella and the Silvertones. 9 p.m.-1 a.m. Reservations: 734-769-9800 ext 6219. 3600 Plymouth Road (in the Holiday Inn), Ann Arbor. Details: www.hiannarbor.com/dining.php
Live at P.J.'s and Goodnight Gracie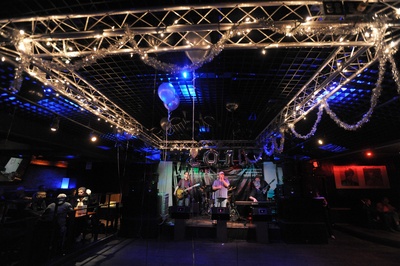 Local country-rock stalwarts
Drivin' Sideways
play a free "Geezer's New Year's Eve Party" happy hour from 6:30- 9 p.m. at Live. 1960s band
Question Mark & the Mysterians
perform at Gracie after 9 p.m. on a bill that also includes
The Fuzzrites
,
The Boss Mustangs
and
DJ Doubleplus
. Corner of Huron and First streets. Details:
www.liveandgracies.com
or 734-678-6434.
Mercy's At The Bell Tower
Mercy's is offering two different prix fixe meals: 4 courses for $65 and 8 courses for $95 (seating from 5:30 p.m.-10:30 p.m.). Also, music, dancing and a complimentary glass of "pink" champagne. A portion of proceeds will be donated to U-M Comprehensive Cancer Research benefiting breast cancer research. 300 S. Thayer. www.mercysrestaurant.com or 734-996-3729 for reservations.
Necto
This year's theme is "Firework." DJ Hardy spins top 40 and house music upstairs, while a special edition of the '80s dance party Plastic Passion holds forth in the Red Room with a variety of guest DJs. Doors open at 9 p.m. 516 E. Liberty St., Ann Arbor. www.thenecto.com or 734-994-5436.
Passport Restaurant & Lounge
Special dinner package includes live music, dancing, champagne toast and an after-party. 3776 S. State St. Reservations and details: 734-222-1111 or www.passportrestaurantlounge.com/.
Performance Network
Don't want to stand in a crowded bar to ring in 2011? Celebrate with the cast of the Fats Waller musical revue "Ain't Misbehavin.'" The evening begins with a 9 p.m. performance and ends with a champagne reception and midnight toast held in the Network lobby. 120 E. Huron St. Details: www.performancenetwork.org or 734-663-0681.
Purple Rose Theatre
Jeff Daniels' Upper Peninsula-themed comedy "Escanaba In Da Moonlight" concludes its revival run with tonight's 8 p.m. performance. 137 Park St., Chelsea. Reservations can be made at the box office, 734-433-7673. Details: www.purplerosetheatre.org
Weber's Inn
Persuasion (three up-front vocalists, horns, and rhythm section) plays in the Grand Ballroom, while DJ Mechial E. White mixes it up in the Atrium Ballroom. Various packages include meals and an overnight stay. For reservations, call 734-769-2500. Details: www.webersinn.com/special-offers/2011/celebrate-new-years-eve-at-webers-december-31-2011 or 734-665-3636
Wolverine State Brewing Co.
District 16 Vienna Amber Lager will be released at some point this night. A complimentary appetizer buffet will be provided. Noon-midnight. No cover (21+). 2019 W. Stadium Blvd. Details: www.wolverinebeer.com or 734-369-2990.
Woodruff's Bar
Ypsilanti nightspot hosts the fourth day of the annual Mittenfest Michigan music showcase, with proceeds going to the literary organization 826michigan. The fun starts at 4 p.m., with live bands scheduled until 12:45 a.m., followed by dance music spun by Absolute Beginners. 36 E. Cross St., Ypsilanti. Details: www.woodruffsbar.com.
Zen Buddhist Temple
Everyone is welcome to join in a special service from 7-9 p.m., which offers an occasion to take stock of one's life and to say good-bye to the past year in contemplation and reflection. 1214 Packard St., Ann Arbor. Details: zenbuddhisttemple.org/locations/annarbor/index.html or 734-761-6520.
Zingerman's Roadhouse
The Roadhouse continues its tradition of celebrating past presidents with "New Year's Eve with the Kennedys." The meal will feature President Kennedy's favorites as a child and as a president. Chef Alex has crafted a menu full of East Coast favorites in honor of President Kennedy's summer home in Cape Cod, his time spent at Harvard and from his life in the White House. Starts at 5 p.m. at 2501 Jackson Ave.; reservations required at r 734-663-FOOD.
NEW YEAR'S DAY
• Bike Ypsi will be sponsoring an approximately four-mile "First Ride in the First Hour of 2012," starting at 12:30 a.m. Sunday from the Corner Brewery in Ypsilanti. A second ride will run from 1-2 p.m. leaving from Ypsilanti's Recreation Park (Oakwood and Congress streets). Details: www.bikeypsi.org.
• If you have any energy (and/or money) left, Mittenfest concludes at Woodruff's, with the music starting up at 4:30 p.m.
• Singer-songwriter Chris Buhalis (with special guest Dave Keeney) will offer his traditional salute to the late country-folk singer-songwriter Townes Van Zandt at Old Town Tavern. Doors open at 4 p.m. and the music starts at 5 p.m. No cover. 122 W. Liberty St. Details: www.oldtownaa.com or 734-662-9291.