Posted on
Thu, Feb 4, 2010 : 5:10 a.m.
Nick's Original House of Pancakes home to delicious breakfast, lunch
By Julie Halpert
Nick Panos is a self-described "restaurant brat." His mother owns The Village Kitchen, while his aunt runs The Broken Egg and he's been eager to open his open breakfast and lunch spot. So he was pleased when a space became available in the Ann Arbor/Saline Road corridor — an area he thinks is clamoring for its own pancake place.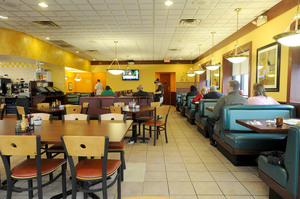 Angela Cesere | AnnArbor.com
He
opened Nick's Original House of Pancakes
on December 22. And judging by the 20-minute wait we experienced on a recent Saturday afternoon, his instincts were right. Panos says his restaurant is attracting many who live in that part of town. He's clearly in his element here, greeting all of the customers, many of whom he knew by name.
Panos instills that same friendly spirit in his staff. Our server eagerly greeted us, saying "Welcome to Nick's!" and maintained that level of enthusiasm throughout our meal. We were lucky to have him on both of our visits, and his congenial demeanor made the entire dining experience extremely pleasant.
Nick's has an extremely ambitious and extensive breakfast menu, including 17 varieties of pancakes ranging from the standard buttermilk to more exotic flavors like pumpkin and peanut butter chip. There are also nearly two dozen types of omelets, 7 Belgian waffles, crepes, and 9 versions of French toast; as well as lunch fare like salads, sandwiches and soups. The ambience is simple, what you'd expect from a cozy, well-equipped family restaurant, with many high-backed booths, perfect for large parties.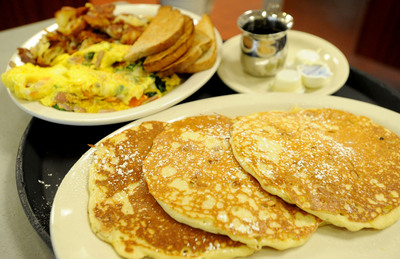 Angela Cesere | AnnArbor.com
I devoured the huge platter of pancakes — both the sinfully sweet pecan banana and the blueberry, which was laden with fruit. They would have been even better had the cook topped them with fresh butter, instead of prepackaged pats.
The scrambled eggs were light, fluffy and moist. Bacon was thick and crispy — "the best I've ever had," declared my son. Many of the breakfast dishes are served with crispy and delicious hash browns, definitely worth ordering.
There are 2 categories of crepes here: sweet and savory. I opted for the savory, with chicken Florentine. The crepe was light and fluffy, with the chicken and fresh spinach melding together for a nearly perfect dish. The only drawback was that the hollandaise sauce was so subtle, you could barely detect it. That problem was also evident with the eggs Benedict. Though highlighted as a specialty, it was one of the weaker breakfast offerings.
Our ventures into the lunch fare were generally successful. Both of the sandwiches we tried, the tuna and turkey, tasted fresh and were served on delicious homemade bread. Though the fries were good, they weren't cooked to my husband's typical well-done specifications. (The server said he insisted on sending them back when he gave them a first look, since he thought they were undercooked, but the ones he brought were still not well done.)
The chocolate shake had a thin consistency — instead of being thick and creamy — and could have used a stronger chocolate flavor.
Nick's clearly was overwhelmed by the customer turnout on our first weekend visit, and we had to wait a long time for our food. Panos says he's trying to "work out the kinks" and improve this situation. There were no such issues the second time around, when the place was nearly empty on a weekday morning.
Nick's definitely fulfills a craving among area residents for a family-friendly breakfast and lunch spot. I think with its congenial service, variety in breakfast choices and food that is generally well prepared, it deserves to fare well.
Nick's Original House of Pancakes 3030 Lohr Circle Ann Arbor 734-622-6425 Nick's Original House of Pancakes in AnnArbor.com restaurant guide Hours: 7 a.m.-3 p.m. every day. Plastic: Visa, Mastercard, American Express, Discover. Liquor: No. Prices: Inexpensive to Moderate. Pancakes range from $5 to $7; sandwiches $5-$. Value: Very good. Noise level: Loud when crowded. Wheelchair access: Yes. Smoking section: No.