Posted on
Mon, May 20, 2013 : 5:41 a.m.
Multi-band Nirvana tribute returning to Blind Pig
By Kevin Ransom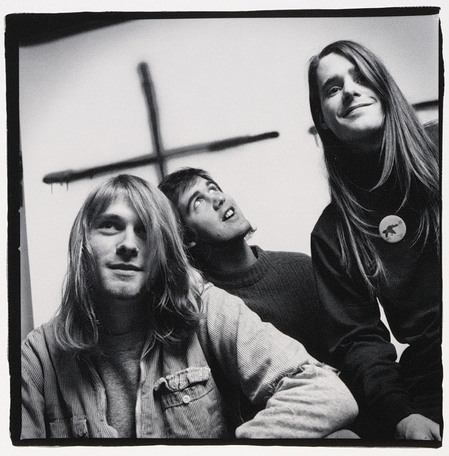 When Dustin Lince organized the first Nirvana tribute show at the
Blind Pig
, in 2004, the year had historic significance. That year was the 10th anniversary of Nirvana singer-songwriter-guitarist Kurt Cobain taking his own life.
That show was a one-off deal, but Lince revived the Nirvana tribute concert in 2010, and has turned it into an annual event. Friday will be the third annual Nirvana tribute show at the Pig.
For Lince and other musicians his age—he's 38—Nirvana—which itself played the Blind Pig a couple of times—still stands out as one of the most important bands that came along in his lifetime.
"I was born in 1975, so they came along when I was in high school, in Pinckney," recalls Lince, who sings for one of the bands on the bill.
"I guess you could say I was one of those 'outsider' kids—I was not in the cliques with the jocks, or other popular people, and Cobain's music spoke to all of the kids out there who were like me, in that respect. So, we all really identified with his songs. No other band spoke to me the way Nirvana did, and no other band meant more to me as a kid.
"But it wasn't just kids like that who found those songs so compelling," continues Lince. "He sang a lot about alienation, which I think a lot of young people could relate to, whether it was me or the captain of the football team. I think everyone experiences that feeling of alienation sometimes, even if it was some popular kid who maybe felt that his parents didn't understand him or something. I think that resonated for everyone." Then there was the music itself, with its wide dynamic range.
PREVIEW
Annual Nirvana Tribute
Who: My Pal Val,Wizard Union, F----ing Swords and Fire, The Secret Weapons, Hit Society, Grind Scheme, BlackJack On Pluto, Nameless and Hobo Train Wreck Suicide.
What: Nine Ann Arbor/Detroit area bands, performing the influential songs of Nirvana.
Where: Blind Pig, 208 S. First Street.
When: Friday, May 24. Doors at 9:30 pm. 18 and over.
How much: $8 in advance, $10 day of the show. Info: 734-996-8555.
"Yeah, the way it would be quiet and melodic, with him singing softly, and then explode into complete anarchy, with him screaming—that was awesome," says Lince. "No other music had ever appealed to me like that."
Lince has been booking shows around the Ann Arbor area for several years. When he organized the first Nirvana tribute in '04, he thought it would be a good way to raise money for charity—and the show still does that—"while also giving bands a chance to play the music of a popular band, instead of their usual set."
That first tribute show featured three bands, and the roster has grown each year. This year's show will present nine bands, with each of them doing 20- to 25-minute sets.
In addition to Lince's band, F----ing Swords and Fire, Friday's lineup will include Detroit alternative rock band My Pal Val, Ypsilanti stoner/sludge metal band Wizard Union, Detroit area indie/garage band The Secret Weapons, Detroit rock bands Hit Society and Grind Scheme, Ann Arbor folk/punk/bluegrass band BlackJack On Pluto, Detroit-area garage/punk band Nameless, and Ypsilanti's Hobo Train Wreck Suicide—a one-man rockabilly band featuring K.K. Dirty Money from The Devil Elvis Show.
"I'm more excited about this roster than I have been about any of the previous shows," says Lince. "In the past, they were all punk / hardcore bands, so I am interested to hear My Pal Val, and the folk-punk-bluegrass of BlackJack, and the one-man rockabilly act. But most bands of the bands have at least one member who was influenced by Nirvana—most of them are Gen X-aged people who grew up on Nirvana's music."
Given how popular Nirvana's music is to musicians of that generation, most of them want to do the most popular, or most compelling, or most resonant songs. So Lince had to come up with a democratic way to distribute the songs.
"I used to have bands send me a list of 10 songs they most wanted to do, and then I would distribute to them a handful of songs so that most of the bands got to do a few of their favorites. But this year, I thought it would be fun if we got together and did it like a draft, in sports. I chose the bands at random, and each one got to choose a song, and then we had a second round, in which the band that drafted last in the first round got to choose first in the second round.
And, to make sure there isn't a long break between sets while each band sets up, the bands will all be using the same amps and the same drum kit. "I contact them in advance and ask who would like to donate their amps and kit, and everyone is more than willing to donate. I do make occasional exceptions, if a guitarist has an amp that he or she absolutely has to use, or if a drummer has a drum he can't do without."
This year, the charity that was chosen to receive the proceeds from the show is Kat's Hope, which is devoted to fighting heroin addiction, and to helping those whose lives are impacted by that addiction.
Kevin Ransom is a freelance writer who covers music for AnnArbor.com. He can be reached at KevinRansom10@aol.com.