Posted on
Mon, Nov 30, 2009 : 11:19 a.m.
Musical explorers NOMO perform at the Blind Pig on Saturday
By Kevin Ransom
When the band NOMO formed in Ann Arbor in 2003 — while several of the group members were still students at the University of Michigan's school of jazz — they already knew that they didn't want to hew to a strict jazz idiom, like be-bop or traditional jazz.
"We all had jazz backgrounds, but we also had open ears, and we knew we wanted to incorporate other styles and influences," says Elliott Bergman, who plays tenor sax and kalimba (or thumb piano) for NOMO, in addition to being its bandleader.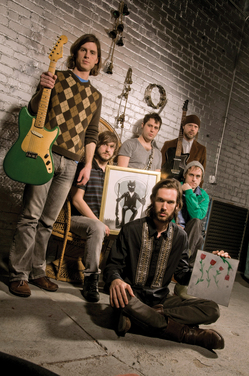 Doug Coombe
"We were also really drawn to the Afro-Beat sounds from West Africa, so initially, that was our template — combining our jazz influences with those African rhythms." Among the group's early influences were jazz-rock fusionists Weather Report, the avant-jazz space traveler Sun Ra, the German progressive-rock group Can and the Brazilian/Tropicalia composer and artist Tom Zé.
"But as we've continued to evolve, we've also been influenced by other world music styles, like gamelan music and the music of South India." The band also builds their own kalimbas, "and those end up being the basis for a lot of stuff on our albums as well. We've also been working more with looping, and we like combining all of these elements in different, surprising ways."
NOMO, which performs at the Blind Pig on Saturday, also sells some of those kalimbas at shows, "but we keep the most unusual ones for ourselves," Bergman confesses.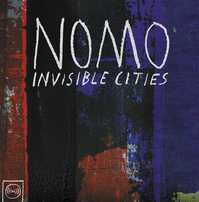 Joining Bergman in NOMO are Dan Bennett on baritone sax, Erik Hall on guitar and drums, Quin Kirchner on drums and percussion, Justin Walter on trumpet and percussion, and Jake Vinsell on bass. The group has recently gone through a few personnel changes, so their latest album,
"Invisible Cities"
was recorded with some members who've left the group since then.
After several members of the group graduated from the University of Michigan about five years ago, the band shifted its home base to Chicago, where four of the current members now live. One still lives in Michigan, though, while another resides in New York.
"Although, I don't even know if it would be accurate to say that we technically have a 'home base' any more, because we've been on the road so much," says Bergman. "We've played 100 shows just since March, been to the East coast three times, and to Europe twice." The band continues to play about three Ann Arbor dates a year, though, and their Top of the Park performance at the Summer Festival has become an annual tradition.
On "Invisible Cities," an undulating, syncopated, Afro-Beat groove percolates through many of the tunes, and the sometimes-dissonant sax parts conjure some of Wayne Shorter's adventurous, hard-blowing sax excursions on such seminal Weather Report discs as "Sweetnighter" and "Mysterious Traveler." And the trumpet solos manage to evoke the vibe of Miles Davis during his fusion period, without sounding like slavish imitations. A delicate flute sound also flutters in and out of the mix at times.
NOMO performing live in Nashville in August:
Presently, NOMO is also drawing inspiration from contemporary artists / groups like Björk, Joanna Newsom, M.I.A. and High Places — the latter of which is a group on the Chicago-based Thrill Jockey label, "and they're a really great beat-driven band that uses a lot of samples, but the samples are eclectic, and weird, but in a cool way," says Bergman.
Despite the insistent groove and sometimes-skronking saxes on "Invisible Cities," Bergman describes the album as "more nuanced and more subtle" than the group's previous release, "Ghost Rock," which had a more radical, aggressive, electronic sonic palette — at least compared to the songs on "Invisible Cities," which are more textured, and are dappled with a wider range of sonic colors.
Most of the songs for both albums were written and recorded at the same time, "and we could hear the tunes sort of separating into two camps, so we decided to group the more aggressive-sounding ones together on 'Ghost Rock,' and the more nuanced ones on 'Invisible Cities,'" Bergman explains. Listen to NOMO "Invisible Cities" (MP3).
Bergman sees NOMO's eclectic mingling of styles and genres as being a reflection of the current cultural landscape.
"The music climate we're in right now is a really interesting one, partly because of downloading and so much music being accessible on the Internet," he says. "All this stuff is being thrown together, and now there's this sample-based culture butting heads with the traditional music from Africa and India.
"I like to think we're working in that same vein, just trying combine all of these disparate musical styles in new ways that are exciting to us."
Kevin Ransom is a free-lance writer and critic who covers music for AnnArbor.com. He can be reached at KevinRansom10@aol.com.
PREVIEW NOMO Who: Jazz-fusion/world music group that was formed in Ann Arbor in 2003, but is now based in Chicago. What: Adventurous mix of Weather Report-style jazz-rock fusion with other elements, like electronic sampling and Latin, African and Indian music grooves. When: Saturday, doors at 9:30. Ages 18 and up. Where: Blind Pig, 208 South First Street. How much: $10 Details: 734-996-8555 / Blind Pig web site.