Posted on
Sun, Feb 17, 2013 : 7:55 a.m.
New York Philharmonic helping to celebrate Hill Auditorium's 100th
By Susan Isaacs Nisbett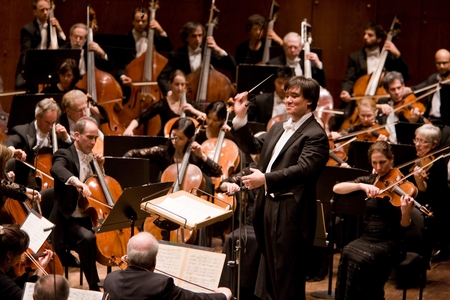 photo by Chris Lee
Any season is a good one for a visit from the
New York Philharmonic
.
But in a year celebrating Hill Auditorium's centenary, it's particularly fitting that the nation's oldest orchestra pay a call—which the Philharmonic does in two concerts Saturday and Sunday at Hill, part of a residency under University Musical Society auspices.
The Philharmonic has been visiting Ann Arbor since 1916—three years after Hill opened in May, 1913.
"The concert was March 17, 1916," St. Patrick's Day, said New York Philharmonic Archivist Barbara Haws, in a conversation from New York. "We did not do an Irish concert."
She's right. Arias by Mozart and Verdi figured on the bill, along with symphonic works by Beethoven, Liszt and Tchaikovsky.
Since that time, the orchestra has made frequent returns, 13 to be exact, under conductors like Barbirolli, Mitropoulos, Bernstein, Ozawa, Boulez and, most recently, in 2005 and 2009, Maazel.
PREVIEW
The New York Philharmonic
Who: Much-acclaimed orchestra.
What: Two concerts, plus master classes and lectures.
Where: Concerts at Hill Auditorium, 825 N. University Ave.; masterclasses at U-M School of Music, Theatre & Dance on the U-M North Campus; lectures on the U-M Main Campus.
When: Concerts Saturday 8 p.m., Sunday 2 p.m.; lectures and masterclasses Friday-Sunday. Visit ums.org for schedule.
How much: Concert tickets, $10-$100, UMS Michigan League Ticket Office, 5/734-764-2538, and online at ums.org. Lectures and masterclasses are free and open to the public.
There's another name to add to the list this weekend: Alan Gilbert, who took over as music director just a few months after the orchestra's March 2009 concerts here.
Gilbert and the orchestra recently announced a Philharmonic new music biennial, just one of his new initiatives, but this weekend spotlights masterworks of the past. Saturday evening, Mozart's "Overture to 'Marriage of Figaro'" and his "Linz" Symphony join Brahms' Symphony No. 1 in c minor on the program. Sunday afternoon, the clock ticks forward to the expressive music of the late 19th and early 20th century, with Mussorgsky's "Night on Bald Mountain," Bloch's "Schelomo" (with cellist Jan Vogler as soloist in his UMS debut) and Tchaikovsky's "Pathetique."
Bringing fresh insights to this music is not the only way in which this extraordinary group of musicians is moving forward. This weekend's residency provides a great look at what's new at the New York Philharmonic.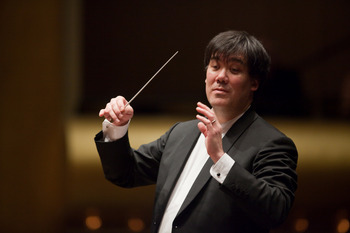 photo by Chris Lee
Alan Gilbert
Alan Gilbert, who has conducted around the world and heads the conducting program at the Juilliard School, is more than three years into his tenure as music director, but this is his first visit to Ann Arbor at the Philharmonic's helm. He is not only the first native New Yorker to lead the Philharmonic, he is the son of two New York Philharmonic musicians—his mother, violinist Yoko Takebe, still plays with the group; his father, violinist Michael Gilbert, retired in 2001.
He's loved within the orchestra, many of whose members can say they knew him when, and without. And his ideas—for composers-in-residence, for example; and his performances—including those of unusual works like Ligeti's "Le Grand Macabre"—with the group have drawn high praise from critics and audiences.
Next weekend, the Ann Arbor audience gets to experience the fresh energy he has brought to this venerable orchestra. This year's concerts have included a Brahms symphony cycle—so look to the dramatic Brahms No. 1 for the fruits of an in-depth approach to this towering composer.
Beyond the concert hall
It's not as if audience education is a new thing for the New York Philharmonic. Older classical music fans, for example, will surely remember Bernstein's masterful Young People's Concerts—viewed either in the concert hall or from in front of the TV—which influenced a whole generation. Bernstein made music education a centerpiece of his work, and the same is true for Gilbert, who believes "the modern orchestra should be a resource—both inside and outside the concert hall.
One of the orchestra's newest initiatives, for example, is a four-year partnership with the Shanghai Symphony Orchestra and the Shanghai Conservatory that would take Philharmonic musicians abroad not just for concerts but for numerous Orchestral Academy sessions for Chinese musicians. The academy addresses a need for specialized training of orchestra musicians, identified by Shanghai Symphony Music Director Long Yu as one of the main issues of orchestral development in Asia.
The Shanghai partnership, said Philharmonic Executive Director Matthew VanBesien in a recent phone call from New York, is part of a broader thrust by the orchestra to make it a resource, not just an ensemble. "It's a way to think about our future," he said.
It's not just abroad that the Philharmonic musicians will be teaching. The Ann Arbor visit, for example, includes numerous master classes at the University of Michigan School of Music, Theatre & Dance—open not just to the music students who will play in them and their peers, but to the general public. Most focus on students playing, with esteemed percussion, brass and string musicians from the Philharmonic (including Chris Lamb, Joe Alessi and Concertmaster Glenn Dicterow) in charge. But clarinetist Mark Nuccio will also discuss the business of a music career in one session—a fascinating behind-the-scenes topic for non-players as well as players.
Said UMS Director of Education and Community Development Jim Leija, "These events are both a great opportunity for young musicians-in-training to learn from the masters, and a chance for the public to get a glimpse into the creative process, and hard work and training that goes into becoming a topnotch performer. We're delighted that the School of Music, Theatre & Dance has collaborated with UMS to make these events open to the public, so that we can showcase education and emerging talent at its finest."
Friday, there are lectures, too, highlighting the future and the past. Archivist Haws, for example, will talk about the ongoing digitization of the Philharmonic's archives along with Digitial Archives Project Manager Mitchell Brodsky. Right now the years from 1943-1970 are online, with more of the Philharmonic's 170 to follow. You can also view scores, with conductors' markings - a delicious and instructive opportunity.
Haws will also look to the past in a lecture about Leonard Bernstein, racial barriers at the Philharmonic and the Black Panthers. To see a full list of residency activities, including a Saturday evening post-concert Q&A with Philharmonic musicians and visual artist Ernestine Ruben (who has created a photo exhibit on display), visit ums.org/performances/new-york-philharmonic-residency-the-archives. All activities are free and open to the public, except for the post-concert Q&A, which is for ticket-holders only.
Soloist in the spotlight: Jan Vogler, cello, making UMS debut
When German-born cellist Jan Vogler steps onto the Hill Auditorium stage Sunday afternoon as soloist in the Bloch "Schelomo" (Hebraic Rhapsody for Cello and Large Orchestra)," it will be to play a work that is about as near and dear to him as it gets.
Next to the Schumann cello concerto, it's the work he has performed most in a career that has taken him around the globe as soloist with leading orchestras.
If that career only started after he left his position as a principal cellist with the Dresden Statskapelle, his familiarity with the Bloch goes back way further, to childhood.
A cello prodigy at age 6, he grew up in East Germany, encountering the Bloch - and the Schumann, for that matter - via a recording.
"It was Leonard Rose playing, with Ormandy conducting," he recalled in a phone conversation from New York. "The Schumann concerto was on the first side, but in many aspects the two pieces have a lot in common; they both speak and sing a lot."
The music impressed him so much, he said, because it "fit with my idea of how I love to play the cello. I want to make the listener forget that I have a piece of wood with four strings, to produce a vocal quality that speaks."
Bloch, who first conceived his piece with a singer in mind and was inspired by Ecclesiastes and King Solomon's lament, understood that vision, Vogler feels. & #8220;He figured it out," said Vogler, adding that the cello in "Schelomo" is perhaps even more "mystical and magical" than the human voice would be singing words. "Everybody gets, from the first note, that somebody is speaking and singing."
Vogler was raised in East Berlin, in a musical family. His father, cellist Peter Vogler, was his first teacher. His mother's instrument was violin.
"In our house, everybody who visited came with an instrument," he said. "I was 10 when I noticed that there were people in the world who don't have an instrument. When people came to visit, my first questions was: 'What do you play?'"
But it took some time before this cello prodigy could obtain the score for "Schelomo" so he could play it. "Music," he noted, "had to come from far away." His father, luckily, also taught some diplomats in West Berlin, and could trade lessons for recordings and scores.
He has not abandoned the piece since, and his performances of it have drawn raves. Over the years, he said, he has come to appreciate it not only for its songlike features but for its structure.
"The great architecture of the piece appeals more and more," he said.
He's played it with many an orchestra, but he first essays it with the New York Philharmonic and Gilbert the Thursday and Friday before the Ann Arbor concerts. As for playing it with different orchestras, he says:
"You're a little at the mercy of the orchestra. It's a huge orchestra, and in order to bring it across, really, you need the conductor to be very outgoing in the tuttis, with big explosions when the cello is not playing. But when the cellos is playing, the conductor has to organize the orchestra in a way so the cello comes through - and yet you hear the different voices. I am very happy about the New York Philharmonic concerts that are coming. I have worked with them before, and I am looking forward to working with Alan Gilbert."
For audio clips of the Brahms and Bloch, visit the NYP website.