Posted on
Tue, Nov 17, 2009 : 11:20 a.m.
Old Crow Medicine Show rocks to a traditional beat at Michigan Theater
By Kevin Ransom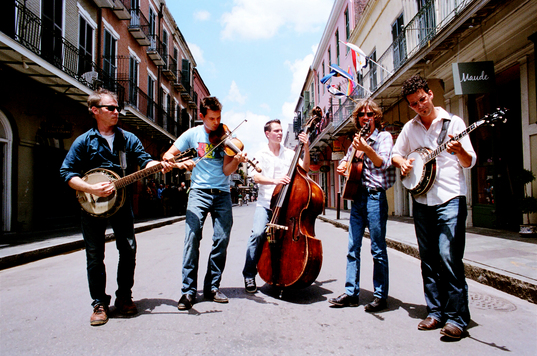 Aaron Farrington
"We're a rock 'n' roll band with fiddles and banjos."
That's how Ketch Secor of Old Crow Medicine Show describes the band.
Old Crow does indeed play traditional-music styles — bluegrass, folk, blues, trad-country and mountain music — with a rock 'n' roll abandon. On stage, when they tackle an old-time fiddle tune or an original song steeped in the Appalachian tradition, they attack it with a stomping, high-octane exuberance.
In fact, Old Crow tears into their songs with an intensity that's rare for an acoustic-string band, which is essentially what they are: Generally, Old Crow's instrumentation consists of acoustic guitar, fiddle, banjo, upright bass, harmonica and guitjo (a six-string banjo with a guitar neck.). Although, for the tour following the release of their latest album, "Tennessee Pusher," they were joined onstage by all-star session drummer Jim Keltner and Heartbreakers organist Benmont Tench — both of whom had played on the record.
The disc was produced by Detroit native Don Was, who's better known for producing rock and pop records by the likes of Bob Dylan, the Rolling Stones and Bonnie Raitt. "We didn't seek him out — he called us," says Secor, who joins his bandmates for a show at the Michigan Theater on Friday. "We weren't sure how much experience he had producing banjos and fiddles, but he also told us that he thought of us as a rock band that played acoustic instruments."
But, says Secor, Was didn't do anything in particular to amplify the group's rock n' roll mindset (other than, of course, bringing in the aforementioned drummer and keyboard player for some tunes.)
"He just asked us to 'bring it' — to be prepared, and rehearsed, and to know what we wanted to do," says Secor during a phone interview from the group's Nashville home base. "He's a pretty busy producer — he makes 5 to 10 records a year, so it all happened pretty fast. When we were done, I wanted him to hang around more just so I could spend some time talking to him about music."
Although the members of Old Crow now live in Music City, they "come from all over" — including Toledo, which is where Secor grew up. "So, I definitely was hip to Ann Arbor pretty early on, and also to Motown music," he says. "My parents played a lot of that stuff, and also a lot of folk music, especially Pete Seeger. So those were both big influences on me."
Due to some of the rock-vibe elements, "Tennessee Pusher" is more accessible to those who were not already part of the band's core audience, and has made inroads into some previously uncharted terrain for the group. The stomping, tongue-in-cheek "Alabama High-Test" made Rolling Stone magazine's "Singles of the Year," list, and the album debuted at No. 50 on Billboard's Top 200 charts — and at No. 7 on the Top Country Albums chart.
Listen to the album "Tennessee Pusher"
"We'd never made the country album chart before, " says Secor. "I mean, I love real country music, but I'm not into that country-radio Top 30 sound, and I don't think most Old Crow fans are, either. But it's good to reach out to new audiences."
If you only heard the title, and not the lyrics, you might think "Alabama High-Test" was a song about throat-burning corn liquor brewed up in backyard still — a topic that has indeed been fodder for many country and bluegrass songs over the decades. But the song is actually a tale of a guy who's tearing up the highway, a half-pound of dope in tow — with the state troopers in pursuit. And Secor drops several other drug-culture rhymes into the song — like "Huff paint / cocaine," "Meth lab / rehab," and "down-home / Dixie-fried homegrown" — as well as a verse about the inevitable consequences: "Drug bust, disgust, plead with the circuit judge / Son, don't be coy, send you up the river, boy / Jump suit, chain gang, shackles on my feet and hands…."
Given its subject and its deadpan-goofball quality, the song sounds like it might have been recorded by, say, Old & In The Way — the legendary hippie-bluegrass band of the '70s. Does Old Crow feel an affinity for those guys — Jerry Garcia, David Grisman, Peter Rowan, et al?
"Yeah, we definitely do, and I've actually been thinking about Peter lately," says Secor. "I do think that song has some of the elements of the Grateful Dead's style of songwriting. I think if Jerry were alive today, he would like Old Crow, and that maybe he would see a bit of the Warlocks or the Holy Modal Rounders in what we're doing."
In Old Crow, Secor plays fiddle, banjo and harmonica, and shares most of the lead vocal duties with Willie Watson, who also plays guitar and banjo. Joining them are Morgan Jahnig on upright bass, Gill Landry on slide guitar and banjo and Kevin Hayes on guitjo. Hayes and Landry add harmony vocals. Secor and Watson wrote or co-wrote most of the songs on "Tennessee Pusher," while Landry and Haynes contributed one each.
In June, Old Crow released a rousing, rollicking live DVD, "Live at the Orange Peel and Tennessee Theatre," that features 20 songs — 15 tunes they've recorded on their albums, plus five from their live repertoire that have never been laid to wax, like "Wheeling Breakdown" and "Raise a Ruckus.".
Old Crow Medicine Show performing "Tell It To Me" live in Tempe, Arizona last month:
Old Crow's previous two albums were produced by David Rawlings, Gillian Welch's musical partner and ace guitarist. "David was sort of a 6th member of the band for a while there, and even though he didn't produce this one, he co-wrote one song ("Methamphetamine") on the record," says Secor.
In fact, a few members of Old Crow, including Secor, are members of Rawling's new band, The Dave Rawlings Machine, which also features Welch. Old Crow did a tour with Rawlings' band in the summer, and will hook up with Rawlings for another one soon.
"We have a really strong musical give-and-take with David," affirms Secor. "Playing with him and Gillian, and having him produce our records — well, those have been some of my most treasured musical experiences."
PREVIEW Old Crow Medicine Show Who: Young string band with instrumentation consisting of banjo, fiddle, acoustic guitar, upright bass, guitjo and harmonica. What: Bluegrass, folk, blues and Appalachian music played with exuberant rock n' roll attitude. Where: Michigan Theater, 603 East Liberty Street. When: Friday, November 20, 8 p.m. How much: $20, $27, $35. Details: 734-668-8397, 734-763-TKTS, Michigan Theater web site.
Kevin Ransom is a free-lance writer who covers music for AnnArbor.com. He can be reached at KevinRansom10@aol.com.