Posted on
Wed, Sep 4, 2013 : 10:51 a.m.
Meat dishes shine at reimagined Old German restaurant
By Julie Halpert
When I heard that Jon Carlson, Chet Czaplicka and Greg Lobdell were going to revive the Old German, once a fixture in Ann Arbor, I was intrigued. I've long been an admirer of the food that the three offer at Grizzly Peak, as well as Blue Tractor and Jolly Pumpkin. July 15, they brought back the Old German. General manager Chris Carrington said the market is college kids, since they're attracted to the basement's "dark, intimate feeling." And he said the reaction from this group so far has been positive.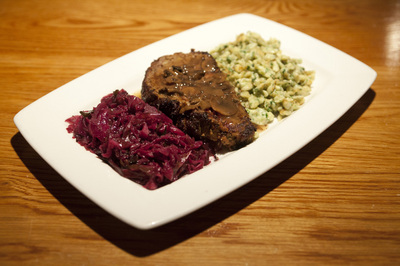 Patrick Record | AnnArbor.com
Though Old German is technically in the basement of Grizzly Peak, the entrance is just around the corner, on Ashley. Walking several steps underground, you feel like you're descending into a charming, historic cellar.
The walls are made of stone and exposed brick, while the ceiling pipes are painted brown and the floor is made of concrete. Two enormous conditioning tanks contain rotating, German-inspired keller (which means "sellers," in German) beers. There's one flat screen television above the bar and another tucked discreetly in a corner in the back. It has a cozy feel, with large, roomy booths and an eclectic mix of tables and chairs.
The restaurant already seems to be gaining a reputation as a sought-after watering hole. On a recent weeknight at 5:30, there were groups gathering to have a beer at the bar. In addition to the two rotating beers, there are six additional varieties, all brewed on tap. This is a night hangout, as it doesn't open until 4 p.m. and stays open into the wee hours.
The menu at Old German is limited, and if there's one issue I have, it's the lack of vegetarian options. Even the potato pancakes and potato salad contain bacon, while the beer cheese soup is prepared with a chicken broth. The only choices for those who shun meat are the homemade pretzels and the kale salad. There are roughly a dozen dishes, total, most of which are sandwiches.
We enjoyed those homemade pretzels, thick, soft and chewy, with just the right amount of salt. I preferred the spicy mustard dip that accompanied them to the overly rich cheddar fondue. That sauce also closely resembled the beer cheese soup in taste and consistency. Though I generally enjoy this type of soup, I thought there was so much beer as to overwhelm it. Instead of providing a subtle flavoring, it seemed too much like an alcoholic beverage.
RESTAURANT REVIEW
Old German
117 Ashley, Ann Arbor
734-741-7325
http://www.oldgerman.net/og/old-german
Hours: Sunday through Wednesday, 4 p.m.-midnight.Thursday through Saturday, 4 p.m.-2 a.m. Monday - Thursday 11 a.m. - 11 p.m. Friday 11 a.m. - midnight
Plastic: Visa, Mastercard, American Express, Discover.
Liquor: Yes.
Prices: Inexpensive to Moderate. Most dishes are in the $10 range. The most expensive dish is $14.95.
Noise level: Medium
Wheelchair access: No.
The meat dishes are where this place really shines. Among my favorites here were the smoked pork chops. They were cooked perfectly, with just the slightest hint of pink, so the meat was tender, and the mustard buerre blanc sauce was heavenly. The meatloaf was better than any American version I've ever tried.
It's Carrington's mother's recipe. He said she mixes the meat and seasonings, then lays it out flat on a sheet tray, adds ham and cheese, rolls it up like a jelly roll, then bakes it and cuts it into slender pieces. It was served with a light yet flavorful spinach spaetzle — a german dumpling — and braised red cabbage. Sugar provided an appealing sweet taste to the cabbage, but it was made even better with the interesting mix of apples, bacon and onion.
I enjoyed the chicken bratwurst, served in a wonderful, fresh pretzel roll, even though I didn't order it. I had asked for the chicken schnitzel sandwich, but the server brought me this instead. Since it looked so good, I didn't protest. Cooking it in Steelhead red ale provided a wonderful flavor and the sun-dried tomato relish was a nice touch.
I also enjoyed the German meat patty sliders. The meat was closer to a sauce consistency than a patty and the Gruyere cheese and caramelized onions nicely complimented it. The potato buns were soft and fresh. In the non-meat area, the kolsch sauerkraut was also quite good, as were the potato pancakes. They were flavorful, dense and hearty, not greasy.
An excess of vinegar permeated the potato salad and kale salad, making these dishes too bitter. The potato salad is German style, so it's vinegar-based instead of mayonnaise-based, with just slices of bland potato. I'm partial to the American version, which I think is both more flavorful and substantial. The kale salad would have been better with less vinegar. But the homemade pumpernickel croutons and delicious Riesling-poached pears redeemed it a bit.
Except for the ordering mishap, the servers were friendly and food was delivered promptly. If you're looking for a late-night place to grab a beer and some interesting German food, this restaurant is worth a visit.
Julie Halpert reviews restaurants for AnnArbor.com.