Posted on
Sat, Dec 17, 2011 : 5:57 a.m.
Old Town's Sunday night music series 'a little gem on the Ann Arbor entertainment scene'
By Roger LeLievre
Chris Asadian | For AnnArbor.com
The food and drink may be superlative, but it's the musical menu that for years has had savvy locals heading over to the Old Town Tavern on Sunday nights. Old Town's long-running, free music series, with its focus on local performers, draws a dedicated following.
"I try to keep it local because we have so much talent here," said singer-songwriter Chris Buhalis, who books the music. "There aren't many places left in town where it's so populated by regular Ann Arbor folks.
"I've watched it grow from a place where people would come in if they knew who was playing to where people will come up on a Sunday night even if they don't know who is playing. They know there's a real good chance there will be some good music there," he added.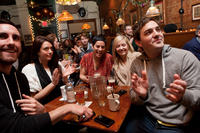 Chris Asadian | For AnnArbor.com
"We really run the gamut—we've got Cajun bands, a lot of singer-songwriters of varying genres, every now and again we get a jazz band in there—it's a lot of fun."
Rather than set up just inside the front door, the musicians are positioned about halfway to the back, opposite the bar. On a recent Sunday, the lively band Creole du Nord proved an organic fit with Old Town's homey, old-timey decor. The music started at 8 p.m., and by 9 it was clear that most of three dozen or so people in the room were there for the tunes. A few folks were dancing, although according to regulars, that's the exception, not the rule.
"It's not a tight-knit group of people, but there's usually a handful of faces you recognize," said Dan Orcutt, a local musician who was in the audience for Creole du Nord. "The music is consistently good. It's a little gem on the Ann Arbor entertainment scene."
Orcutt's girlfriend, Greta Barnard, agreed: "We always see people we know here," she said. And people are playing attention (to the music). It's not like other bars in town."
Several of those in attendance said they liked the fact that the music is Michigan-made.
"It's local live music you can dance to," said Pam Blumhardt, who drove up from Clinton. "I love to support local music and there's a lot of it out there that people don't know about."
Barbara Schmid, who was watching the band at a table with her husband, local folk hero Jay Stielstra, counts herself a regular and said she thinks the Sunday night event is not only fun, but friendly too.
Chris Asadian | For AnnArbor.com
"If you were a stranger to Ann Arbor, what a fun scene this would be," she said. "You can walk in the front door and there are people dancing. It's neat."
Buhalis said the Sunday night Old Town vibe reminds him of what used to exist at the much-missed Del Rio, the nearby bar/restaurant that closed in 2003.
"You go in (to Old Town) on a night like when a band like Fubar is playing and it's all these people you've known for 20 years and all these people you haven't seen for a while. It's just a real beautiful community gathering, and I find that people are really responsive to the music too. The Old Town is a true neighborhood bar."
Music starts most Sunday nights at 8 p.m. at Old Town Tavern, 122 W. Liberty St. No cover charge. Upcoming lineup: Dec. 18 - Gwyneth Hayes Duo; Dec. 25 - closed; Jan. 1 - Special early show (check the Old Town Web site for time) - Chris Buhalis pays tribute to the late Townes Van Zandt. Also coming in January are Colby Maddox and Charlie Weaver. Dates TBA. More info: www.oldtownaa.com or 734-662-9291.