Posted on
Fri, Oct 19, 2012 : 10:14 a.m.
Oliver Stone to discuss his life and career at the Michigan Theater
By Jenn McKee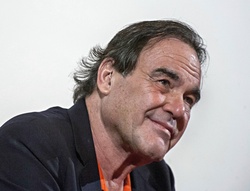 Gabor Valuska | The Associated Press
In the midst of a divisive presidential election season, one of the film world's most unapologetically political film artists,
Oliver Stone
, is coming to Ann Arbor as part of the
Penny Stamps Lecture Series
.
Bob Woodruff
of ABC News will act as moderator.
Casual fans may not know that Stone—after being born to a French-born Roman Catholic woman and a Jewish stockbroker; and growing up in privilege; and dropping out of Yale and volunteering to fight in Vietnam—first made his mark in the movie industry as a screenwriter, writing cult hits like "Conan the Barbarian" and "Scarface," and winning his first Oscar in 1979 for adapting the British film "Midnight Express."
In the '80s, Stone won two Oscars for directing (best picture winner "Platoon" and "Born on the Fourth of July"); and while sharing a writing credit on many of his movie projects, Stone created a stream of eclectic and visually unforgettable, if often controversial, films, including: "Wall Street," "The Doors," "JFK," "Natural Born Killers," "Nixon," "Evita," "Any Given Sunday," "World Trade Center," "W." and, most recently, "Savages."
Known for his boldness, Stone's had his share of critical and box office failures (see his Razzie nominations for "Alexander," "U Turn," and "Year of the Dragon"). But whether you're a fan or a critic, Stone's upcoming talk should yield some memorable moments.
By way of an aperitif, consider these Stone quotes from recent interviews.
On Gordon Gekko's mantra, "Greed is good" (from "Wall Street"), being the mindset that led to the recent banking crisis (from The Progressive):
PREVIEW
Penny Stamps lecture, featuring Oliver Stone
What: Controversial director/screenwriter/producer Stone, who regularly tackles thorny political subjects ("Platoon," "Nixon," "JFK," "W," etc.), will talk about his life and career.
Where: Michigan Theater, 603 E. Liberty St. in Ann Arbor.
When: Thursday, October 25 at 5:10 p.m.
How much: Free. Visit http://art-design.umich.edu/stamps/ for more details.
I was surprised that it went on. I did the first "Wall Street" film in 1987. I thought that era was going to come to a close because it was extremely excessive. Instead, I found that it went on, and the millions of dollars we were talking about in the eighties became billions. The people like Gekko were no longer the large players on the scene because all of a sudden, you know what? The banks started to play that game. The banks were no longer the banks that I knew when I was a kid. They were no longer holding deposits and making loans; they were suddenly becoming gigantic casino players, buying and selling for themselves—and the client be damned. So it was a whole different mentality.
We saw six banks take over the whole world economically and basically run the casino. And they had the inside information and they were able to play the game both ways. Sell long, go long and short at the same time, basically. The banks thrived, and the economy got killed. And when it fell apart the banks got socialized, so to speak. They were bailed out. And the taxpayers paid for it. So, it's a rigged game.
On being, or not being, part of a generation of filmmakers (from AV Club):
I'd say I fall in the crack between, because I came on in the late '70s, and Quentin (Tarantino) came on in I guess the late '80s, early '90s. I feel like I am what I am. I don't know what to say about that one. That's perception, and if you repeat the perception enough, it becomes truth. I hope the work stands through time.
See, right now I've been looking at old films, everywhere from 10 years old to 100 years old, and I'm enjoying them even more. For me, the beauty of it is that it lasts. It doesn't have to be defined. I'd rather get past the tyranny of now, where you get judged for something based on what's happening at the moment. On "Wall Street: Money Never Sleeps," a lot of the judgment was harsh because it wasn't a documentary like "Inside Job," but it wasn't supposed to be. It wasn't about the crash in the way most people perceived it, but it was about those people on Wall Street. It was like what Welles did with "The Magnificent Ambersons." You just do the log and record what people were doing at the time. You stick to the truth, and it'll be perceived differently one day. Also, you have to look at that film as a bookend. One day, if you look at "Wall Street" from 1987 and then you look at "Wall Street 2" from 2010, you see two different worlds: two different Wall Streets, two different New Yorks. So there is this thing about time that you can't see at the time you're at.
On film vs. digital (from Collider.com):
I make a film like ("Savages") every two years, so every time I come back to it, there's a new technology going on. And now, truly because of the projections system, we're moving inexorably to a digital projection. It's frankly more consistent and it's certainly better than film print projection, around the theaters. The consistency of film print projection was always widely variable. I would go to the theaters in Texas or Alabama, and sometimes there were mistakes made. Sometimes they don't change the bulbs.
On the other hand, the irony of the whole situation is that film is still, to me, in my opinion, without a doubt, 15 to 20 percent better than the digital. In its range and its blacks, and the depths of its blacks. When you see this movie, if you see it with a good projector, the colors pop, and I love that. My eye plays off film. I never know what's going to happen because your eye does wander. It's an anemographic film, so there is no comparison. I've seen the digital and it's good, it's just not at the same level, and that's because it's a medium that's different. There's something in the film stock that you cannot get.
People say that it's so much better, and [James] Cameron, Michael Mann and George Lucas all led the way. My protest against digital has been me saying, "What's going to happen to film?" The result is that Kodak is out of business. That's a national tragedy. We've got to keep making film. I really feel strongly about that. We can't give it up. It may be like the baseball card business or the comic book business, and it'll be antique, but I don't think it's going to go away. It's like books. You don't always have to have an e-book. You can have a real book. I'd like to see the old way maintain(ed). I think it will be like antique cars. It'll grow in value. I'm going to hold onto my Blu-ray collection because I really think it's hardware and it's important. I don't want to live in a cloud, all my life. Sorry to be preachy.
On whether he's too defined by his politics (from AV Club):
… As a dramatist, I don't have politics. You go into this thing, and you may dislike someone like George Bush, but you make the movie from empathy. Same with Nixon, by the way. I do have a side as a citizen, and I've always expressed it, and that's where I've gotten into misunderstandings, because some people see me as a leftist nut or whatever. A conspiracy nut. All that stuff. These are definitions that don't really apply to a dramatist, because a dramatist is working from empathy. "Scarface" can be one form of it that I express, or I could be writing something like "World Trade Center," which is from the point of view of a policeman. Every time you go into a movie, you go into the point of view of who it is about. If I'm doing "W.", I'm into the George Bush mentality. I'm not taking sides when I'm doing a drama. Nor, for that matter, are my documentaries. If you look at "South Of The Border," I'm just letting the people talk for themselves, really.
Jenn McKee is the entertainment digital journalist for AnnArbor.com. Reach her at jennmckee@annarbor.com or 734-623-2546, and follow her on Twitter @jennmckee.