carla milarch column
on stages:

'Buried Child' at Carriage House Theatre, 'On Golden Pond' at The Purple Rose

Posted on Wed, Jul 4, 2012 : 11 a.m.
It sure is noisy this time of summer, with what seems like every amateur pyro-technician in the city lighting up things that crackle, sparkle, fizz and pop in the night. Happy Birthday America! It's nice to know we still have enough energetic youth with time on their hands to keep the celebration clamorous.

I'm also glad that we have enough talented artists on area stages to keep the artistic fireworks coming, even with the holiday weekend(s). While they're not as plentiful as the 1 a.m. firecrackers in my neighborhood, the shows below have more than enough firepower to inspire ample "oohs" and "aahs."

Fittingly, all three plays in this week's listings have either won ("Buried Child" and "On Golden Pond") or been a finalist for ("In the Next Room, or the vibrator play") the famous Pulitzer Prize for Drama, which recognizes excellence in dramatic writing that deals with American life.

So, happy 4th of July everyone! I hope you have a wonderful holiday, and find some commemorative fireworks to enjoy, either on stage or off.

Show: "Buried Child" by Sam Shepard, through July 14
Company: Carriage House Theatre
Type of Company: Pre-professional (non-paid)
Venue/location: Carriage House Theatre, 541 Third St, Ann Arbor
Recommended ages: 13+
Description: Sam Shepard's Pulitzer Prize-winning drama is a harrowing, often unsettlingly funny look at a dysfunctional Illinois farm family that looms as a symbol of America's loss of innocence. Upon returning with his new girlfriend to his grandparents' farmhouse after years of separation, a prodigal grandson is barely recognized by a bizarre group of relatives concealing corrosive family secrets.
Fun fact: When Buried Child won the Pulitzer Prize for Drama in 1979, it was the first off-Broadway play to have been given that award.
For tickets and information: carriagehousetheatre.weebly.com, CHTheatreA2@gmail.com

Show: "In the Next Room, or the vibrator play" by Sarah Ruhl, through July 15
Company: Performance Network Theatre
Type of Company: Professional Equity (SPT)
Venue/location: Performance Network Theatre, 120 East Huron, Ann Arbor
Recommended ages: 16+, Contains adult themes and language.
Description: Upon the dawn of electricity, the aptly named Dr. Givings invests in a buzz worthy new instrument used to treat female patients' "Hysteria." As the number of blushing patients swells, the good doctor's curious wife breaks into his office to try the device for herself, unleashing an entirely new type of energy deep within. This stimulating comedy, which pulses with love, desire, and abundant laughs, was a 2010 Tony nominee for Best Play.
Review from the Detroit Free Press
Fun fact: Joseph Mortimer Granville filed the first patent for an electromechanical vibrator termed Granville's Hammer in about 1883. Granville, however, did not apply his invention in the treatment of "hysteria"; rather, he used it to treat muscular disorders. The device was subsequently adapted by other creative physicians for the treatment of the condition, which up until that point had been treated solely through manual massage.
For tickets and information: 734-663-0681, www.performancenetwork.org/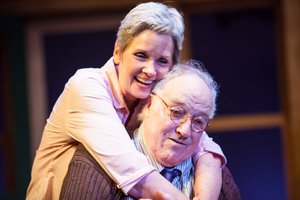 photo by Sean Carter Photography | Courtesy of the Purple Rose Theatre Co.
Show:
"On Golden Pond", by Ernest Thompson, through September 1
Company:
Purple Rose Theatre Company
Type of Company:
Professional Equity (SPT)
Venue/location:
137 Park Street, Chelsea
Recommended ages:
13+ (some mature language)
Description:
This charming love story follows Ethel and Norman Thayer as they return to their summer home in Maine. Their respite is interrupted by the unexpected arrival of their estranged daughter, her fiance, and his teenage son. Over the course of the summer, an unlikely friendship develops between Norman and the boy, which sparks a renewed zest for life in the Thayer family. In the twilight years of marriage, Ethel and Norman rediscover the joy and romance of every day living.
Review from AnnArbor.com
Fun fact:
Jan Radcliff, who plays Ethel Thayer, first appeared on the PRTC stage in a 1991 production of "Ties that Bind."
For tickets and information:
734.433.7673 or
www.purplerosetheatre.org