Posted on
Wed, Dec 14, 2011 : 8 a.m.
'Christmas Cabaret' at Performance Network, 'Fugue' at Mix Performance Space
By Carla Milarch
In the first half of the 20th century, a group of theater artists rebelled against the conservative, mainstream ideology of Broadway. Their belief that theater should be about artistry and not commerce drove them out of New York City to found theaters across the country, starting the regional theater movement.
By 1961, there were 23 regional theaters in the U.S., and the first national organization of nonprofit theaters was formed. Today, the number of regional theaters tops 1,800. These theaters' nonprofit organizational structure allows them to receive tax-deductible donations, in return for their adherence to "mission-based" programs - programs that put social or artistic goals above commercialism.
In addition to being Michigan-made, all of the theaters listed below are non-profits, which means that in many cases, only about half of their annual operating revenue comes from ticket sales. They rely on contributions from their supporters to fulfill their missions and keep their programs strong.
At this time of year, many of us receive stacks of end-of-year solicitations for countless good causes, asking for our generosity in making our community better. I hope that you'll consider your favorite nonprofit theater when making your tax-deductible gifts this year. Your support in December helps our wonderfully diverse theater community thrive all year round!
Happy Holidays!
Show: "Monday Melodies: Christmas Cabaret" one-time event, December 19, 7 p.m.
Company: Performance Network Theatre
Type of Company: Professional Equity (SPT)
Venue/location: Performance Network Theatre, 120 East Huron, Ann Arbor
Recommended ages: All
Description: The speakeasy band from "Ain't Misbehavin'" convenes on their night off to warm up your holiday season in the tradition of a good old-fashioned Christmas special. They'll be singin' and swingin' your favorite holiday tunes as special guests stop by to say 'hello' (and maybe croon a number or two). Your host for the evening will be Ann Arbor's own Piano Man, R. MacKenzie Lewis, joined by singers Courtney Riddle and Bradley McNett with Brad Faryniarz on saxophone, Chris Morelli on bass and Billy Harrington on drums. This family-friendly event will feature all the old standards that you've come to love.
Fun fact: Email your requests in advance for the sing-along portion of the evening to carla@performancenetwork.org, or for an additional donation ($10) you can sing solo with the band!
For tickets and information: 734-663-0696, http://www.performancenetwork.org/
Show: "Christmas Belles" by Jessie Jones, Nicholas Hope, and Jamie Wooten, through December 17, 2011
Company: PTD Productions
Type of Company: Pre-Professional
Venue/location: Riverside Arts Center, 76 N. Huron St., Ypsilanti, MI
Recommended ages: 12+
Description: It's Christmastime in Fayro, Texas, but the Futrelle sisters are not exactly in a festive mood. Frankie is weeks overdue with her second set of twins, Twink is in jail for inadvertently burning down half the town, and Honey Raye is desperately trying to keep the Tabernacle of the Lamb's Christmas program from spiraling into chaos: the celebrity guest, Santa Claus, is passing a kidney stone, one of the shepherds refuses to watch over the flock, and the entire cast is suffering from food poisoning. This hilarious holiday journey through misadventure-filled Christmas Eve will bring joy to your world! http://annarbor.com/entertainment/ptd-productions-will-sound-the-christmas-belles/
Fun fact: Co-author Jamie Wooten spent many seasons with Dorothy, Blanche, Rose and Sophia as a writer/producer on the classic television series "The Golden Girls."
For tickets and information: (734) 483-7345, www.showtix4u.com, www.ptdproductions.com.
Special ticket offers: Thursday nights are "Pay What You Can"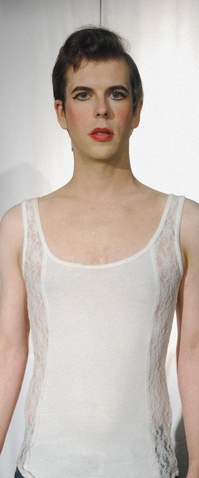 Photo by Janine Woods Thoma
Show: "Fugue" by Audra Lord, through December 18
Company: The New Theatre Project
Type of Company: Professional Non-Equity
Venue/location: Mix Performance Space, 130 W. Michigan Ave., Ypsilanti
Recommended ages: 16+
Description: In a bleak, institutional space, James, Julie, Tina and Princess Stephanie recover from a shared tragic event that resulted in the complete loss of their memories. Fugue follows their attempts to remember, to forget, and to piece together their shared and individual identities. Is it better to leave the past behind? Or, to remember, no matter what the cost? http://www.encoremichigan.com/article.html?article=5492
Fun fact: In classical music, a fugue is a compositional technique in two or more voices, built on a theme that is introduced at the beginning and recurs frequently in the course of the composition. In the Middle Ages, the term was widely used to denote any works in canonic style; by the Renaissance, it had come to denote specifically imitative works, and since the 17th century, it has described what is commonly regarded as the most fully developed procedure of imitative counterpoint.
For tickets and information: Call or text 734-645-9776, www.thenewtheatreproject.org
Show: "It's a Wonderful Life - An Original Musical" through December 23
Company: The Encore Musical Theatre Company
Type of Company: Equity Special Appearance Contract
Venue/location: 3126 Broad Street, Dexter
Recommended ages: 6+
Description: George Bailey and his bumbling guardian angel Clarence return to The Encore for a second year. Based on the classic holiday film of the same name starring Jimmy Stewart, it takes place in Bedford Falls, New York, 1946. Bailey, who has long considered himself a failure, faces financial ruin and arrest and doubts his own self worth. But high above Bedford Falls, an eternally bumbling Angel, Clarence Oddbody, is sent from Heaven to help George out. http://annarbor.com/entertainment/stage-musical-version-of-its-a-wonderful-life-returns-to-dexters-encore-theatre/
Fun fact: Jimmy Stewart, star of the 1946 Capra film, enrolled at Princeton in 1928. He excelled at studying architecture, so impressing his professors with his thesis on an airport design that he was awarded a scholarship for graduate studies; but he gradually became attracted to the school's drama and music clubs, including the Princeton Triangle Club.
For tickets and information: www.theencoretheatre.org, 734-268-6200
Special ticket offer: Thursday night is Industry Night. Tickets for theater professionals are only $15, cash or check only, available at the door, one hour prior to show time in exchange for a headshot and resume.
Show: "Escanaba in da Moonlight" by Jeff Daniels, through December 31
Company: Purple Rose Theatre Company
Type of Company: Professional Equity (SPT)
Venue location: Purple Rose Theatre Company, 137 Park Street, Chelsea
Recommended ages: 12+
Description: As the Soady clan gathers at the family deer camp, Reuben Soady is hoping to shed the mantle of "the buckless yooper." But as opening day of deer season approaches, a series of weird occurrences and crazy locals seem to prevent him from bagging his buck. One this is sure, this hunting trip will be one for the Soady history books! Wayne David Parker (Jimmer Negamanee) returns to the role he created. http://annarbor.com/entertainment/review-escanaba-in-da-moonlight-at-the-purple-rose/
Fun fact: Leinenkugel's beer is the drink of choice for the Soady family. The Jacob Leinenkugel Brewing Company has been around for 140 years, founded in 1867 in Chippewa Falls, Wisconsin. In 1988, the brewery was sold to Miller Brewing Company, but it continues to be family-run and the beer is primarily distributed in the Upper Midwest.
For tickets and information: http://www.purplerosetheatre.org/, 734-433-7673
Show: "Ain't Misbehavin': the Fats Waller Musical Show" by Richard Maltby Jr. and Murray Horwitz, through January 1
Company: Performance Network Theatre
Type of Company: Professional Equity (SPT)
Venue/location: Performance Network Theatre, 120 East Huron, Ann Arbor
Recommended ages: 12+
Description: The prodigious comic and musical soul of 1930s Harlem lives on in this rollicking, finger-snapping revue that is still considered one of Broadway's best. The inimitable Thomas "Fats" Waller rose to fame during the Golden Age of the Cotton Club, honky tonk dives, rent parties and that jumpin' new beat, Swing. "Ain't Misbehavin'" evokes the delightful humor and infectious energy of this American era. http://www.detnews.com/article/20111201/ENT01/112010326/1033/ent/Joint-jumps-in-%E2%80%98Misbehavin%E2%80%99%E2%80%99
Fun fact: Richard Eldridge Maltby, Jr., in addition to being an American theater director, producer, lyricist, and screenwriter, is also well known as a constructor of cryptic crossword puzzles. He has done this for Harper's Magazine, sometimes in collaboration with E. R. Galli, since the January 1976 issue.
For tickets and information: 734-663-0696, http://www.performancenetwork.org/
Special ticket offer: 20% off gift certificates available now through December 25