Posted on
Wed, Sep 4, 2013 : 6:54 a.m.
'Les Miserables' at Ann Arbor Civic, 'My Name is Asher Lev' at Performance Network
By Carla Milarch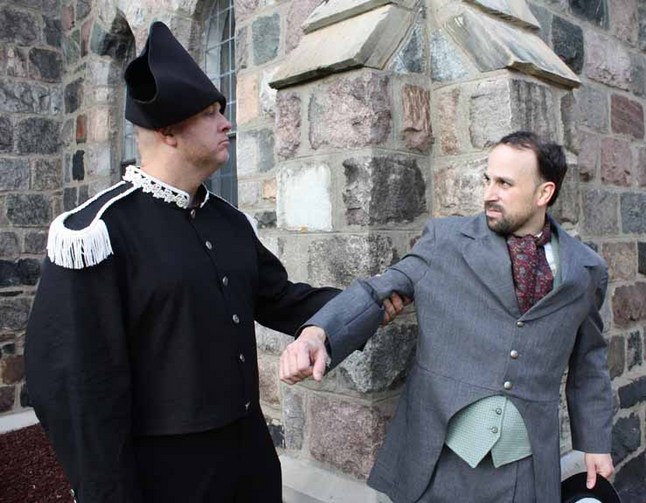 Photo by Mark Stein
Just in time for the start of school, the theater season slows down temporarily this week, with just two options in Ann Arbor. Complex dramas based on famous books, both "My Name is Asher Lev" and "Les Miserables," are decades-spanning epics adapted for the stage.
It's also time to check out season subscriptions! Season tickets offer significant savings over single ticket prices, access to premium seating, and other great perks, in addition to being a great way to get your theater fix all year-round! Almost all theaters in Washtenaw offer season ticket packages, so check out your favorite theater's website for details.
Show: "Les Miserables," music by Claude-Michel Schonberg, lyrics by Herbert Kretzmer, book by Alain Boublil and Claude-Michel Schonberg from the book by Victor Hugo, through September 8 Company: Ann Arbor Civic Theatre Type of Company: Community Venue/location: The Lydia Mendelssohn Theatre, 911 North University, Ann Arbor Recommended ages: 10+ Description: An epic tale, Les Miserables is a story of tragedy, love, personal journeys, and redemption. Set in 19th century France, Les Mis tells the story of convict Jean Valjean, who breaks parole and runs for his life. He strives to leave his past behind to raise the orphaned Cosette, but faces repeated challenges that he struggles to overcome. Hunted through the years by the tireless policeman Javert, he encounters figures from his past that appear at the most inopportune times. When he finds himself in the midst of a revolution, he evolves again while his now-grown Cosette falls in love with a student revolutionary. He ultimately sacrifices himself to protect the people he loves. Fun fact: Advance ticket sales for the A2CT production of "Les Miserables" have been so strong that an extra performance was added on Saturday, September 7, at 2 p.m. For tickets and information: 734-971-2228, www.a2ct.org Show: "My Name is Asher Lev" by Aaron Posner, adapted from the novel by Chaim Potok, EXTENDED through September 15 Company: Performance Network Theatre Type of Company: Professional Equity (SPT) Venue/location: Performance Network Theatre, 120 East Huron, Ann Arbor Recommended ages: 16+ Description: Based on the famous 1972 novel by Chaim Potok, this provocative play tells the story of a boy growing up in a sheltered Hasidic community in 1950s Brooklyn, who discovers he has a prodigious talent as an artist. Struggling to reconcile his gift with the community's Orthodox values, he immerses himself in an art form steeped in Christian imagery. When he brings forth a masterwork entitled "The Brooklyn Crucifixions," he must decide whether or not to honor his self-expression and exhibit, potentially bringing shame on his family, his community, and even his faith. http://www.annarbor.com/entertainment/performance-networks-my-name-is-asher-lev-is-a-powerful-family-portrait/ Fun fact: The first New York City Off-Broadway production of the play opened at the Westside Theater on November 28, 2012. The play won the Outer Critics Circle Award for Outstanding New Off-Broadway Play and the John Gassner Award. For tickets and information: 734-663-0696, www.performancenetwork.org/ Special ticket offer: Enjoy half-priced drinks ($2 beer, $3 wine) at PNT's happy hour beginning one hour before show time.