Posted on
Thu, Aug 22, 2013 : 5:56 a.m.
'Miles and Ellie' at the Purple Rose, 'My Name is Asher Lev' at Performance Network
By Carla Milarch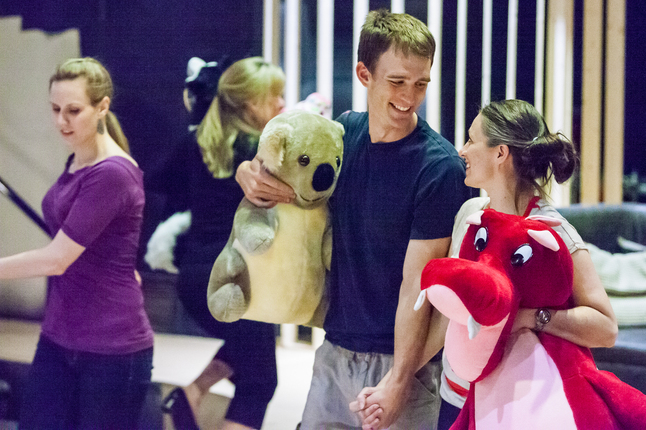 photo by Sean Carter Photography | courtesy of the Purple Rose Theatre Co.
As we head into the home stretch of summer, several top-notch shows are finishing up their runs. With just two weeks left of "Translations," "Miles and Ellie," and "My Other Voice," and three weeks left of "My Name is Asher Lev," it's time to take in a show (or two) before many theaters go on their early September hiatus.
From a small town in Ireland, to an Hasidic community in 1950s Brooklyn, to a small Midwestern town in the 1990s, you don't need to get out of town to get out ON the town. As always, theater is a great way to transport yourself to another culture, time, or experience.
Show: "Translations" by Brian Friel, through August 31 Company: Carriage House Theatre Type of Company: Pre-professional Venue/location: Carriage House Theatre, 541 Third St, Ann Arbor Recommended ages: 12+ Description: Translations, by acclaimed Irish playwright Brian Friel, is set in a rural school in the town of Baile Beag in 1833, when Ireland is under direct British rule. The schoolmaster's son Owen has returned from Dublin, accompanied by two English officers with orders to survey the area and standardize place names - which means translating them into the King's English. As the residents of Baile Beag struggle to find their place in this anglicizing world, young lieutenant Yolland begins to fall in love with Baile Beag as it is, its language, and a young woman who attends the school. Language itself, with its ability to both unite and divide, stands at the crossroads between imperial powers and cultural heritage, between tradition and progress in this complex play about identity in a changing world. Fun fact: Translations was adapted as a radio play directed by Kirsty Williams, broadcast on BBC Radio 4, on 4 September 2010 For tickets and information: carriagehousetheatre.org Show: "Miles & Ellie" by Don Zolidis, through August 31 Company: The Purple Rose Theatre Company Type of Company: Professional Equity SPT Venue/location: The Purple Rose Theatre Company, 137 Park Street, Chelsea Recommended ages: 17+ (contains adult language and content) Description: Miles and Ellie are two teenagers in love when a youthful misunderstanding breaks them apart. Flash forward 20 years and a disenchanted Ellie has come home for what she expects to be a typical dysfunctional family Thanksgiving. Not long into the family shenanigans, however, Ellie learns that Miles is still in town and carrying a torch for her. Is it possible to get a second chance at your first love? This charming romantic comedy will make you wonder "what if?" Fun fact: One of the conventions of romantic comedy in films is the contrived encounter of two potential romantic partners in unusual or comic circumstances, which film critics such as Roger Ebert have dubbed the "meet-cute." During a "meet-cute" scriptwriters often create a humorous sense of awkwardness between the two potential partners by depicting an initial clash of personalities or beliefs, an embarrassing situation, or a comical misunderstanding. For tickets and information: www.purplerosetheatre.org, 734-433-7673 Show: "My Other Voice" by Alex Kipp, through September 1 Company: Alex Kipp Productions Type of Company: Professional Equity, Special Appearance Contract Venue/location: Walgreen Drama Center, 1226 Murfin, Ann Arbor Recommended ages: 16+ Description: "My Other Voice" is Alex Kipp's autobiographical play about his battle with non-Hodgkins lymphoma while a senior at the School of Music, Theatre & Dance at the University of Michigan. Kip, 25, a native of Columbus, Ohio, was given a 15-30 percent chance of survival after being diagnosed, and lost his voice during subsequent treatment at the U-M Medical Center. "No longer able to speak or sing," he said, "I had to find a new identity." Now in complete remission, Kip wrote "My Other Voice" with the goal of providing inspiration and hope to other cancer patients. Fun fact: UMHS is considered one of the nation's leading medical and research institutions and has received many awards and honors recognizing its advanced medical care, leading-edge biomedical research and broad range of educational activities. For 17 consecutive years through 2011, UMHS has been named to the "Honor Roll of America's Best Hospitals" compiled by U.S. News and World Report magazine. For tickets and information: http://akipprod.com/tickets.html Show: "My Name is Asher Lev" by Aaron Posner, adapted from the novel by Chaim Potok, through September 8 Company: Performance Network Theatre Type of Company: Professional Equity (SPT) Venue/location: Performance Network Theatre, 120 East Huron, Ann Arbor Recommended ages: 16+ Description: Based on the famous 1972 novel by Chaim Potok, this provocative play tells the story of a boy growing up in a sheltered Hasidic community in 1950s Brooklyn, who discovers he has a prodigious talent as an artist. Struggling to reconcile his gift with the community's Orthodox values, he immerses himself in an art form steeped in Christian imagery. When he brings forth a masterwork entitled "The Brooklyn Crucifixions," he must decide whether or not to honor his self-expression and exhibit, potentially bringing shame on his family, his community, and even his faith. http://www.annarbor.com/entertainment/performance-networks-my-name-is-asher-lev-is-a-powerful-family-portrait/ Fun fact: Potok is most famous for his first book "The Chosen," a 1967 novel which was listed on The New York Times' best seller list for 39 weeks and sold more than 3,400,000 copies For tickets and information: 734-663-0696, www.performancenetwork.org/