Posted on
Wed, Oct 31, 2012 : 6:25 a.m.
'Tragedy: a tragedy' at Basement Arts and 'Woyzcek' at New Theatre Project
By Carla Milarch
There's a first time for everything, and this year it is that the first snowfall in Michigan can be attributed to a hurricane. While the all-too-theatrically named tempest has shut down Broadway for at least a day, luckily here in Washtenaw we're far enough "Off-Broadway" to remain open.
Even though it's a relatively quiet week for short runs and special events, some longer-running productions continue or close this week, presenting a great opportunity to catch up on a couple of can't-miss productions: Performance Network's uniquely inventive take on "The Glass Menagerie" and the eerie environmental piece "Woyzcek."
As our hearts go out to all those affected by Hurricane Sandy, perhaps we should be even more thankful for all the comforts, theatrical and otherwise, we have here at home.
Show: "Tragedy: a tragedy" by Will Eno, through Nov. 3
Company: Basement Arts
Type of Company: Higher Education (Student Produced)
Venue/location: Studio 1 in the Walgreen Drama Center, 1226 Murfin Ave., Ann Arbor
Recommended ages: 18+
Description: An absurd satire of the modern American news cycle that reveals the silliness and emptiness of news reporter's lives (and the audience's lives, too).
Fun fact: Playwright Will Eno is a Helen Merrill Playwriting Fellow, a recipient of the coveted Guggenheim Fellowship, and an Edward F. Albee Foundation Fellow. In 2004, he was awarded the first-ever Marian Seldes/Garson Kanin Fellowship by the Theater Hall of Fame.
For tickets and information: Tickets are FREE and will be available at the door 15 minutes before curtain on a first-come, first-served basis.

Show: "The Glass Menagerie" by Tennessee Williams, through Nov. 4
Company: Performance Network Theatre
Type of Company: Professional Equity SPT
Venue/location: Performance Network Theatre, 120 E. Huron, Ann Arbor
Recommended ages: 14+
Description: Faded Southern Belle Amanda Wingfield will stop at nothing to find a husband for her painfully shy daughter, Laura, still living at home with her brother, Tom, a would-be writer working in a shoe factory. When Amanda enlists Tom's help in bringing home a "gentleman caller" from the factory, the family's dreams hang in the balance as they struggle to escape the hopelessness of their world. Set in 1937 St. Louis, this wistfully poetic memory play is regarded by many as Williams' most personal story, and his greatest masterpiece.
Review from Examiner.com
Fun Fact: Theater scholar Charlotte Canning, of the University of Texas at Austin where Williams' archives are located, has said, "There is no more influential 20th-century American playwright than Tennessee Williams... He inspired future generations of writers as diverse as Tony Kushner, David Mamet and John Waters, and his plays remain among the most produced in the world."
For tickets and information: www.performancenetwork.org/, 734-663-0681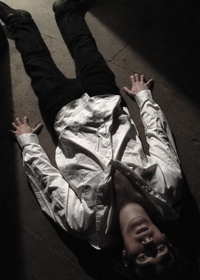 Photo by Keith Paul Medelis
Show:
"Woyzeck" by Georg Buchner, adapted by Audra Lord, through Nov. 4
Company:
The New Theatre Project
Type of Company:
Pre-professional
Venue/location:
Mix Studio, 130 W. Michigan Ave., Ypsilanti
Recommended ages:
16+
Description:
As The New Theatre Project's inaugural show of its Reinvention season, "Woyzeck" will provide audiences with a theatrical experience unlike anything seen before on the Mix stage. The play, remaining incomplete after the playwright Georg Buchner's early death in 1837, has no ending and only fragmented scenes. TNTP has restored the play with its own version of Büchner's creation that allows the audience to choose how best to complete this mysterious and enticing piece.
More information
Fun fact:
"Woyzeck" was adapted into a 1979 film by the German director
Werner Herzog
, starring
Klaus Kinski
and
Eva Mattes
.
For tickets and information:
734-961-8704,
thenewtheatreproject.org/
Special ticket offer:
Have dinner at Bona Sera Cafe across the street and receive $1 off your ticket price, with receipt.
Show:
"Superior Donuts" by Tracy Letts, through Dec. 15
Company:
Purple Rose Theatre Company
Type of Company:
Professional Equity SPT
Venue/location:
Purple Rose Theatre Company, 137 Park Street, Chelsea
Recommended ages:
Contains adult language and content
Description:
Arthur Przybyszewski has just about given up on everything: a social life, the chance of romance and most of all his family's long standing Chicago donut shop. But when idealistic dreamer, Franco Wicks walks through the door of his vandalized storefront, Arthur realizes through their unlikely friendship that life still has more to offer him. Written by Pulitzer Prize winning playwright
Tracy Letts
("August: Osage County") the comedy-drama "Superior Donuts" will make you a believer too.
Review from AnnArbor.com
Fun fact:
"Superior Donuts" is the 42nd show
Guy Sanville
has directed at the Purple Rose.
For tickets and information:
734-433-7673 (ROSE),
www.purplerosetheatre.org