Posted on
Wed, Apr 17, 2013 : 6:44 a.m.
'Willy Wonka' at Saline Area Players, and 'Crazy for You' at U-M
By Carla Milarch
Music is in the air this week, with two musicals and one play about music. It's not just any old music, either, but some of the most beloved and remarkable tunes ever, from "Oompa-Loompa" and "Pure Imagination" from "Willy Wonka" at Saline Area Players, to "Embraceable You" and "I Got Rhythm" from "Crazy for You" at the University of Michigan.
Add to that Moises Kaufman's poignant play about Beethoven's 33 Variations on a Waltz by Anton Diabelli, Op. 120, commonly known as the Diabelli Variations, which is often considered to be one of the greatest sets of variations for the keyboard. It's a week made for music lovers and theater lovers alike!
Show: "Willy Wonka," by Leslie Bricusse and Anthony Newley, adapted for the stage by Bricusse and Timothy Allen McDonald, through April 21.
Company: Saline Area Players.
Type of Company: Community.
Venue/Location: Ellen A. Ewing Performing Arts Center at Saline High School, 1300 Campus Parkway, Saline.
Recommended ages: All ages.
Description: Willy Wonka, the world-famous candy maker, is about to retire and is looking for an heir. He offers a tour of his factory and a lifetime of chocolate to the five lucky children who find the golden tickets in his chocolate bars. The winners are announced - a gluttonous boy from Germany, a spoiled daughter of a macadamia nut magnate, an abrasive gum-chewing girl from Georgia, and a boy who is more interested in his technology than chocolate. Charlie Bucket, a poor child, continues to hope for a chance to tour the factory as well, and eventually also finds a golden ticket. The second act takes the winners on the tour through the colorful and lively factory, complete with Oompa-Loompas and calamities for greedy kids.
More information
Fun Fact: This timeless classic includes songs "Pure Imagination," "I Eat More," "Oompa-Loompa," and "The Candy Man."
For tickets and information: www.salineareaplayers.org, 248-534-7160.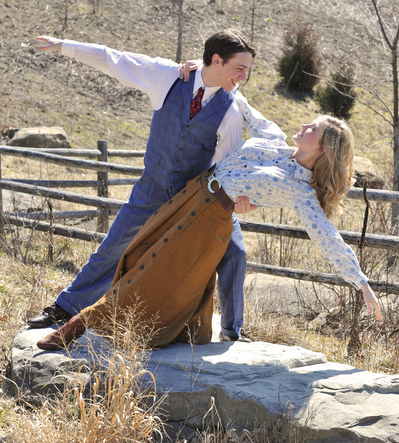 Photo by Peter Smith Photography
Show:
"Crazy for You" by George & Ira Gershwin and Ken Ludwig
Company:
U-M SMTD Department of Musical Theatre
Type of Company:
Higher Education
Venue/location:
Power Center for the Performing Arts, 121 N Fletcher St., Ann Arbor
Recommended ages:
10+
Description:
Loosely based on the Gershwins' 1930 musical "Girl Crazy," playwright Ken Ludwig ("Lend me a Tenor," "The Beaux Stratagem") adapted the classic tale of boy gets girl after many obstacles and blended it with 19 of George and Ira Gershwin's most beloved songs. The musical won the Tony, Drama Desk, and Olivier awards for Best Musical and Best Choreography when it debuted in 1992. From "Embraceable You" to "I Got Rhythm" and "They Can't Take that Away from Me," "Crazy for You" is pure fun.
Preview article from AnnArbor.com
Fun fact:
In his review in The New York Times,
Frank Rich
wrote, "When future historians try to find the exact moment at which Broadway finally rose up to grab the musical back from the British, they just may conclude that the revolution began last night. The shot was fired at the Shubert Theater, where a riotously entertaining show called 'Crazy for You' uncorked the American musical's classic blend of music, laughter, dancing, sentiment and showmanship with a freshness and confidence…"
For tickets and information:
734-764-2538,
tickets.music.umich.edu
. Best seats remaining for Thursday - Saturday.
Show: "33 Variations" by Moises Kaufman, through June 1.
Company: The Purple Rose Theatre Company.
Type of Company: Professional Equity SPT.
Venue/location: The Purple Rose Theatre Company, 137 Park Street, Chelsea.
Recommended ages: 16+ (contains adult language and content).
Description: In 19th century Austria, Ludwig van Beethoven works obsessively on a commission he cannot complete. In present day, musicologist Katherine Brandt struggles to solve the mystery behind her professional passion: Beethoven's oft overlooked "Diabelli Variations". As she races against time, Katherine not only discovers the true nature of Beethoven's work, but gains insight into the other mystery in her life: her daughter. Moving between the past and the present, 33 Variations illustrates how the very passions that threaten to overwhelm us can also save us.
Review from Examiner.com
Fun fact: The shelves on the set were originally orange and purple before being painted grey.
For tickets and information: 734-433-7673, www.purplerosetheatre.org