Posted on
Fri, Oct 29, 2010 : 5:59 a.m.
ONCE upon a time in Ann Arbor: Festival revisits groundbreaking music movement
By Laurel Firant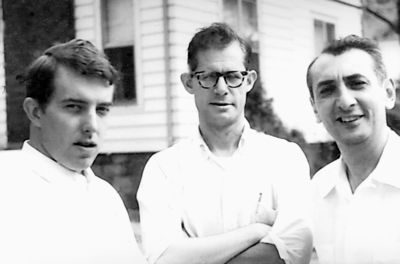 Photo by Bernard Folta, courtesy of Donald Scavarda
In the 1960s, Ann Arbor was known as a hotbed of radicalism — not only in student political and social activism, but in new music. The University of Michigan was a center of change, where composers were in the vanguard of a cultural revolution.
The six ONCE Festivals were the premier artist-run events of this movement in Ann Arbor, and they drew local, national and international attention. Fifty years later, four of the festivals' founding composers — Roger Reynolds, Robert Ashley, Gordon Mumma, and Donald Scavarda — are reuniting in Ann Arbor for "ONCE. MORE.," a series of events, exhibitions and two concerts of their music presented by the University Musical Society and the University of Michigan School of Music, Theatre & Dance.
"Ann Arbor has contributed a lot to the artistic scene, and we will be revisiting it during the ONCE. MORE. festival. It will be a once-in-a-lifetime experience, like the Beatles reuniting," said U-M professor of music composition Michael Daugherty, who spent two years as one of the festival's organizers.
"Collaboration and community are an important part of the artistic process," Daugherty continued in a recent phone interview with me. "As we move to more non-personal contact due to technology, the (ONCE Festivals') era almost seems sentimental. Everything was created by people interacting in the same room."
He noted that "Ann Arbor was the kind of place where something like the ONCE Festival could happen. It's big enough, but small enough where events could have an impact." Daugherty hopes ONCE. MORE. festival audiences take away a sense of "how unique a community Ann Arbor is."
photo by Donald Scavarda, courtesy of the composer
The ONCE composers took an experimental approach to music. Influenced by mathematics, science and emerging technologies of the time, they also employed avant-garde techniques and styles of composition, including expressionism, serialism and elements of chance. They collaborated with theater and visual artists in multimedia presentations; they explored electronic music and new dimensions of sound from conventional instruments. The composers had affiliations with the U-M School of Music, and were strongly influenced by Ross Lee Finney, the school's composer-in-residence at the time, and visiting composer Roberto Gerhard.
"We wanted to have a forum where music we had written and were interested in could be heard," ONCE composer Roger Reynolds told me in a recent phone interview from his home in Del Mar, Calif. "My recollection is that (the ONCE Festivals) were well received and well attended — a very yeasty experience. The feeling that arose was one of energy — a strong sense of shared enterprise that was significant. I felt surprised at the degree of energy the programs aroused.
"From the beginning, we included work from the European avant-garde, and the perspective of the festivals continuously evolved," Reynolds said. "Ashley and Mumma's collaboration with Milton Cohen in his Space Theater, a dome within which people sat with an axis of mirrors in the center that distributed fragmentary imagery so as to surround the viewers, was powerfully evocative of the potential of art to be out of normative boxes.
"Ashley was a riveting performer as a pianist. As a composer, he radicalized his experience with tradition — in very insightful, adventuresome ways," Reynolds, who initially studied engineering at U-M, continued. "And Mumma's musical experience also arose out of experience as a performer, in his case, French horn, and responded to his excitement with various dimensions of science — theoretical and pragmatic. He was, for example, an accomplished builder of electronic boxes. Scavarda's work may have been the most conceptually radical. (ONCE composer George) Cacioppo's work was introspective, quieter, less inclined to be alarming by design. He used graphic enstantiations of concepts to explore his own frontiers."
In listening to his compositions from the ONCE Festivals' era 50 years later, Reynolds said "they sounded exactly like me. My aesthetic sensibility then is very close to the one I have now. This is the case with the other ONCE composers, too. Their particular voices were personal and persistent. They kept being the people they were. We all arrived in Ann Arbor by different routes and went our own ways afterwards. ONCE was a temporal nexus. We weren't trapped by the experience of ONCE."
The events
The "ONCE Then" concert on Nov. 2 at 8 p.m. at U-M's Rackham Auditorium, 915 E. Washington St., will feature works from the ONCE era selected by the composers, along with a piece from that time by the late George Cacioppo. On Nov. 4 at 8 p.m., the "ONCE Now" concert at Rackham will showcase the composers' more recent works. Faculty artists of the U-M School of Music, Theatre & Dance; the Creative Arts Orchestra; the Digital Music Ensemble; the ONCE Quartet; and the Ann Arbor Improvisation Collective will perform the compositions. As stated on UMS' website, "In a nod to the past, both concerts will feature 1961 ticket prices": Tickets are $2. (See "More info" below for the full programs.)
The U-M Institute for the Humanities will host the "ONCE. MORE. SYMPOSIUM," a free, day-long event open to the public that will examine Ann Arbor's progressive role in the American avant-garde movement culminating with conversations with the founders of the ONCE Festival on Nov. 3 from 9 a.m. - 4 p.m. on the fourth floor of the Rackham Building. An exhibit on the ONCE Festival, including original programs, photos and manuscripts, is on display at the institute's Osterman Common Room through Nov. 4, and an installation of composer John Cage's 1976 work "Lecture on the Weather" is on exhibition through Nov. 5 at the institute's gallery (both exhibit spaces are at 202 South Thayer Street). Cage had been a guest composer with the ONCE Festival, and was a major creative force in new music at the time.
The Penny Stamps Distinguished Speaker Series will present Laura Kuhn, director and Co-Founder of the John Cage Trust, performing Cage's "Indeterminacy" with DJ Tadd Mullinix, a Ghostly International recording artist, on Nov. 4 at 5:10 p.m. at the Michigan Theater (603 E. Liberty Street). The work involves a recitation of anecdotes accompanied by an improvised manipulation of some of Cage's recorded music. The event is open to the public free of charge.
UMS pairs up with Hott Lava on Nov. 4 for a multimedia performance/installation event called "Outlier." For details, see www.hottlava.net The announcement of the event promises "a stellar cast of musicians, composers, performance artists, filmmakers, and DJs to create a dynamic installation work that will delight, provoke, and overload the senses." "Outlier" takes place at the University of Michigan Museum of Art's Off/Site space, 1301 S. University Ave. Admission is $5, with a cash bar.
The festival coincides with the 25th anniversary of the U-M SMTD Center for Performing Arts Technology, which will be celebrated with two days of performances and workshops on U-M's North Campus on Nov. 5 and 6.
UMS is also offering "ONCE. MORE. To The 1960s: Self-Guided Tour of 1960s Ann Arbor," which can be downloaded for free at www.ums.org/once. The tour highlights legendary sites from that historic and turbulent era.
For a complete schedule of festival events, visit the ONCE. MORE. page at the UMS website.
For tickets to the ONCE concerts, contact the University Musical Society at 734-764-2538 (outside the 734 area code, call toll-free at 800-221-1229), or online at www.ums.org. Tickets may also be purchased in person at the League Ticket Office (911 North University Avenue). UMS Ticket Office hours: Monday-Friday 9 a.m.-5 p.m., Saturday 10 a.m.-1 p.m., closed Sunday. Special discounts are available for groups. Call 734-763-3100 for further information.