Posted on
Tue, May 11, 2010 : 5:07 a.m.
EMU University Gallery doesn't judge an artist's book by its cover
By Jennifer Eberbach
Eastern Michigan University is currently presenting "Open Book: An International Survey of Experimental Books," in their University Gallery, located in the New Student Center on the campus of EMU. The exhibition will be on display through June 15, 2010. Each of the 18 artists and designers featured in the exhibition take an experimental approach to art book-making — redefining conventional ideas about what is and what is not "a book."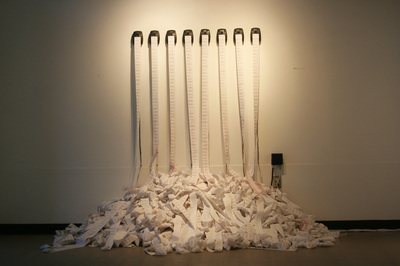 photo by Ali Moussa
Artists from the US, UK, Israel, Canada, Denmark, Australia and Japan are featured in the show. No 2 works look alike. Many do not even seem to be books at all, when you first walk in to the gallery. However, with a little creative open-mindedness, 1 can start to see how a mobile spinning from the ceiling or a grouping of photographic slides on the wall sort of has "pages." Each work pushes boundaries in its own way — part of the fun of this exhibition is trying to figure out why some of the works are defined as "books" at all, and then deciding if you agree.
Exhibition co-curator Leslie Atzmon, a EMU graphic design professor who planned the show along with EMU graphic design assistant professor Ryan Molloy, contributes an introduction to the show's themes in a nifty little gallery guide they put together for you to take home. Gallery guide readers can use blue and red filters to reveal different essays and artwork information, just like the decoders kids once dug out of their Cracker Jack boxes. This imaginative gallery guide was created with the help of graphic designer Andrew Reaume and contributing artist Emily McVarish, who provides some background on artists' books in modern and contemporary history.
Atzmon writes; "We read books without noticing their formal or material qualities. We are accustomed to glossing over the sensory qualities of books, such as the dimension and heft of the volume, the texture of the paper, and the black ink of the letterforms against white paper. In 'Open Book,' Ryan Molloy and I intend to disturb these conventions by presenting books simultaneously as objects and communications vehicles."
Artists featured in the show include Noriko Ambe, Mette-Soffie Ambeck, Christopher Baker, Doug Beube, Susan Carr, Brian Dettmer, Karen Hanmer, Johan Hybschman, Edwin Jager, Catarina Leitão, Emily McVarish, Ariel Malka, J. Abbott Miller, Janis R. Nedéla, Jason Nelson, Adele Outteridge, Jacqueline Rush Lee, and Penelope Umbrico.
Quite a few of the artworks look like books or they are altered everyday books that the artists cut into or used to make sculptures. Noriko Ambe cut into Neil Selkirk's book of portrait photographs, "1000 on 42nd Street" to create her art book "A Thousand of Self." Circular cuts and slices into the book blend together different parts and slivers of all 1,000 faces and form a single portrait — it looks a little like a 3-D topographical map of a landscape.
A number of artworks in the exhibition are completely sculptural — they do not use any text to tell their story but rather express an idea like a sculpture would. Jacqueline Rush Lee contributes 4 such art books to the show, including "Nee: Little Red Book (from the Devotion series)" in which books are bound together to form a star-like or flower-like shape with all of the pages smushed together in the center.
Gallery Director Gregory Tom thinks, "The interesting thing about the show is that it uses the book as a sculptural medium or design medium for expression of things other than just straight words. There's a lot of flexibility in how you interpret the object." He also reminds that the way we "read" any piece of art can be sort of like "interpreting a page of writing," he adds.
Edwin Jager's piece, "Liquid into My Skin," includes a wall full of photographic slides along with a dozen antique slides sitting in viewers surrounding the slides that are up on the wall. Tom sees a connection between the slides and books because they are both "systems of cataloging and analyzing — that's what books kind of are. They are records — storehouses of information," he says. In the case of Jager's installation, the wall of slides are organized into broad strokes of color — many images are also repeated and lumped together to create an artistic composition. All together, the slides create "something like a mosaic," Tom says.
There are also a number of works in the show that challenge how we define what "a page" is. Karen Hanmer types text into a series of old computer punch cards that predate the floppy disk in her artwork, "BEAUT.E(CODE)." Susan Carr contributes 2 wall-mounted found object assemblages, "China" and "White," which respectively employ tourist ticket stubs or hanging price tags to serve as pages.
After wandering around the exhibition and asking yourself, why are these books? Take a 2nd look at Mette-Soffie Ambeck's "Cogs — a Book in the Machine: Sound, Atom, Web, Code, Mandkind, Transport, Mail, Time, TV, Phone, Money" and ask yourself, does that mobile hanging from the ceiling have pages?
In today's Web 2.0, social networking, tweeting climate, Christopher Baker and Juhász Márton András' "Murmur Study" is hilariously poignant. Receipt machines spit out any Twitter posts that contain repeated characters, like "Grrrr" or "Mmmwaaahh!" as they happen in real-time. The ever-growing pile of paper accumulating on the gallery floor can be interpreted as an archive of this information.
Ariel Malka's use of javascript and an iPhone for her works "Javascriptorium" and "Babel Tower" show how electronic media and new wireless technologies have created opportunities for us to view and animate text in new ways. J. Abbott Miller contributed an e-book, entitled "2wice" to the exhibition and Jason Nelson is showing a video game, called "i made this. you play this. we are enemies," which visitors can play.
"'Open Book' is not merely an exhibition of artist's books. Rather, we hope to challenge notions of what is what is not a book. We have defined the term "book" loosely, as a vehicle for visual and verbal information that is organized into "sections." The work in this exhibition investigates books as visual objects that carry information," Atzmon writes.
Jennifer Eberbach is a free-lance writer who covers art for AnnArbor.com.