Posted on
Sat, Nov 7, 2009 : 11:23 a.m.
Opening Night for "Oklahoma!"
By Pioneer Theatre Guild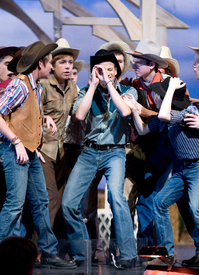 Photo by Jascha Wilcox.
Here we are- opening night! And the excitement is high at Pioneer Theatre Guild! I'm Daniel Mozurkewich, new assistant author of this blog. First, you should know a little about me- I am a senior at Pioneer, and have worked continuously with Theatre Guild since "High School Musical"- the fall musical my freshman year. Starting as an ensemble member in that, I have since acted in every musical, our 2009 competition play "On the Verge", as well as doing lights for occasional shows, serving on the board, and writing and directing for our annual "Student Productions". I'm incredibly honored to be able to talk about my thoughts and experiences on this blog! I'll be posting to it along with Maia as Theatre Guild branches off for our simultaneous winter shows, "FutureStars", our annual singing and dance competition, and our 2010 competition play, "Eurydice", a drama about love and death that Pioneer Theatre Guild will take to other schools to perform as part of the MIFA one-act theatre competition.
But for now- "Oklahoma!" Everyone in the cast has prepared so thoroughly for this show. We've written character bios detailing our character's personality traits, occupation, and back-story. We've found our physicality, we've heightened our tone and drilled cut-offs over and over again (rain-nuh), we've learned our lines correctly (no paraphrasing!), we've projected until our voices were sore, and we've raised our heads to proudly look out at the balcony (Broadway!).
We also were honored last Sunday with the presence of Brent Wagner, the Chair of the University of Michigan Department of Musical Theatre, who gave us a talk on the history and relevance of the piece. It's often said that "Oklahoma!" was the beginning of modern musical theatre, but what does that really mean? Mr. Wagner pointed out the difference in music and lyrics in musicals before 1943, when "Oklahoma!" premiered in New York. We take it for granted now that musical lyrics and music reflect the situations and characteristics of the characters singing them. With the possible exception of "Show Boat" in 1927, musicals before "Oklahoma!" had whimsical plots, pointless dances, and songs that had fantastic lyrics and music, but little relevance to the specific situations of the play.
Suddenly, with "Oklahoma!" we have songs that reflect who is singing them. Dust off your Oklahoma recording and listen to the bouncy naivety of the music in Ado Annie's "Caint Say No" or the dissonance yearning to resolve in Jud's 'Lonely Room'. Mr. Wagner brought us through many of these songs, showing us how they communicated in ways that we've come to take for granted in musical theatre. Our wonderful director, Mary Michael Patterson has put an emphasis on analysis of the script and character work, which was taken to various degrees of seriousness by the cast, but after Mr. Wagner's speech we were all left asking ourselves what we were communicating with our songs, and how we can emphasize the quality of the material we're working off of.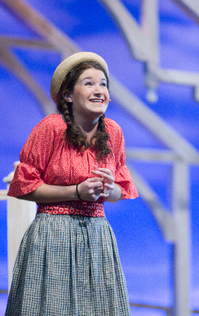 Photo by Jascha Wilcox
Mr. Wagner also asked us how we would summarize the spirit of "Oklahoma!" People raised hands and proposed messages such as 'optimism', 'independence', and 'perseverance', which were all true, but I think we all left Mr. Wagner's talk with a perception of "Oklahoma!" as a show celebrating the American spirit, although its universal messages have resonated in many foreign countries.
And that's just the actors have been doing. Techies of all sorts have also been putting their all into the "Oklahoma!". It thrills me to see the sun come up during the overture and to realize how much care and attention has gone into the visuals of this show. There are so many little shadows and details in the set, and the lights on the sky backdrop are breathtaking. The props are also incredibly well done- I carry my rifle around before I even go onstage, as it really helps me transport myself into 1906. I could go on and on about the wonderful work of each respective crew: make-up, sound, costumes, etc. But you're just going to have to come to the show and see for yourself!
PERFORMANCE DATES AND TIMES: Saturday November 7 - 7:30 P.M. Sunday November 8 - 2:00 P.M. Friday November 13 - 7:30 P.M. Saturday November 14 - 7:30 P.M. Sunday November 15 - 2:00 P.M.
---all in Pioneer High School's Schreiber Auditorium, 601 West Stadium Blvd
TICKET PRICES: ~$9 (students, seniors and PHS staff) ~$12 (adults) and will be available in advance at Morgan and York Market (1928 Packard). ~Reserved, premium patron seating is available from the Theatre Guild Booster Club ($25) and on Opening Night, Nov. 7, the Booster Club will be hosting its annual Gala to benefit Theatre Guild.
Tickets are available an hour before the show at our box office, or in advance at Morgan and York, 1928 Packard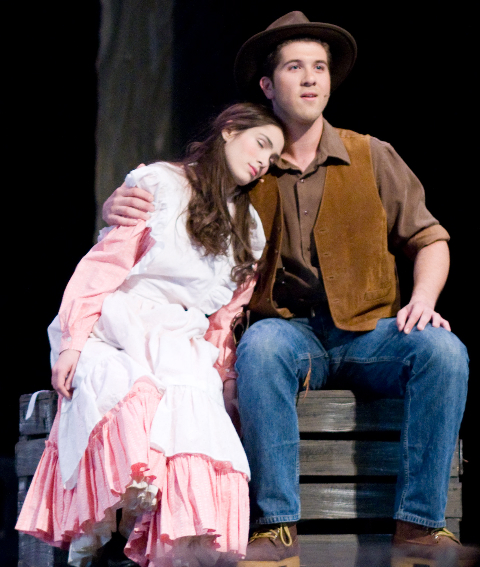 Photo by Jascha Wilcox
Director and Choreographer - Mary Michael Patterson (U of M Senior Musical Theatre Student) Assistant Director and Choreographer - Kevin Munhall (U of M Senior Musical Theatre Student) Music Director - Brian Buckner Orchestra DIrector - David Perample
For more information, please visit our website at ptguild.org or email us at ptguild@gmail.com
We hope to see you there! Yeow!