Original play 'One Big Mess' to play at WCC for one night only
Posted on Tue, May 22, 2012 : 5:26 a.m.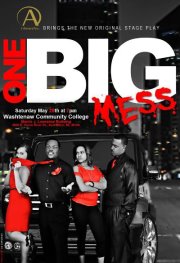 A new comedy-drama by Richard "Young Ra" Brown and Alexzandria Brown, titled "One Big Mess," plays at Washtenaw Community College's Morris J. Lawrence Building, 4800 E. Huron River Dr., on Saturday, May 26 at 7 p.m.

Presented by the production company J Amore INC. - consisting of Detroit native husband and wife team Richard "Young Ra" Brown, 26, and Alexzandria Brown, 23, which previously staged a show called "Which Way is Up" - "Mess" tells the story of a newly married couple. La'raia Gribble plays a naive young woman struggles with faith, love, and acceptance, while her husband, played by Ian Johnson, tries to have his cake and eat it, too.

The show features Coco from WJLB's morning show, as well as Delores Harris; Andrae Ticy; Cory Pritchett-Starr; Prince Ron Todd; Kristina Martin; Carolyn Kelly Rankin; Ian Johnson and Richard "Young Ra" Brown. Advance tickets are available at 313-820-2788, or at Puffer Reds at 113 W. Michigan in Ypsilanti.

Check out the trailer below.