Posted on
Mon, Dec 5, 2011 : 5:54 a.m.
Orpheum Bell rings in its new CD with concert Saturday at Lydia Mendelssohn
By Roger LeLievre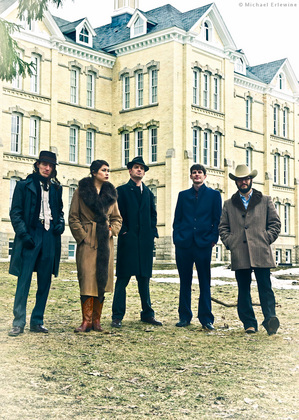 When Ann Arbor "country and Eastern" band
Orpheum Bell
released the CD "Pearls" two years ago at about this time, co-founder
Serge van der Voo
said a follow-up was already in progress.
True to his word, the new recording "The Old Sisters Home" is finished and will be officially released Saturday night, when the group plays a show at Lydia Mendelssohn Theatre, a venue that's a bit unusual for a musical group.
"We just like to try new things. … Lydia Mendelssohn is such a great old theater; we've always wanted to play there," van der Voo said. "It will allow us to be a bit more creative with our show. We want to take advantage of having a lighting tech come up with various color schemes for the different songs. We're also working with someone to project some video footage on a couple of songs."
Orpheum Bell—with its catalog of lullabies, stomps, ballads, Gypsy suites and waltzes—draws from a number of musical styles, including the Gypsy jazz of Django Reinhardt. The band's "country and Eastern" description, said van der Voo, is simply wordplay on its country, Americana, Baltic and other influences.
Besides using traditional instruments, Orpheum Bell's employment of suitcase pump organs, string harps and mechanical, horned violins adds to the band's old-world sound. Alongside van der Voo (double bass, percussion), Orpheum Bell includes co-founder Aaron Klein (vocals, banjo, ukuleles, percussion, guitars); Katie Lee (vocals, violin, banjo, ukulele, autoharp, saw); Henrick Karapetyan (violin); and Michael Billmire (accordion, trumpet, shepherd harp, xylophone, glockenspiel and mandolin).
Karapetyan (who recently replaced violinist Annie Crawford) is a perfect fit for the group. "Being Armenian, he truly adds to our minor-key sound ... he's a real find," said van der Voo.
On the new CD, Billmire added xylophone and glockenspiel to his instrumental repertoire and wrote the fiery instrumental "Kembster's Laz." Fans will note more percussion on this album—drummer Rob Avsharian will join them for the CD release show, as will singers Jennie Knaggs (Lac La Belle) and Laurel Premo (Red Tail Ring).
PREVIEW
Orpheum Bell
Who: Local acoustic band consisting of Aaron Klein, Katie Lee, Michael Billmire, Henrick Karapetyan and Serge van der Voo. Red Tail Ring opens.
What: A mix of Americana and Gypsy/Balkan influences for a sound they've dubbed "country and Eastern." The concert marks the release of the new CD, "The Old Sisters' Home."
Where: Lydia Mendelssohn Theatre, 911 N. University Ave.
When: 8 p.m. Saturday.
How much: $16.50. Tickets are available at the door, and from the Michigan Union ticket office, online here or by phone at 734-763-TKTS.
"On this album we branched out and got more upbeat and percussive overall," van der Voo explained. "We recorded with drummer
Michael Shimmin
(Seth Bernard and Daisy May, The Red Sea Pedestrians, Millish). He played on all the tracks except three. We would set up sessions with him and once in a while he'd be able to join us for certain shows. That pushed us to write songs collaboratively and try new things with our sound."
Speaking of the CD's sound, the disc, said van der Voo, was recorded using analog tape and technology in an effort to capture the richer sound they believe all of the acoustic instruments deserve.
"We felt like we had more to work with that way because we were able to record (our sound) on tape and Big Sky had a choice of old ribbon microphones—the thickness was captured—the vocals, the upright bass, the drums and the archtop guitar, in particular. We could get the playback sounding like the real instrument and we were happy with that," he added. "Recording digitally just doesn't sound the same."
He said the CD's title, "The Old Sisters Home," was inspired by a fascination with the settings that group homes, nursing care, and asylums once had. "There was an estate-like setting to them … that's definitely a lost thing now. Most of these developments today look and feel suburban. So we were inspired by the aesthetic of those places." They were particularly taken with a place called The Village, overlooking Traverse City and currently being renovated into a development of local shops, restaurants, and residences. "We spent a day up there with our friend Michael Erlewine taking photos for the album," said van der Voo.
As anyone familiar with past Orpheum Bell discs knows, a great deal of thought also goes into CD cover design and packaging, and the new effort is no exception.
"We did not letterpress this one, but we did spend a whole lot of time working out the design with our friend Geof Innis. It has the same kind of format (as "Pearls") where there's an insert booklet with all the lyrics. The inside pages are of an old ledger-style paper. If you put our three (CDs) next to each other they look like a little series and that's what we wanted."
Kalamazoo folk duo Red Tail Ring, the musical brainchild of two old-time-minded Michiganders, Michael Beauchamp and Laurel Premo, will open the show. "They've played around here a couple of times this year so they have their own following going on," said van der Voo.