restaurant review
First-rate taqueria fare on deck at Pacific Beach Burritos
Posted on Thu, Apr 8, 2010 : 5:54 a.m.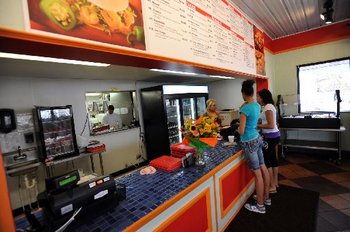 Lon Horwedel | AnnArbor.com
For a few weeks during the winter, it seems that no matter where we were, people were asking us whether we'd had a chance yet to try the new Pacific Beach Burritos restaurant in Ypsilanti.
Although we'd noticed its arrival in the old A&W location on Washtenaw Avenue and had already made a vague mental note to check it out eventually, the ubiquity of the inquiries finally got the better of us and we moved it to the top of our list.
And now we know what everyone was raving about.
There are few constants in the world of taquerias and burrito joints, but 1 stands above all the others: Never trust 1 that claims or appears to be anything other than what it is. In other words: the drabber the surroundings, odds are the better its fare will be.
So it is with Pacific Beach. Not that it's a dump; far from it, in fact. It's clean and well lighted, with a friendly and capable staff. But aside from a fresh coat of paint and some low-key, ethnically appropriate décor, Pacific beach doesn't look much different than it did when it was an A&W.
So far so good, but what about the tacos? What about the burritos?
Suffice it to say that, after our initial visit a few weeks ago, we've been unable to go more than a few consecutive days without returning to Pacific, even if it's only for a single carne asada taco to tide us over until, say, when we go back there that evening for supper.
It's just that good.
Pacific Beach has the good sense to offer a limited menu of items that it does very well. Burritos are tightly wrapped in flour tortilla around your choice of fillings. We're particularly fond of the machata burrito, which is a choice of standard fillings — shredded beef, carne asada, or chicken, mixed with eggs. Think of it as a lunchtime breakfast burrito. The chimichanga — or deep-fried burrito — is also a winner, thanks in part to the inclusion of melted cheese and sour cream, which only makes an already rich feast fairly decadent.
Burritos and Mexican torta sandwiches are first rate, but our weakness at Pacific Beach is for the tacos. Cheap, filling and oh-so delicious, it's tough to go wrong with any of the choices, which are available in corn or, for 10 cents extra, flour tortillas.
Our favorite by far, however, is the carne asada, which is marinated steak, finely chopped and served piping hot along with onions and fresh cilantro. So simple. So perfect. So irresistible.
Other taco options are winners, too. Carnitas, or slow-cooked pork, is flavorful, yet sometimes a tad dry for our tastes, although the chorizo is excellent — earthy and with just the right amount of spice.
Lon Horwedel | AnnArbor.com
And speaking of spice, don't miss the salsa bar, featuring a selection of picantes ranging from the mild to the frighteningly hot. We're fond of the salsa verde, which combines a rich flavor with just the right amount of bite.
Side dishes of rice and beans are available for 99 cents each. We like the rice, which is fluffy and flavorful, although we've found the refried beans to be overly bland nearly to the point of tastelessness.
But with tacos and burritos as good — and as filling — as what's available at Pacific Beach, sides really aren't necessary.