restaurant review
Palm Palace offers upscale Middle Eastern experience
Posted on Thu, Dec 31, 2009 : 5:01 a.m.
Palm Palace lends a special-occasion atmosphere to Middle Eastern cuisine.
The restaurant has undergone several transformations. It began serving this type of food as La Shish, the outgrowth of a Dearborn establishment, but then the ownership and name changed to Charlie's. A year ago, the management changed yet again, taking on the Palm Palace moniker. Ann Arbor is one of three Michigan locations; the other two are in Clinton Township and Auburn Hills.
Through all these transformations, it's continued to serve classic Middle Eastern dishes. Palm Palace also has some Moroccan choices on the menu.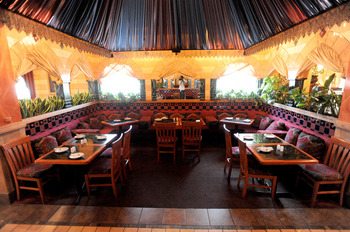 Angela Cesere | AnnArbor.com
Entering Palm Palace is like walking into a Turkish castle — or how I'd imagine a Turkish castle to be. My children were wide-eyed at the exquisite high ceilings, majestic red and gold colors throughout and tapestries. There are cushy couches with the feel of velvet that form the backdrop for booths, making this a very comfortable place to eat.
Along with that lavish atmosphere comes somewhat upscale prices. This is definitely one of the pricier places in the area for Middle Eastern food, with entrees in the $15 range, and as high as $26 for a large serving of lamb chops. However, the restaurant offers a value plan. For $7.99, you can choose among three different dishes that are slightly smaller in size than the main entrees, but still substantial. Among my favorites was the hummus, so creamy it resembled a custard consistency. That and the warmed pita proved a great way to start our meal. Portions are gigantic here, so I'd advise not filling up on the appetizers, though they were a highlight of our meal. I really enjoyed the slightly sweet Moroccan harirra soup, a wonderful mix of saffron and white pepper, as well as other spices. The fried kibbee was a delight, not too greasy, with a nicely packaged lamb interior. Main courses arrive on giant platters, and we could have easily shared them. The chef kabob featured lamb cooked to my son's liking, medium rare, with a fantastic melding of spices that made the lamb delicate and not overcooked. I was interested in sampling one of the Moroccan dishes and really enjoyed the Moroccan tajen, lamb adorned with an interesting mix of vegetables: carrots, onions, turnips, sweet potatoes, eggplant and pumpkin, as well as couscous — which the server brought instead of the rice that my dining companion requested. A few of the entrees didn't live up to their high price tag. The bland tenderloin seared sajee and the chicken shish tawook both featured overcooked meat. Each could have used far more sauce to add necessary moisture and seasonings. The same goes for the falafel, which tasted extremely dry. The restaurant did a nice job with some American standards. The French fries were thick, piping hot and well seasoned, while the desserts, a rich chocolate cake spread with creamy frosting and the cheesecake, were absolute standouts. Where ambience and price are fancy, I expected better service. Our server seemed distracted and was nowhere to be found several times when we were desperate for water to wash down the somewhat spicy food. Main courses also took quite a while to arrive. Still, with generous portions and some very good dishes, Palm Palace is a fun place to go this time of year, provided you're prepared for the prices.
Palm Palace 2370 Carpenter Road Ann Arbor 734-222-5959 Palm Palace in AnnArbor.com restaurant guide Hours: Sunday through Thursday, 10 a.m.-10 p.m.; Friday and Saturday, 10 a.m.-11 p.m. Plastic: Visa, Mastercard, Discover, American Express Liquor: No. Prices: Moderate to expensive. Entrees range from $11 to $26. Value: Excellent. Portions are quite large. Noise level: Quiet. Wheelchair access: Yes. Smoking Section: No.