Posted on
Wed, Mar 20, 2013 : 6:07 a.m.
Paradigm Shift Chamber Orchestra aims to bring a new energy to classical music
By Susan Isaacs Nisbett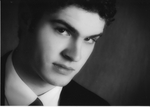 The words "youthful" and "idealism" are a familiar pairing. Less common is the translation of those ideals into reality.
But that's what cellist Jacobsen Woollen and his compatriots in the new Paradigm Shift Chamber Orchestra have done.
A junior cello major at the University of Michigan School of Music, Theatre & Dance, Woollen was inspired by summer experiences at the Music Academy of the West and the Aspen Music Festival and School to create this totally extra-curricular orchestra. The group, composed largely of U-M graduate students in music, offered its first concert in February, at the U-M School of Music.
Saturday evening it takes the adventure off-campus, to the First Baptist Church, with a concert of "8 Seasons" - The Vivaldi "Four Seasons," with four student soloists (Matthew Leslie, Jenny Berg, Sophie Verhaeghe andTimothy Steeves); and Astor Piazzolla's "Four Seasons of Buenos Aires," with Ann Arbor Symphony Concertmaster and U-M faculty member Aaron Berofsky as soloist.
PREVIEW
Paradigm Shift Chamber Orchestra
Who: New U-M-based classical ensemble.
What: Vivaldi's and Astor Piazzolla's Four Seasons.
Where: First Baptist Church of Ann Arbor, 517 E. Washington St.
When: 8 p.m. March 23.
How much: Free.
The concert, free and open to the public, is part of First Baptist's Ad Libitum Concert Series.
You might not think that arguments—musical, of course—in quartet rehearsals could be the fertile seeds that would germinate into a chamber orchestra, but that's where it kind of started for Woollen.
"I was at Music Academy of the West two years ago," he said in a phone call, "and the string quartet I was in there fought the whole time. Rehearsals were so crazy. Everyone cared so much, everyone had opinions. It was incredible."
The idea of replicating this atmosphere on a larger scale appealed even more after a summer at Aspen, where he also explored a long-simmering interest in conducting, working with a U-M School of Music professor, Christopher Lees, who happened to be on the Aspen faculty.
It's easy for Woollen, who studies cello with the U-M's Richard Aaron, to tick off the reasons he founded Paradigm Shift.
"Thinking about the rare and wonderful experience of playing in a musical group in which everyone is completely invested in the artistic product. Wanting to create an opportunity for the best players at U-M and in Ann Arbor to be together in the same room. Resolving to begin taking more responsibility for our own musical education. Teaching ourselves, rather than waiting to be taught. Exploring the sharing of artistic authority and breaking away from the totalitarian, patriarchal paradigm of orchestras past. And most importantly, having tons of fun together and making great music for the right reasons."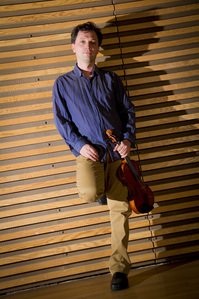 That long list finds fruition in this second concert, where Berofsky, a fabulous violinist who was one of Woollen's inspirations for picking U-M, joins with a string orchestra of highly talented, highly motivated U-M student musicians for the Piazzolla.
"I have reverential respect for him," Woollen said of Berofsky. "I heard him in a concert of Brahms sonatas with pianist Christopher Harding before I came—it was such spectacular playing, I knew I had made the right decision, Meanwhile, four student soloists get to show their concerto chops in the Vivaldi.
As Woollen points out, concerto opportunities are scarce for students. "People do not get near enough opportunities to practice this," he said.
And the idealism that inspired the group is unlikely to butt up against unfortunate reality as it did in the first concert. That program was a short one, featuring a Bach Brandenburg Concerto and the Tchaikovsky Serenade for Strings. Short of long was not the issue. The date the group unwittingly picked for that maiden concert: Feb. 3, Super Bowl Sunday.
Saturday seems more auspicious for a packed room.