Posted on
Wed, May 19, 2010 : 6:21 a.m.
Are playgrounds becoming too safe?
By Jen Eyer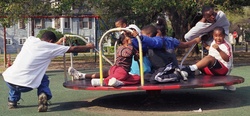 Photo by Flickr user dsb nola
An article in Salon on Monday takes a critical look at
how regulated America's playgrounds have become
.
While allowing that some rules make sense, author Lenore Skenazy asks whether things have gone too far.
"It's better... that screws are no longer allowed to protrude from playground equipment -- probably saved a tooth or two. And I don't like the idea of a kid getting his head stuck between two poorly spaced jungle gym bars any more than you do. But playground regulations have bloated to 51 pages, says Frost (who actually counted). Now that public playgrounds account for just three or four fatalities a year -- tragic, of course, but rarer than lightning deaths -- are the endless edicts really helping? If, for every kid who doesn't break his leg, millions more never develop the muscles to do a chin-up, or the endurance to play a game of tag, or any interest in playing outside, period, thanks to dumbed-down playgrounds: Is this really a good trade-off?"
Anytime I see an article about playground safety, I think how lucky our kids are to have a real merry-go-round at one of our local parks. As playground equipment goes, merry-go-rounds are definitely on the endangered species list.
I have seen kids get hurt on that thing — including my own — but nothing ever serious. Belle, who is now 6, still talks about the time three years ago when she slid off the merry-go-round, landed flat on her back and got the wind knocked out of her.
It took her a few minutes to recover, and then she got back on. In my mind, she learned a good lesson on centrifugal force; in her mind she learned never to let go when you're on something that's spinning.
Go to that park on any nice day and you'll see kids wild with excitement on the merry-go-round. The older kids spin it, usually doing a good job of calibrating the speed to the age of the riders. Yes, little kids fall off, and parents or older kids help them up, dust them off, and put them back on.
It would be a shame if the city ever removed the merry-go-round to placate the safety police. In fact, I wish they would install more of them in other city parks — they could start with Las Vegas. The play equipment at that park is so safe and boring that my kids can't stand to be there longer than a few minutes.
Jen Eyer is on the Community Team at AnnArbor.com. She leads the Parenting and Pets sections, and writes feature stories, blog posts and opinion pieces. She can be reached at 734-623-2577 or jeneyer@annarbor.com.