Posted on
Tue, Jun 14, 2011 : 10:57 a.m.
'Big Van on Campus' - Dad taught me a priceless family tradition
By Paul Fredenberg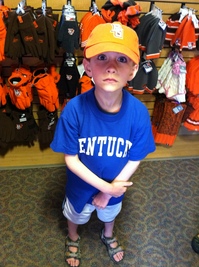 Paul Fredenberg | Community Contributor
Even though we needed gas, I was hoping no one would notice the sign as we blistered by at 75 miles an hour. Maybe, I thought, they were asleep. Maybe they would forget.
I had been driving through the night — from Tampa to Atlanta and now almost to Toledo — fueled by only a bag of pistachios and a 44-ounce cup of watered-down Mountain Dew. Like the van itself, I was running on fumes.
But no one was asleep and no one forgot. When it appeared they excitedly read the sign in unison: "Bowling Green State University." Next exit.
And so I did what Fredenberg dads have traditionally done for as long as anyone can remember. I exited the interstate and pointed our lumbering van toward campus.
My grandfather had a fascination with college towns. On long road trips from Milwaukee to the great unspoiled places of the west he'd pull the Packard Clipper off the highway for a lap around the football stadium, a bathroom break and a hot dog on campus. My dad instituted the same marathon family roadtrips punctuated by the same collegiate "pit stops" with our family.
"Every minute is a mile" was Dad's mantra, so we didn't stop at every school. "If we can't see the stadium from the freeway," Dad would joke, "we ain't stopping."
But we saw the Swamp and the Rose Bowl. We saw Husky, Rice-Eccles, Tiger, Razorback and Memorial Stadiums. Pulling into the vast, empty summertime parking lots, my brothers and I would shoot out of the backseat, grab the football, and sprint down the tunnel to the field. Afterwards, postgame, just like real collegiate football players, we had but one thought on our minds: refreshment.
Relying on impeccable natural instincts passed on from my grandfather, Dad mostly maneuvered the out-of-place faux wood-paneled wagon around campus without issue. Only occasionally did we ever get lost, and in those rare cases Dad would roll down the window. "Hey, Mac," he would ask a clueless college kid, "Where's the student union?"
The concept of the "student union" represented the very pinnacle of civilization to my brothers and me, the closest thing to heaven on earth. A land of arcade games, bowling alleys, pool tables, pretty coeds and Grand Bazaar foodcourts bursting with an assortment of America's deadliest and most delicious foods.
The "union" represented the very union of all things sacred to a teenage boy. It was higher education at its level best.
And the food was just the appetizer. After an obligatory stop at the restroom, we wandered over to the student bookstore in search of everything but books, namely apparel and souvenirs.
On more than one occasion we arrived too late, after the bookstore had closed. That's when Dad, seeing the disappointed looks on our faces reflected against the sweatshirts and basketball shorts in the plate glass windows, would improvise, noting the hours of operation before pulling out the trusty AAA Tourbook and dialing a motel — preferably one with a pool — nearby.
The following morning, we would return for a triumphant round of purchases. Dad bought us so much stuff that my classmates always knew exactly where I had been on summer vacation.
"California?" a friend would ask when one the first day of school I showed up wearing Iowa shorts, a Stanford T-shirt, a Nebraska hat, a Wyoming pencil in my ear and carrying Cal-Berkeley and Nevada-Reno folders in either arm.
"Yep," I confirmed. "I-80."
When it came time to choose a college for myself, my decision making process may have been colored by our little family tradition. Accordingly, I chose a university right off I-94 with a big student union and the largest football stadium in the country. And I picked a graduate school with a hulking old stadium abutting I-76.
In retrospect, our trips said a lot about Dad. Whether looking out across the intimidating expanse of the Grand Canyon or the equally intimidating expanse of Death Valley at Clemson's Memorial Stadium — or watching a heated, realistic battlefield reenactment at Gettysburg or an equally heated, realistic battlefield reenactment at Camp Randall Stadium — it was clear Dad cherished every moment of those family trips.
I appreciate more than ever that, then and now, there is nowhere he would rather be. Than with his family.
So when our pit stop at Bowling Green was successfully completed and a new bag of orange T-shirts and hats was stowed safely in the cargohold of the van, I turned back toward I-75.
As I merged unto the freeway, someone shouted from the back of the van: "Look, Daddy."
Perhaps my eyesight had been blurry from all the driving or bleached from a week of relentless Florida sunshine, but I hadn't noticed it before, when we had turned off the interstate.
The football stadium, perfectly visible from I-75.
I thought about Dad and smiled. As they say: like father, like son.
Paul Fredenberg lives in Ann Arbor with his wife and seven children. He can be reached at psfredenberg@gmail.com.