Posted on
Mon, Apr 11, 2011 : 3 p.m.
Comedy and caveats in new book 'The Great Fitness Experiment'
By Eva Johnson
Out of the blue, someone emailed me and sent me a copy of a new book! After having a brief "maybe I am a somebody" moment, I picked up the book and fell into a giggle fest.
Charlotte Hilton Andersen, a blogger for The Huffington Post, and a very fit mommy, has published a book called "The Great Fitness Experiment," in which she decides she wants to turn herself into a human fitness trial subject. Each month for a year, she decides to follow a new fitness craze and tell us all about her experience and results.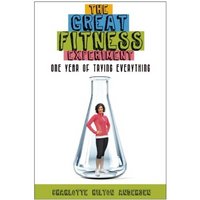 Even though she is a self-confessed exercise addict (yes, there is such a thing) and
orthorexic
(look it up, I can't describe), she had me guessing and second guessing the media's odd fitness influence.
I would never recommend this book as a method of losing weight or getting more healthy (and she doesn't either, in fact). First of all, she confesses to running 30 miles a week and follows a weird vegetarian diet.
Her account of originally trying to lose the last five pounds goes from amusing to downright scary. On top of all of that, her personal life experiences made me giggle and then want to cry. Overall, I loved reading about her experiment, but I worry about anyone else attempting to replicate this. It isn't healthy or safe.
After reading her account of a few great workouts, I am excited to add some of these to my current workout. I want to try CrossFit for the challenge (and inevitable unreasonable soreness). I also want to try out the Monkey Bar Gym program.
I could pass on double cardio and intense interval training. I could also pass on the three-pound maximum dumbbell routines with several 100-rep moves. No one has that kind of time.
I wish she had tried a few more workouts that are hanging over my head right now, but maybe I will have to read her ongoing blog to catch them. I want to know how she would rate P90X, just so that I don't feel like I have to!
I also would love to have her try a ballerina workout, since that is all the rage right now. Oh well, that means that I still have some new ideas to try.
Overall, I loved the book and her delightful sense of humor. I was simultaneously laughing and horrified by her crazy antics, but I'm glad that I'm not the only one who is willing to make a fool of herself at the gym. I would love to meet her and try to convince her that not all personal trainers are mean and cruel.
She could show me a thing or two about accomplishing a pull-up, and I could show her that she doesn't need so much cardio — 30 miles a week is ridiculous!
The lesson in all of this? I can't stress enough that being healthy isn't this hard. If you, like Charlotte, have several kids or a full-time job, you don't need to spend that much time on exercise. I often wondered how her kids are faring while she is hanging out with her gym buddies for hours a day. Her obsession with this experiment is extreme and while this book is great for entertainment, I hope she continues to find a balance and a healthier relationship with food.
Food isn't the enemy. Fitness is a journey, not a destination. We moms can have it all, but not all at once.
I wish Charlotte the best and hope she continues to crack me up, without hurting herself!
Eva Johnson is an ACE (American Council on Exercise) certified personal trainer, who is still letting P90X collect dust. She lives in chaos with her husband and two boys. To see her complete blog about how to stay sane and in shape in the real world, visit www.fitnessbyeva.com.