Creepy Kids' Stuff
Posted on Sun, Dec 27, 2009 : 3:16 p.m.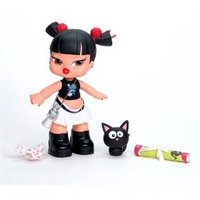 Many kids' products are plain creepy. I assume we can agree on this, but if you need convincing, I submit: Bratz Dolls. Boombah. Forward Command Post. What's in Ned's Head.

Of course for some, like the Ned's Head game, creepiness is the whole gag. I understand and embrace the appeal of gross-out humor. The truly disturbing products are the unintentionally creepy ones, especially when manufacturers (and parents) pretend not to notice anything amiss. Our doll, a sexualized toddler? Don't be silly!

I love it when kids recognize the absurdities of their own toys. To my chagrin, my girls were okay with the garish make-up and skimpy outfits of their cousin's Bratz dolls. However, the fact that each Bratz's feet were fused into their shoes -- so that, in order to change the doll's shoes, you had to snap off its feet and snap on different feet -- was too weird. Every Bratz doll was an amputee. Yuck.

This Christmas my daughters got Hot Hugs toys from a relative. Hot Hugs are stuffed animals with a removable belly pouch. You microwave the pouch, stuff it back in the animal, and voila! -- the toy radiates its own body heat.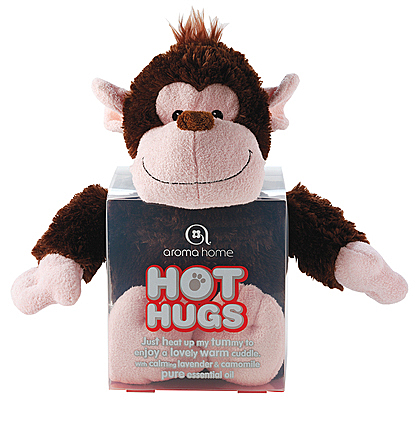 Monkey Hot Hug from aromahome.com
My first thought was Great, one more thing to add to the bedtime routine. And I was right. The kids love them. So every night for the past week we've transplanted irradiated stomachs into a monkey and a pig before the girls could go to sleep. It strikes me as the epitome of manufactured need: the girls have always done just fine going to sleep without pre-heated teddybears. But now, once they get used to these, we may never be rid of them. We'll have to drag them on every overnight trip.
On the other hand, the kids take a kind of demented glee in the process, which I find contagious. The other night I heard a five-year-old girl shout, "It's time to roast the pig's heart!" What's not to love about that?
"Bratz Big Babyz Doll - Jade" image from amazon.com.