Posted on
Sun, Dec 6, 2009 : 6:08 a.m.
Working through painful preschool goodbyes
By Jen Eyer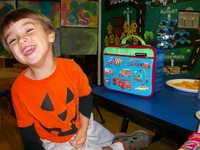 Jen Eyer | AnnArbor.com
As I dropped Wes off at preschool yesterday morning, he ran off to play with a friend and didn't even glance back.
I walked to my car elated by my first guilt-free drop-off.
Thinking back to the three-week period when they had to peel him off me every morning, I marveled at how he worked through this major change in his life. I also marveled at how much our goodbyes affect my feelings about work. Here's a look at the evolution of our drop-offs:
Day one: Wes is excited to go to preschool. He's especially excited about his new Diego backpack, which he simply calls "Backpack." He also seems to be talking to it. When I take him in, he secures Backpack in his cubby, and takes his lunch box to the snack table. He rejects their pancakes in favor of his crackers. He lets me leave without incident.
Week two: "Lunch Box" replaces "Backpack" as his security item. Every day begins at the snack table with Lunch Box. He refuses to eat their homemade muffins and instead dives right into his peanut butter and jelly. I start packing two so he has something for lunch. Also, he's definitely conversing with Lunch Box, who responds in a high-pitched voice that seems out of character for an item covered with construction vehicles. He asks me to stay, but doesn't object when I leave.
Week four: Wes is now waving to me at the window every day. They have this big picture window in front with a bench right underneath it — perfect for kids to wave goodbye to their parents. He sits with a friend or his teacher — and Lunch Box — and waves merrily before turning to play. I'm feeling great.
Week six: He's getting clingy. The teachers are working really hard to keep him entertained as I leave. Of course, when I pick him up, he doesn't want to go, so I spend 20 minutes watching him play before coaxing him away with the reminder of a favorite game at home. Or chocolate.
Week seven: All hell breaks loose. I try to leave and he flips out. I look around for support. His teacher is out with swine flu. His best little friend is out with swine flu. I sit on the bench and hold him tightly, saying reassuring things that he can't possibly hear for the screaming. I look helplessly at a teacher, who says, "It's best to just go quickly. He'll be fine after you leave." I know this, but it doesn't stop me from crying in the car as I drive away.
Week eight: Two full weeks of screaming every morning at drop-off. They assure me that a minute after I leave, he's fine. It's like the novelty has worn off and he's in revolt. Or maybe he's just missing his teacher.
Week nine: The third week of screaming. One night, my daughter and I are looking through her preschool scrapbook, and it struck me how present I was for her preschool education. I wasn't working then, and she attended a co-op, where I often helped in the classroom. If I weren't working now, Wes would be at a co-op too, going to preschool for six hours a week instead of 22. Guilt.
Week 10: And suddenly, the screaming stops. He gives me a hug goodbye, and goes off to play. No Lunch Box, no snack table, no window. I walk out on eggshells, waiting for him to melt down. It doesn't happen. At home, my husband and I notice how much he's developing. He's drawing real pictures, singing songs, telling stories and even playing board games. My outlook shifts again, and I begin to see his preschool as being exactly what he needs.
As it stands now, the good drop-offs continue, and I'm feeling optimistic. I know it can change on a dime, but we've made it through the worst, and we can do it again.
How have you handled difficult drop-offs? Share your stories in the comments below.
Jen Eyer is on the Community Team at AnnArbor.com. She oversees the Parenting and Home & Garden sections, and writes feature stories, blog posts and opinion pieces. She can be reached at 734-623-2577 or jeneyer@annarbor.com.