Posted on
Thu, Dec 30, 2010 : 8 a.m.
Dad's video montage shows 25 years of kids coming down stairs Christmas morning
By Tammy Mayrend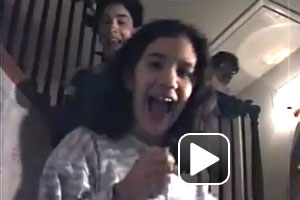 We have a couple of fun family traditions in our household around the holidays. The tree always goes up the weekend after Thanksgiving and comes down the weekend after New Year's Eve.
Our kids always receive pajamas on Christmas Eve, too, which is something they've finally begun asking about!
I'll admit though, this guy has me beat. Filming your family every year as they come down the stairs Christmas morning is really very cool. I love to see how things have or haven't changed.
Do you have any particular family traditions that your children are now looking forward to year after year?
Tammy Mayrend is a Ann Arbor search marketing professional and mother of two who blogs on low-cost local activities, events, and Ann Arbor area freebies for families at annarbormom.com.