neighborhood news:

Eberwhite Elementary's Mind Fair projects span mucus, Greek mythology and video games

Posted on Sat, Mar 20, 2010 : 9 p.m.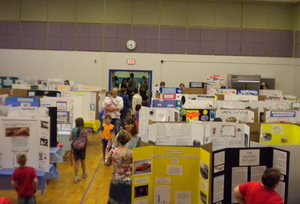 Stefan Szumko | Contributor

Impressive were the projects displayed at Eberwhite Elementary School's "Mind Fair" on Thursday, March 18. Approximately 190 of the school's students in kindergarten through fifth grade participated in the event.




The Mind Fair is more than a science fair. Inquiry into a variety of topics ranging from "Why We Need Mucus" to "Greek Myths" or even "Comparing Video Game Systems" are permitted, depending on each student's interest. Some projects involved experimentation, some were research only, and others consisted of surveys or discovering how things are made. Projects involving "green" topics - such as recycling, alternative energy or sustainable living - helped Eberwhite in its efforts to receive "green" school certification.

Click here to view many of the Mind Fair projects. (Note: Names have been erased. I apologize for not photographing all of them and for the poor picture quality of some. I'll do better next year.)

Students began their explorations of project ideas for the Mind Fair on Feb. 19. Projects were submitted the morning of March 17. During the school days of March 17-18, students presented their work to parent volunteer interviewers.

Students who participated in the Mind Fair received awards in five areas:
"Excellence in Presentation"
"Excellence in Experiment"
"Excellence in Question"
"Excellence in Research"
"Excellence in Idea"
The evening of March 18 was the Mind Fair open house, where students showed off their displays to family members and friends. Parents donated a variety of nut-free snacks for the event.
At the fair, parents I overheard said things like:

"It was a good excuse to drop stuff off of high places."
"It was like pulling teeth to get it done."
"They are so proud of their project in the end."
Although students were encouraged to complete as much of their project as they could on their own, most projects involved parental assistance.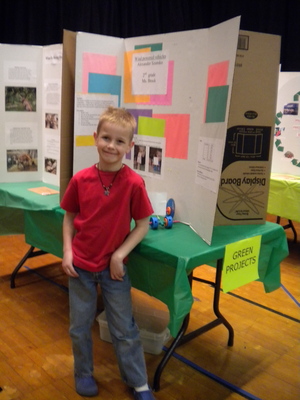 Stefan Szumko | Contributor
Starting in mid-February when the registration packets went home with students, I probably spent eight to 10 hours assisting my son, Alex (he's in second grade), in formulating his research topic, conducting research, developing and carrying out an experiment, typing up his results and creating his display.
Like most other students participating in the Mind Fair, we did the bulk of the project this last weekend. But as the saying goes, "If you wait until the last minute, it only takes a minute to get it done."
Being one to kill two birds with one stone, I convinced Alex to do a project to prepare himself for the upcoming
Science Olympiad
. I'll be coaching the "Puff-Mobile" competition, in which students design a vehicle that travels the greatest distance using only six puffs of air blown by the team members. Alex decided that "Wind-Powered Vehicles" would be his topic.
His initial project idea seemed a bit unsafe: "Let's light different amounts of oil on fire and see what happens." I'm pretty sure it burns for a longer or shorter period of time, depending on the quantity. Not that I've ever burned any sort of fuel in a non-approved way.
His second idea might have taken several days more than the month in which we had to do the project: "Dad, I want to build a carbon dioxide collector." You mean like the one you saw the other day on NOVA Science Now we checked out from the library? The one where the teenage girl builds one herself, after being inspired by her father who happens to be an engineer and scientist? I'm sure he provided no help at all.
So, with our wind-powered vehicle topic in mind, Alex was encouraged to conduct some research using books and the Internet. Since our project was to be experimental in design and sources and time were limiting factors, we simply did a cursory search and instead focused on building the vehicles.
So as not to give away our competitive secrets, I am unable to divulge the plans for the vehicles. But Alex did test each vehicle five times to compute the average time for each. He did the addition; I demonstrated how to do the division.
To create his display, Alex did all the typing himself, including the data table, procedure, discussion of results and future ideas to try. I guided him through the formatting of the document, insisting that he compose his own words, using his second-grade invented spelling. But being a stickler for accuracy, he explored the spelling suggestions independently. Once I realized that the computer did not recognize his spelling, suggesting "Partygoer" for "Procedure" I decided to look over his shoulder while he typed, occasionally providing writing prompts when he didn't know how to proceed.
Even though we were both challenged to cooperate at times, we both learned a great deal from the experience. I look forward to the upcoming Science Olympiad as well as next year's Mind Fair. I wonder what we'll explore then?
Stefan Szumko is a middle school science teacher by trade, an outdoor environmental educator by calling, and a homedaddy by choice. He can be reached at slugwhisperer@gmail.com.