Posted on
Mon, Nov 30, 2009 : 10 a.m.
Escape to the winter exhibit at Matthaei Botanical Gardens conservatory
By Tammy Mayrend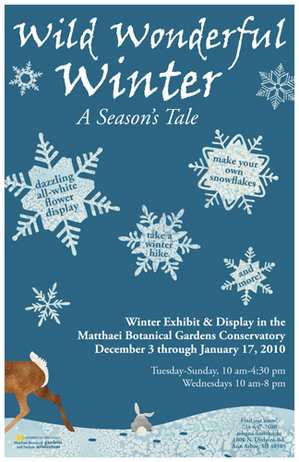 The Wild Wonderful Winter exhibit 2009: A Season's Tale
I know I have mentioned the botanical gardens in several posts, however as a parent it's still an amazing thing to expose your children to when the weather is less than optimal outside. So why not plan your winter escape to the Matthaei Botanical Gardens conservatory (1800 N. Dixboro Rd., Ann Arbor) to see a beautiful winter interactive exhibit that takes visitors on a journey through the beauty of the winter season. Take your children along to answer questions like: Why do we have winter here in Michigan? What does the winter solstice mean? Why is winter so wild sometimes? And what's happening weather-wise on the other side of the world?
By way of the conservatory visitors can travel to the southern hemisphere with a "passport to summer" for discovering all the plants of the world; take a winter hike to look for signs of animal life outdoors; and learn how snowflakes form — And even create your own snowflake to take home. During the exhibit, the conservatory will be transformed into a winter wonderland with a variety of white flowers and a tree decorated with pressed Queen's Anne Lace and other natural ornaments. Many drop-in activities during the exhibit are also included with admission to conservatory.
The Wild Wonderful Winter exhibit: A Season's Tale runs Thursday Dec. 3, 2009 through Sunday Jan. 17, 2010. The exhibit is open Tuesdays and Thursday-Sunday 10:00 a.m.-4:30 p.m. and Wednesdays 10:00 a.m.-8:00 p.m. Cost: Adults 18 and over: $5; children 5-17: $2; under 5 free.
For more information call(734)647-7600, email mbgnavs@umich.edu or visit the Wild Wonderful Winter UMGNA webpage.
Tammy Mayrend is a Search Marketing professional who blogs on local activities for families at annarbormom.com.