Posted on
Tue, Jan 4, 2011 : 9:11 a.m.
Fit Mommy: A clean refrigerator is a clean slate for a new year
By Eva Johnson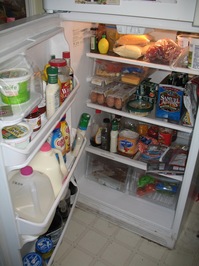 photo by Eva Johnson
As I looked into my refrigerator post New Year's, I had to make an overhaul of change.
"New year, new fridge" is my new mantra (at least for this week). I couldn't even see the good healthy stuff because the bad food stuff was in front. Goodbye half eaten cream-filled casserole! Goodbye spinach dip! Goodbye to that moldy unidentifiable sludge!
After I cleaned it out, I felt wonderful as I looked at not only a clean fridge, but a healthy fridge. It inspired me to make a new grocery list, head out for some fresh produce and plan healthy meals for my first week of 2011. On my current grocery list: hummus, homemade whole wheat pizza and whole wheat bean wraps. Yummy!
Try it and see! Make a clean fridge (or pantry) a new goal for a clean and healthy New Year.
Eva Johnson is an ACE (American Council on Exercise) certified personal trainer, who is waiting anxiously for her whole wheat dough to rise as she blogs. She lives in chaos with her husband and two boys. To see her complete blog about how to stay sane and in shape in the real world, visit www.fitnessbyeva.com.